Miami's unique mix of beautiful natural landscapes and metropolitan glamour make it an excellent destination for couples to plan the perfect outing. With endless art, culture, and outstanding cuisine, there's something for both of you to enjoy in this city — whether it's grabbing dinner at a chic bayside restaurant, strolling through an idyllic Italian Renaissance garden, or admiring Florida from the skies in a hot air balloon.
Explore some of the best things to do in Miami to help plan your next romantic date night!
Fun Date Ideas in Miami
From learning how to salsa dance to taking a relaxing stroll on the beach, there are limitless opportunities for romantic dates in Miami. Whether you're an adventurous couple or you prefer more laid-back activities, you're sure to find something on this list.
1. Berry Picking and Pastry Tasting at Knaus Berry Farm
When Knaus Berry Farm opens its doors for the season, that's how people in South Florida know cooler weather has officially arrived. One of the best ways to enjoy the crisp temperatures is with a romantic fall date at this charming spot. Open from November through mid-April, Knaus is best known for its sweet and doughy cinnamon buns, fresh pecan rolls, and other incredible treats from its vast dessert menu.
Besides indulging in delicious pastries and milkshakes, strawberry picking in its field makes for a lovely afternoon together. Create sweet memories to last a lifetime by planning your next date at Knaus Berry Farm.
2. Catching a Show at SoundScape Park
If you desire a sophisticated date night full of art and nature, this is the spot for you. Grab a blanket, beach chairs, and a picnic basket to soak up some culture at SoundScape Park. Adjacent to the New World Center in Miami Beach, this 2.5-acre park hosts free weekly screenings of movies and live concerts from October through May.
Enjoy elegant architectural landscaping and state-of-the-art streaming quality with a cozy, relaxing date night at SoundScape. What could be more romantic than a picnic and symphony under a blanket of stars?
3. Salsa Dancing at Ball & Chain
Spice up your date plans by dancing the night away at Ball & Chain in Little Havana, where live Latin music plays nonstop. Couples of all skill levels can participate in salsa dancing, so don't fret if you have two left feet.
Ball & Chain features live entertainment on a pineapple-capped stage every night of the week, plus free dance lessons weekly at 9 p.m. The schedule consists of Mambo Mondays, Bachata Tuesdays, and salsa on Wednesdays, Thursdays, and Sundays. Sip on some delicious mojitos and spin into each other's arms at this upbeat and romantic staple.
4. Strolling Through Fairchild Garden
Any nature-loving couple will enjoy a romantic arm-in-arm stroll through Fairchild Botanical Garden in Coral Gables. The oasis boasts over 80 rolling acres of lush grounds with rotating art displays and rare tropical plants like flowering trees, cycads, palms, vines, and more. It also features a 25,000-square-foot butterfly garden, where you can see and learn about various beautiful butterfly species.
If you're longing to escape the hustle and bustle of the city and connect with the outdoors, there's no spot quite as enchanting as Fairchild Garden to indulge your senses with your beloved by your side.
5. Dining on the Biscayne Bay
Miami has a range of waterfront dining options, but Amara at Paraiso is hard to beat. If you desire an ultra-romantic evening of fine dining and unparalleled ocean views, you'll get a complete experience here without traveling off the mainland.
Featuring upscale Latin cuisine, a chic dining room, and an extensive deck overlooking the beautiful Biscayne Bay, Amara is a sweet spot for any occasion. Its rooftop dining area provides a gorgeous panoramic sunset view. Reserve a table at this stunning bayfront venue for an unforgettable night.
6. Enjoying a Romantic Beach Walk
Whether you're a long-time Miami resident or it's your first time visiting the area, a trip to the beach is a must. Miami has over a dozen beaches to choose from, each with a unique vibe and atmosphere. Nothing says romance quite like a relaxed stroll along the shore, making the beach a great spot for date night.
It's no secret that Miami is one of the busiest locations in the U.S., so many of its beaches inevitably attract crowds. The good news is that if you're looking for a quiet, relaxing evening, there are plenty of spots for the two of you to escape the crowds. Here are some of Miami's quietest beaches to consider for your next date activity.
North Shore Beach
Surfside Beach
Bal Harbour Beach
Sunny Isles Beach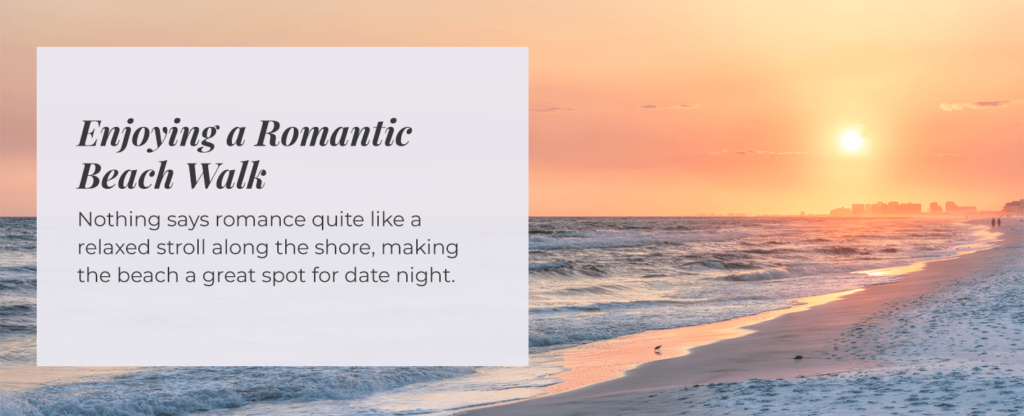 7. Booking a Couples' Spa Treatment
When life gets hectic, a trip to the spa is the perfect remedy. Couples looking to enjoy comfort, relaxation, and quality time can visit one of Miami's many spas for a specially designed spa session for couples. Among its wide range of choices, the Iconbrickell Spa in downtown Miami offers a couples' retreat package that includes facials, massages, and cocktails.
8. Renting a Private Sailboat Tour
Picture this — you and your significant other are cruising over the Biscayne Bay's glittering waters at sunset while you raise a glass of wine or champagne. What could be more memorable and romantic?
You can find various cruises that pass by many of Miami's prime landmarks, like the Art Deco District and Millionaire's Row. Miami Sailing is one of Miami's luxury yacht charters that provides private cruises and intimate sunset dining.
9. Wine Tasting at Schnebly Redland Winery
If you're looking for things to do in Miami for adults, Schnebly Redland Winery is the perfect place to try some delicious wines together. Nestled on a picturesque property, this family-owned winery boasts lush waterfalls, footbridges, fountains, koi ponds, and grand architecture. However, its wine is the real draw.
You'll find an array of tropical fruit wines made from fresh ingredients like lychee, passion fruit, avocado, and coconut, proving that grapes aren't the only basis for delicious beverages. You can also take a guided tour of the estate's history and winemaking process.
This must-see date spot will leave you and your partner longing for another glass. If you prefer beer over wine, the property also houses the Miami Brewing Company.
10. Floating Over Miami in a Hot Air Balloon
A romantic hot air balloon ride over Miami allows you and your date to experience the city from a breathtaking bird's-eye perspective. Several operators available in the city, such as Balloon Over Miami, offer private flight packages and champagne toasts for couples.
Create intimate, lasting memories with the one you love while you soar over various sights of the area, from the lush natural landscapes of the Everglades to the Florida Keys' beautiful string of tropical islands.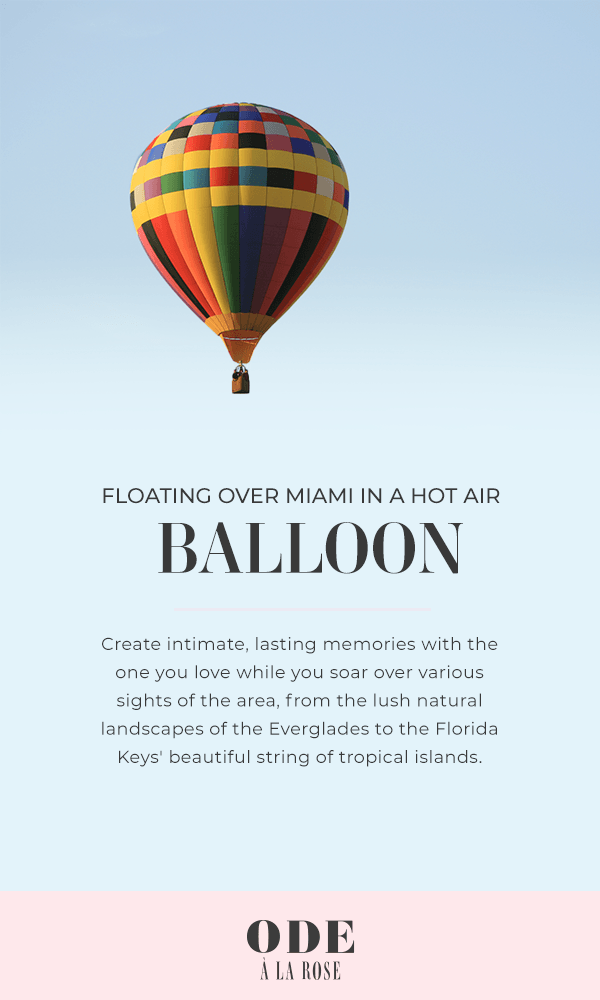 11. Browsing the Art Deco Museum
If you're searching for things to do in South Beach Miami for couples, the Art Deco Museum is worth checking out. It allows locals and visitors to better understand Miami's architectural heritage and community culture. The Miami Design Preservation League designed this museum to be informational while reflecting Miami's fun and glamour.
Through photography, videos, models, and other engaging displays, you'll learn about central figures — like Barbara Baer Capitman and Leonard Horowitz — who inspired the unique designs and pastel color palettes that became integral to the Art Deco District. A visit to the Art Deco Museum makes a one-of-a-kind date activity for a rich educational experience.
12. Night Brunching at EAST Miami
If you're planning a date night but also craving brunch food, EAST Miami is the spot for you. Located above the bustling streets of the Brickell neighborhood, its Asian-inspired night brunch in the hidden Tea Room features live music, creative cocktails, and various specialty brunch items. Its two-hour dining experience and bottomless drinks put a tantalizing spin on the traditional brunch date.
One step inside will instantly transport you and your date to an elegant Hong Kong-inspired cocktail lounge. Reserve your table at this enchanting speakeasy today.
13. Unwinding at the Venetian Pool
Beat the Miami heat with a trip to the Venetian Pool in Coral Gables for your next date. Continuously fed by cool natural springs, this pristine pool is in a coral rock quarry for a luxury oasis feel.
Enjoy a relaxing swim in its crystal blue waters, float through the grottos, take in the sights of its caves and waterfalls, or bask poolside under the sun. This unique and elegant pool makes a great place for your next date.
14. Kayaking at Oleta River State Park
After experiencing Miami's sophistication and style, you might consider a more rugged outdoorsy activity — like moonlit kayaking in Oleta River State Park. The Oleta River Outdoor Center organizes a monthly full moon ride through Florida's largest urban park. Your guide will provide you and your date with a kayak and glow sticks to lead you through the peaceful nighttime waters of the Biscayne Bay.
There's plenty to do when visiting the park in daylight as well, including hiking, kayaking, biking, and canoeing. If you're feeling extra adventurous, Oleta River State Park has a date activity for you!
15. Fine French Dining at Le Bouchon
Enjoy a cozy French bistro with checkerboard flooring, wooden tables, and dim lighting at Le Bouchon in the heart of Coconut Grove. Its unique menu combines cuisine from Lyon with a touch of South Florida. Indulge in decadent foie gras and fresh cheese for some classic romance in a warm, relaxed atmosphere.
You'll surely feel stuffed after a meal at Le Bouchon. Thankfully, Coconut Grove is one of Miami's most pedestrian-friendly neighborhoods, making it ideal for a moonlit stroll to walk off dinner. If you still have a little room left, stop for some ice cream at one of its staple dessert spots before calling it a night.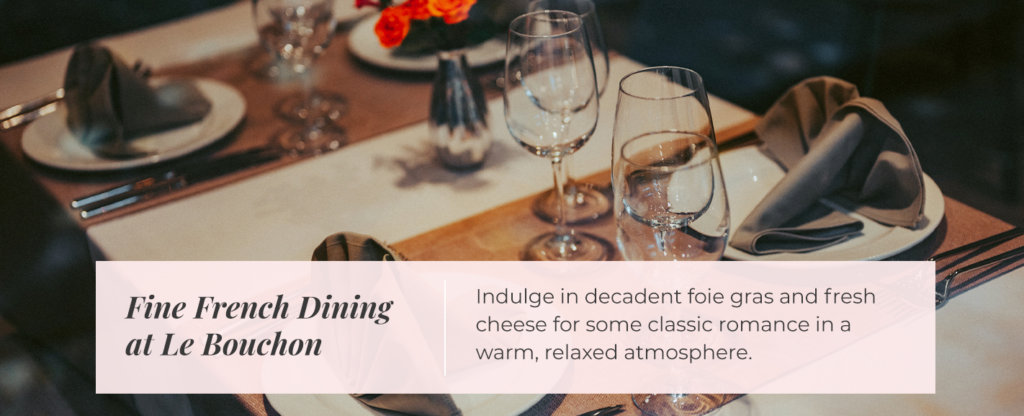 16. Exploring the Vizcaya Museum & Gardens
Built between 1914 and 1922, this unique cultural gem hosts the former villa and estate of James Deering, a wealthy Miami businessman. The Vizcaya Museum & Gardens in Coconut Grove is the perfect place to enjoy scenic, romantic walks, surrounded by 10 acres of formal Italian Renaissance gardens. Beautiful native woodlands that overlook the Biscayne Bay border the property.
Inside, you'll encounter a breathtaking Gilded Age design with various historical art and treasures spanning over 2,000 years. For an affordable entry fee, you and your partner can admire its lavish interiors, take some stunning photos, and bask in Vizcaya's natural beauty at this centuries-old European villa.
17. Visiting Bill Baggs Cape Florida State Park
One of Miami's most popular state parks, Bill Baggs Cape is a natural paradise on the southern tip of Biscayne Bay. Enjoy magnificent views of the Atlantic Ocean and activities like kayaking, shoreline fishing, cycling, and windsurfing for a date full of fun and adventure. Don't forget to head to the top of the Cape Florida Lighthouse — a prime spot to grab some photos and sneak a kiss!
18. Biking at Shark Valley Trail
Grab your bikes or rent some on-site at Shark Valley, a scenic trail in the heart of Everglades National Park's freshwater marsh. Its paved loop is wide enough to ensure a safe distance from the park's abundant wildlife, including various gators catching rays along the trail's edge. Get up close and personal with nature while squeezing in a leg day workout with a thrilling bike ride at Shark Valley with your partner.
19. Catching a Film at Rooftop Cinema Club
Going to the movies is a classic date night activity, but the Rooftop Cinema Club in South Beach takes it to an entirely new level — literally! For the ultimate open-air cinema experience and gorgeous views of Miami's skyline, treat your sweetheart to a rooftop film at this beloved date spot. Snack on some light concessions like popcorn and candy, or enjoy a full meal from their food and bar menu if you're feeling extra hungry.
20. Parasailing in Biscayne Bay
Finally, parasailing in Miami is the perfect date for any thrill-seeking couple — and an activity to cross off your bucket list. Organized by Miami Watersports, this smooth hour-long flight 400 feet above the ocean allows you to see nearly all of Miami from an exhilarating perspective.
If you're looking for an adventurous date idea, there's nothing more romantic than soaking in stellar city views while getting your adrenaline pumping together. Book your parasailing session today!
Plan the Perfect Date in Miami With Flowers From Ode à la Rose
We hope this list helps inspire your next date activity in Miami. Surprising your date with a freshly cut bouquet is the perfect way to make the evening even more romantic, and we have a beautiful selection to choose from at Ode à la Rose. Whether your loved one prefers roses, tulips, peonies, or orchids, we have a fresh, colorful arrangement to warm their heart. Best of all, you can enjoy same-day delivery in Miami when you order blooms from our site!
Top off date night with flowers from Ode à la Rose for a gift that sweeps them off their feet. Browse our bouquet selection today!