Any couple seeking a romantic outing will find plenty of things to do in Austin, Texas, whether it be rooftop dining, a cozy drive-in movie, hitting a local winery, or exploring the outdoors. If you're looking for fun activities and romantic date spots in Austin, you're at the right place. Find some tips for your next date night with this list of 20 ideas.
20 Romantic Date Nights in Austin, Texas
Planning a date night in Austin, Texas? Our list below should give you some inspiration!
1. Sample Local Spirits
Ordering a drink from a standard restaurant menu is one option, but why not get the full experience by visiting a local vineyard or distillery? Austin has many spots to choose from, each with a unique vibe and atmosphere.
Still Austin Whiskey Co. is a beloved staple, featuring a spacious patio and on-site food trucks, as well as gins, bourbons, and whiskeys distilled on-site. You can also book behind-the-scenes tours and tastings.
If you're more drawn to wine, you and your partner can check out the Austin Winery instead. Working with organic and biodynamically farmed vineyards to source grapes for wine samplings and wine by the glass, this urban winery is another great spot to enjoy some drinks and each other's company. Purchase a bottle to take home as a keepsake from your special evening together!
2. Have a Luxury Picnic
A classic blanket-on-the-ground picnic date exudes romance on its own, but The Posh Picnic makes the experience even more dreamy and elegant. Choose your desired time and place — like a park, rooftop, hotel room, or even your own backyard — and select a package, then let The Posh Picnic handle the rest.
Its team will provide items like candlesticks, elegant tableware, and beautiful blankets and pillows so you don't have to worry about bringing your own setup. Impress your date with a beautifully styled picnic experience like no other.
3. Dine Lakeside
Want to feel like you're dining at a tropical destination without the jet lag and travel time? If so, the Oasis on Lake Travis is the spot for you. When you reserve a table at this Tex-Mex staple, you can enjoy nachos, margaritas, fresh salads, and other delicious foods and beverages on tiered outdoor decks overlooking the pristine Lake Travis.
A romantic dinner at this multi-level lakeside venue combines stellar sunset views with budget-friendly menu options. Sounds like a pretty spectacular deal!
4. Explore Zilker Botanical Garden
Zilker Botanical Garden may be nestled in the heart of downtown Austin, but this jewel is the ideal spot for any nature-loving couple longing to escape the hustle and bustle of the city. Explore lush flowers and greenery, tranquil waterfalls, charming koi ponds, and whimsical art structures for an enchanting outdoor date.
There's no shortage of spots to take some adorable photos — or even pop the question! Enjoy a relaxing and visually stimulating stroll when you visit Zilker Botanical Garden.
5. Have a Couples Spa Day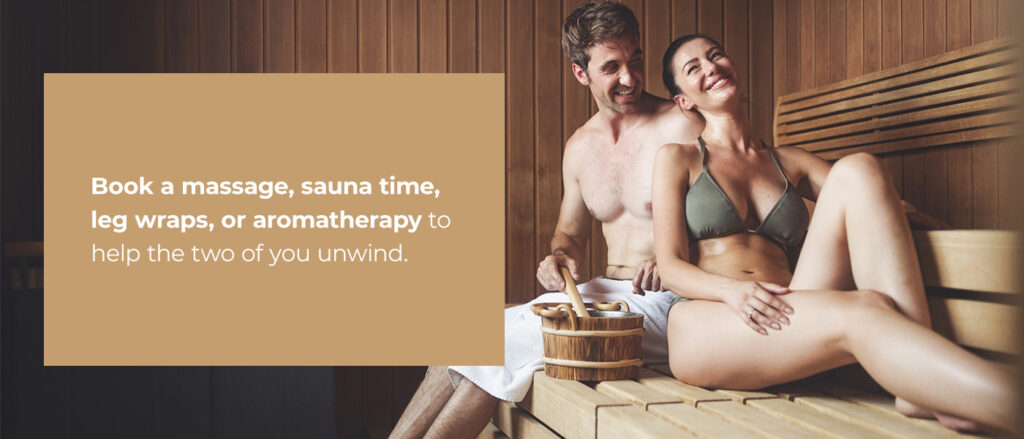 If an evening of pampering and relaxation sounds like the ideal date for you and your significant other, Austin has several local spas to help melt your stresses away. Book a massage, sauna time, leg wraps, or aromatherapy to help the two of you unwind.
Viva Day Spa offers couples spa packages and massages, perfect for enjoying some much-needed rejuvenation and quality time with your special someone. Enjoy side-by-side massage tables, facials, body wraps, and other treatments to share in your couples retreat.
6. Rent a Retro Boat
Looking for a quiet, relaxing activity to connect and enjoy good conversation during? Plan your next date on the water with a spectacular view of Austin during the day or evening to admire the twinkling city lights. With Retro Boat Rentals, you and your partner can ride a vintage boat with tastefully old-fashioned colors, chrome details, fins, and headlights.
The boats have been retro-fitted with electric motors but maintain their vintage style otherwise. They're eco-friendly and quiet, allowing the two of you to enjoy lovely conversation, the serene waterways of Lady Bird Lake, and the beauty and fresh air of Austin.
7. Snuggle up at a Drive-In Movie
Nothing says old-fashioned love and romance quite like an evening movie at an Austin drive-in. Blue Starlite Mini Urban Drive-in boasts double features of childhood favorites, indie films, cult classics, and arthouse movies on the big screen.
If you get hungry during the film, the Blue Starbite menu has a range of options to choose from including signature hot dogs, chips, vintage soda pops, candy — and of course, popcorn. Enjoy a one-of-a-kind outdoor cinema experience with your beloved under the starry Texas sky when you catch a film at Blue Starlite.
8. Go for a Hike
Explore the outdoors on your next date with a visit to the Barton Creek Greenbelt. One of the top-rated hiking areas in Texas, it offers nearly 13 miles of a beautiful trail system that travels along a shimmering creek. Barton Creek passes both Twin Falls and Sculpture Falls, where you can enjoy picturesque waterfalls and venture across rocky cliffs.
The trails also snake through a dense forest, where you can hike through extensive greenbelt trails and experience a lush hidden escape tucked away from the city commotion. You may even spot some wildlife in various areas along the trail, so be sure to have your camera ready! Plan an adventure with your special someone with a hiking date at Barton Creek Greenbelt.
9. Practice Your Swing
Looking for a little friendly competition with a fun date activity? Play a round or two of golf at Butler Pitch & Putt. Open since 1948, this course features nine par-3 holes and putting greens, a food bar, and a beer garden. If you're open to the prospect of others tagging along on your date, invite other couples to join in the game!
A lively golf game is bound to raise some appetites, so be sure to stop at Butler's courtyard for a delicious on-site meal. The courtyard is open to anyone — whether you're golfing or not — who wants to eat, relax, and enjoy the park.
Swing by the Clubhouse for some Master's-style sandwiches, freshly baked cookies, ice-cold beverages, and the best biscuits in town. Gimme Burger is Butler's permanent on-site food truck that serves up cheeseburgers, hot dogs, fried okra, and crispy french fries.
10. Plan a Weekend Resort Getaway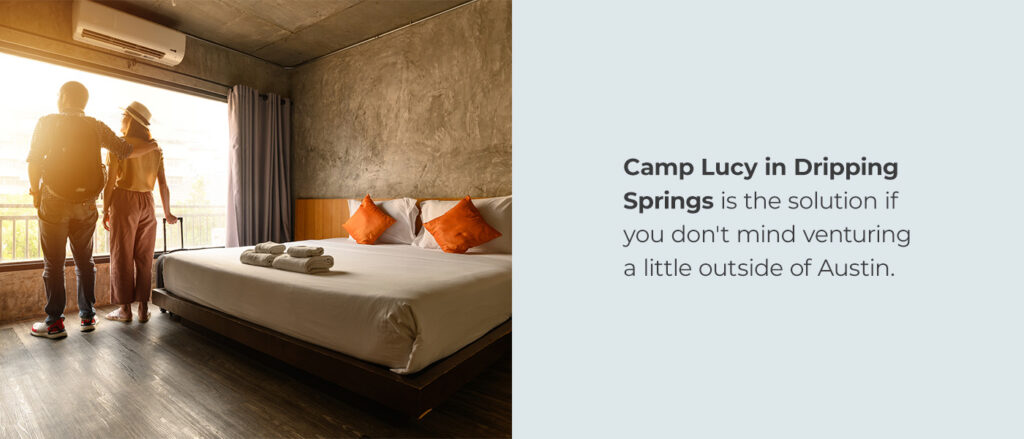 Whether you're celebrating an anniversary or just need a relaxing weekend trip, Camp Lucy in Dripping Springs is the solution if you don't mind venturing a little outside of Austin. A sprawling 275-acre resort nestled above Onion Creek, Camp Lucy has all the means for an elegant and romantic getaway.
Its beautifully crafted cottages offer luxurious accommodations and amenities for the ultimate weekend of comfort. You'll surely awake refreshed in the morning, with plenty of energy to take a stroll to the creek or get pool passes for the day. Take in the warm hospitality and sophisticated style of the Hill Country with a trip to Camp Lucy with your sweetheart.
11. Grab Some Desserts on South Congress
Spend an evening indulging in sweet treats with a leisurely stroll along Austin's South Congress Avenue. Here, you'll encounter various unique shops and dessert stops. Amy's Ice Creams is a great place to conquer the Texas heat with a cold scoop. Stop by the Pie Bar for a delectable cobbler, mousse, cheesecake, or specialty mini pie. Sweet Memes is a go-to for a refreshing iced coffee or Frappuccino.
12. Dine in a Heated Igloo
Who knew you could dine in style in a private, heated igloo? Austin is full of fun surprises. Reserve a cozy rooftop igloo with sweeping city views at Geraldine's at the Kimpton Hotel Van Zandt, where you can enjoy comfy seating and delicious bites and drinks. With a Texas-sized menu of agave spirits and whiskeys, charcuterie boards, crispy potatoes, grilled shrimp, and more, date night will be one for the books.
13. Enjoy Some Smooth Jazz
Nestled in the heart of downtown Austin, Parker Jazz Club is the perfect place to enjoy an evening of quality jazz music and great drinks in a dimly lit ambiance. Its formal setting makes for a memorable night out on the town, transporting you and your partner to the intimacy of a different generation.
Check out its show calendar for upcoming performances and book your reservation. You won't want to miss the chance to grab a table at this snazzy jazz club for a date night full of music, culture, and fun.
14. Explore the Blanton Museum of Art
If you and your significant other have a passion for fine art, consider checking out the Blanton Museum of Art for a rich cultural and educational experience. Located at the University of Texas at Austin, this museum boasts Central Texas's largest public collection.
It showcases contemporary and modern American and Latin American art, an encyclopedic collection of drawings and prints, Baroque and Italian Renaissance paintings, and more. Enjoy thought-provoking and visually moving encounters with gorgeous art when you plan your next date here.
15. Take a Food Tour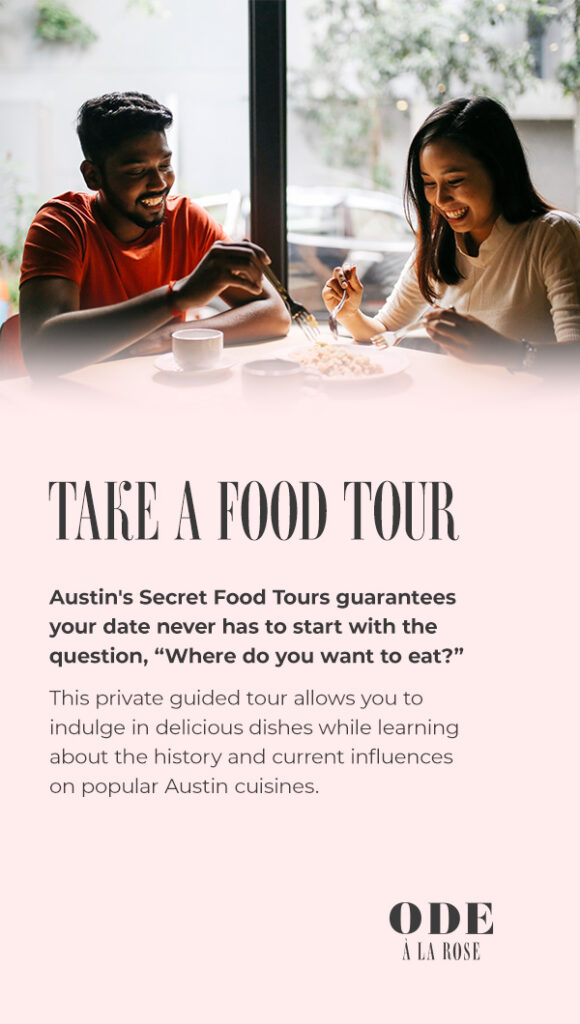 Austin's Secret Food Tours guarantees your date never has to start with the question, "Where do you want to eat?" This private guided tour allows you to indulge in delicious dishes while learning about the history and current influences on popular Austin cuisines.
The complete tour will take about three hours, so be sure to clear your schedule and come with an empty stomach. This one-of-a-kind activity will surely make for a flavorful date night, showcasing the unique range of foods and beverages Austin has to offer — perfect for any foodie couple!
16. Hit the Lanes at Bull & Bowl
If you're looking for indoor date ideas in Austin, be sure to add Bull & Bowl to your list. It's a bowling alley, bar, restaurant, and arcade all in one, so you'll both find something to keep you occupied for the evening.
Bull & Bowl features  a duckpin bowling alley with shorter lanes, smaller bowling balls — and best of all, no shoe rentals. If you need a break from bowling, you can grab a bite from its brunch or dinner menu, test your skills on the mechanical bull, play some pool, or try out a variety of arcade games. An evening at Bull & Bowl ensures there's never a lull during your date!
17. Complete a Scavenger Hunt
An exciting scavenger hunt in Austin is the ideal blend of romance and fun. With Scavenger Hunt by Smartphone, you can discover the city's most iconic sights from a fresh perspective, completing challenges and solving clues along the way.
The scavenger hunt takes about three hours, but couples can stop and go as they please and work at their own pace. Combining a classic sightseeing tour with "The Amazing Race," you'll bond, build teamwork skills, and have a blast.
18. Try Axe Throwing
If you're searching for fun things to do for date night in Austin, axe throwing at Urban Axes is a must-try. It may not be the typical dinner or movie date, but it's perfect for any adventurous couple looking to try something new.
Even if you're skittish at the thought of chucking an axe through the air at a target, the on-site Axeperts will be there to guide you through the process. We normally wouldn't advise mixing romance with sharp weapons, but this activity is the exception.
19. Go for a Bike Ride
A relaxing bike ride on one of Austin's many gorgeous trails makes for a lovely evening with your special someone. Whether hitting the Southern Walnut Creek Trail in Govalle Neighborhood Park or the Ann and Roy Butler Trail along Lady Bird Lake, there's nothing more romantic than rolling off into the sunset together.
You can rent bikes through Barton Springs Bike Rental if you don't have your own. They even have tandem bicycles for couples that want to ride more intimately.
20. Cool off at the Pool
Texas summers can be intense, but a pool date is the perfect way to beat the Austin heat. Nestled in the grounds of Zilker Park, Barton Springs Municipal Pool is a recreational outdoor pool fed exclusively with water from natural springs.
Throughout the years, people from all over have come to this vast natural limestone pool for everything from swimming to fishing or soaking up some rays on the shore. If you need date ideas in Austin, a pool day is ideal for cooling off while squeezing in some quality time together.
Surprise Your Date With a Romantic Flower Bouquet
Knowing how to plan a romantic date in Austin, Texas, is about more than just finding the perfect spot — it should also involve a sweet, thoughtful gesture your partner will treasure for life.
At Ode à la Rose, we believe flowers are a beautifully romantic gift that expresses your deepest sentiments in a way that words can't. With our wide and colorful selection of flower arrangements, including roses, tulips, peonies, and orchids, you can find blooms that speak to their style and express your admiration. We also offer same-day flower delivery in Austin!
Surprise your date with fresh, gorgeous flowers from Ode à la Rose. Browse our bouquets today!