Your mom deserves to be celebrated in the best way possible this Mother's Day. What better place to do so than in the magnificent city of Philadelphia? Whether you're spending this holiday with your mom, spouse, mother-in-law, grandmother, or another mother figure in your life, this area offers a charming urban atmosphere you simply can't find anywhere else. Create lasting memories together with its remarkable sights and activities.
Trying to decide what to do in Philadelphia for Mother's Day? With a charming selection of shops, restaurants, and other attractions to enjoy, Philly provides endless opportunities to show a mother in your life how much you appreciate her.
Browse this article for plenty of fun and unique activities the two of you can enjoy together for Mother's Day in Philadelphia. With this extensive list, you're sure to find the perfect activity to make her Mother's Day extra special.
Related Posts:
14 Activities to Enjoy in Philadelphia This Mother's Day
Whether you're only visiting Philadelphia for Mother's Day weekend or you're a long-time resident of this city, there are many local spots and attractions to enjoy here — perhaps some you've never experienced before. Spending Mother's Day in Philadelphia is a great way to celebrate your mom with her favorite activities while experiencing the rich, historic charm the city offers.
1. Take Her to Breakfast
Celebrate one of the most important days of the year with the most important meal of the day! Treat your mom to breakfast this Mother's Day to enjoy lovely conversation, great food, and much-needed quality time. With a variety of popular breakfast spots in Philadelphia, you're sure to find one you'll both enjoy. Visit her favorite eatery or consider trying a new place together.
Choose from a wide selection of Philly breakfast spots for freshly brewed coffee, pancakes or waffles, meats, and more. For the ultimate comfort breakfast of chicken and waffles, visit Booker's Restaurant & Bar in Cedar Park. For a unique combination of classic American and Vietnamese-inspired breakfast foods, check out the Breakfast Den on South Street. Spoil your mom with the perfect Mother's Day brunch or breakfast for a gesture she won't forget.
2. Have a Picnic in the Park
If the weather allows for it, an afternoon picnic in the park is a wonderful way to spend Mother's Day with your mom. With a variety of parks in the Philly area including Fairmount Park, Rittenhouse Square, and Dilworth Park, you can easily plan a memorable outdoor picnic lunch with her favorite foods.
Grab a blanket, pack a basket with her favorite snacks and drinks, and head to the park this Mother's Day! You can set up your spread at a picnic table or over a blanket on some grass. If desired, you can also pursue other activities in the park such as walking or biking for a full day of enjoyment.
3. Go to a Zoo or Aquarium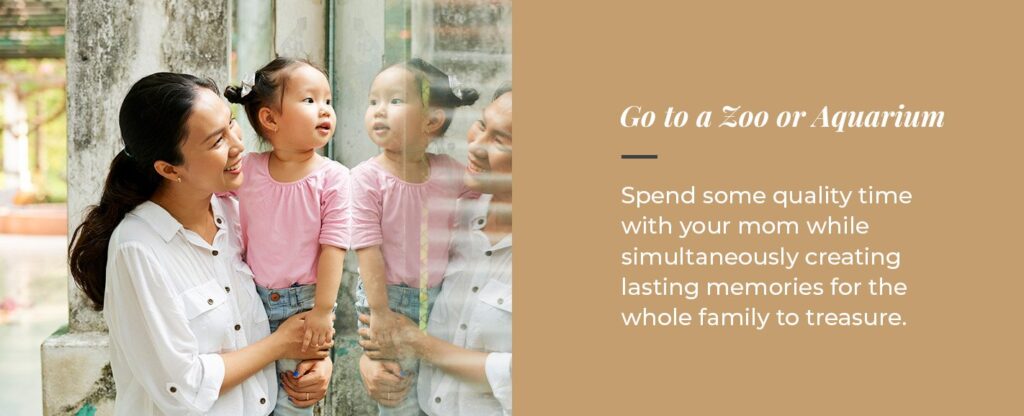 Spend the afternoon exploring unique wildlife by planning a zoo or aquarium trip this Mother's Day. If you both love animals, this could be the perfect outing for the two of you to enjoy. Consider visiting the Philadelphia Zoo or the Adventure Aquarium for a fun and fascinating Mother's Day experience.
If you're celebrating Mother's Day with the whole family or you're looking for kid-friendly activities as well, a trip to the zoo or aquarium may be the ideal solution. Spend some quality time with your mom while simultaneously creating lasting memories for the whole family to treasure.
4. Treat Her to Lunch or Dinner
Treating your mom to a special lunch or dinner is a classic way to celebrate Mother's Day — and with a unique variety of restaurants in Philly, you're sure to find some excellent food and the quality dining experience she deserves.
Consider checking out some of Philadelphia's most popular restaurants for a delicious meal. Looking for some great Mexican food? Try out El Vez for some impressive cocktails, tasty tacos, and a colorfully lit interior. For some authentic Italian cuisine, reserve a table at Giuseppe & Sons to enjoy some delicious pasta in an old-school Italian atmosphere. And if a French-inspired bistro sounds appealing to you both, consider visiting Parc in Rittenhouse Square for an outdoor Paris dining experience.
5. Visit a Museum
With stunning architecture and fascinating backstories, Philadelphia's impressive museums truly bring history to life before visitors' eyes. For a rich cultural and educational experience, consider visiting one of these historic sites this Mother's Day — this is bound to be an experience neither of you will forget.
Check out the must-see Philadelphia Museum of Art to explore paintings, sculptures, and art exhibits through the ages. Or, perhaps you'd like to visit Philadelphia's Independence Hall, where the official signing of the Declaration of Independence took place. The National Constitution Center is another great spot to browse historical exhibits and artifacts, including an original Bill of Rights. Whatever historic attraction you decide to see, you're sure to create lasting memories this Mother's Day.
6. Plan a Shopping Trip
Plan a Mother's Day shopping trip for retail therapy and quality time together. Check out some of the best shops in Philadelphia to gather inspiration! Head northeast and visit Philadelphia Mills Mall in Bucks County — here, you can shop from top designer names at discounted prices. You can also visit Old City's Second and Third Streets in Philly's historic district for a myriad of local stores to choose from.
Additionally, Baltimore Avenue in West Philadelphia is the perfect place to browse novelty gifts and souvenirs, stationery supplies, and other practical items. If you get hungry during your shopping trip, grab a bite at one of the district's nearby eateries!
7. Tour a Winery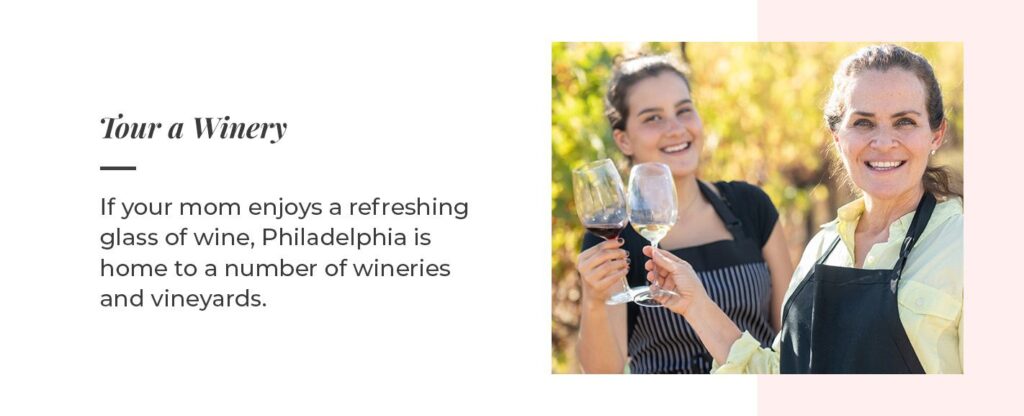 If your mom enjoys a refreshing glass of wine, Philadelphia is home to a number of wineries and vineyards. With its mild climate, large bodies of water to nurture warm soil for optimal grape growing, and gently rolling hills, this region is ideal for producing delicious wines and spirits. Whether you're looking for a crisp red, light and fruity white, or a bottle of sparkling wine, find your mom's favorite variety at one of Philly's vineyards.
North of Philadelphia, Bishop Estate Vineyard and Winery offers rustic farm views and 16 varieties of aged wine to choose from. Buckingham Valley Vineyards & Winery offers self-guided tours and tastings, premium wines, and plenty of picnicking areas. Create a unique and enjoyable Mother's Day experience by scheduling a visit, tour, or wine tasting at one of these venues outside of the city.
8. Catch a Show
Enjoy a classy afternoon with your mom at one of Philly's local theaters this Mother's Day. Catch a live performance by the Philadelphia Orchestra, Broadway Philadelphia, Opera Philadelphia, or Philadelphia Ballet for a Mother's Day filled with valuable art and culture.
The Academy of Music — a historic music hall and opera house in Center City — features grand architecture, a large crystal chandelier, over 2,000 seats, and incredible acoustics for a prime viewing and listening experience. Check out some of Philadelphia's most popular theaters and browse performance schedules to catch an unforgettable show this Mother's Day.
9. Have a Spa Day
Being a mother is no easy task, which is why your mom deserves a tranquil, stress-free afternoon. Pamper her with a complete spa day experience this Mother's Day at one of Philadelphia's top day spas. Whether she needs a full mani-pedi, a deep exfoliation, or a massage for the ultimate de-stressor, spoil her with an afternoon of self-care and relaxation.
Located at the Loews Philadelphia Hotel on Market Street, Joseph Anthony Retreat Spa & Salon provides quality and affordable nail services, hand and foot therapies, waxing, and other full-body spa treatments. The Rittenhouse Spa & Club at Philly's Rittenhouse Hotel offers luxurious skin-lifting facials, massages, and body wraps for an exquisite spa experience. You can also enjoy access to its private rooftop terrace with stunning views of the city, a steam room, and a saltwater pool.
10. Go Hiking
Spend Mother's Day weekend exploring the great outdoors and connecting with nature at one of Philadelphia's state parks. Venture away from the city and catch a glimpse of these spectacular outdoor gems — perfect for a full day of hiking, camping, fishing, kayaking, or other fun outdoor activities. If your mom is an outdoor enthusiast, this could be the ideal activity for the two of you to enjoy.
Head to Benjamin Rush State Park in Philadelphia County to enjoy multiple hiking and bike trails, large community gardens, and the natural beauty of Pennsylvania woodlands. Core Creek Park in Bucks County provides a peaceful escape from reality with perfectly secluded forests, pristine lake waters, scenic trails, and unique wildlife. Remember to bring your camera, because you and your mom will experience picture-perfect landscapes for photo opportunities.
11. Grab Some Desserts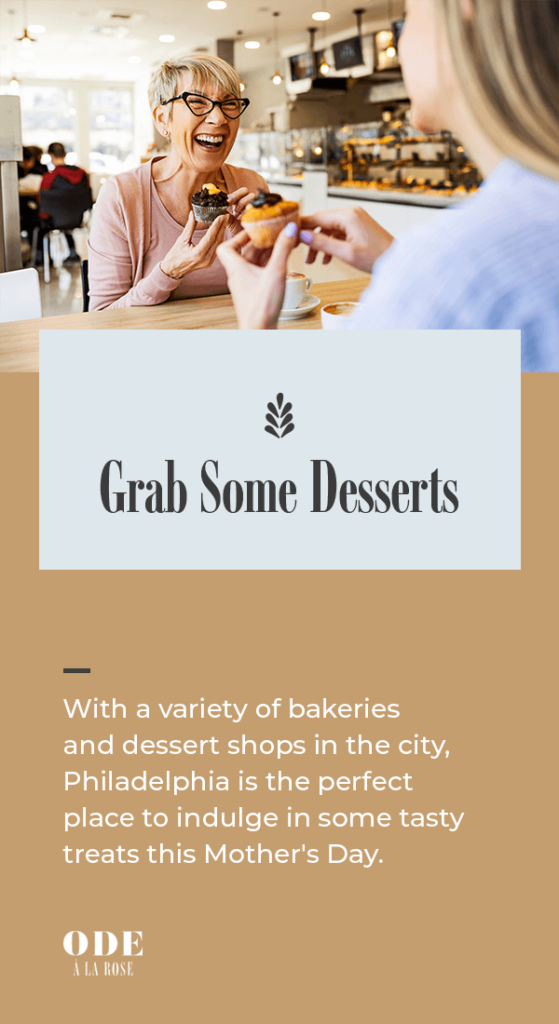 With a variety of bakeries and dessert shops in the city, Philadelphia is the perfect place to indulge in some tasty treats this Mother's Day. Enjoy a refreshing scoop of ice cream at The Franklin Fountain, a dozen of fresh donuts at Federal Donuts, Italian gelato and coffee at Gran Caffe L'Aquila, or some sweet crepes and pastries at J'aime French Bakery. Satisfy your sugary cravings this Mother's Day at one of Philly's popular dessert spots!
12. Visit a Coffee Shop
Treat your mom's caffeine cravings by taking her to one of Philadelphia's top coffee shops this Mother's Day. Whether she prefers a hot cup of joe, a cold brew iced coffee, or even a frozen drink, you're sure to find the perfect coffee treat for her to sip this holiday.
Visit Center City's Elixr Coffee Roasters to enjoy a superb hydra-brewed espresso while taking in a rustic atmosphere, complete with cool marble countertops and reclaimed wood paneling. Bluestone Lane in Rittenhouse Square carries a delicious variety of specialty coffee drinks as well as a light food menu if you get hungry. Menagerie Coffee in Old City provides a full espresso bar, locally sourced foods, delicious hand-poured brew, and light pastries to enjoy with your coffee.
13. Go to a Farmers Market
If your mom enjoys gardening and fresh local produce, consider taking her to one of Philadelphia's farmers markets this Mother's Day. While some Philly markets provide fresh fruits and vegetables year-round, others are open seasonally, so be sure to check before choosing one to visit in the city.
Headhouse Farmers Market in Society Hill is Philadelphia's largest outdoor farmers market. Open year-round, Headhouse provides fresh, affordable vegetables and fruits for everyone to enjoy — perfect to eat on their own or use to whip up some delicious recipes. Rittenhouse Farmers Market offers an extensive variety of meat, eggs, poultry, fruits, vegetables, and dairy products expertly prepared by food artisans. This market is also open year-round but offers slightly longer hours from May to November.
Enjoy a leisurely afternoon supporting local farmers and trying some delicious foods at one of Philly's favorite farmers markets. This simple yet enjoyable activity is sure to create a special Mother's Day memory your mom will cherish forever.
14. Surprise Her With Flowers
For a beautiful and thoughtful Mother's Day gesture, surprise her with a bouquet of her favorite flowers. This is the perfect way to express the utmost love and appreciation for your mom, and it's a gift that words simply can't do justice. Looking for an experienced florist in the Philly area to provide fresh, vibrant blooms? Ode à la Rose is your one-of-a-kind solution.
To create fresh, stunning flower arrangements that add the perfect touch of color to any space, we take much of our inspiration from France. Here, quality and beautiful bouquets are the norm. Thanks to Ode à la Rose, you don't need to go all the way to Europe to find quality flower arrangements for moms. We source our blooms from the top eco-friendly farms around the world to provide you with fresh, vibrant bouquets year-round.
Once the flowers arrive at our workshop, our talented artisans carefully craft each bouquet with a delicate French touch, then package it in our lovely signature gift box. For an extra sweet surprise this Mother's Day, we can also add a heartfelt note, photo, chocolate, or macarons to your arrangement. We provide next-day flower delivery in Philadelphia, so your mom can receive flowers the day after you order them!
Order Your Mother's Day Flowers From Ode à la Rose
We hope this complete guide inspires some ideas for the perfect Mother's Day activities in Philadelphia. Make this Mother's Day one to remember by surprising her with the perfect bouquet of blooms.
Take inspiration from your mom's favorite color or flower variety, or choose from our recommended selection of Mother's Day arrangements. From preserved roses to soft peonies to vibrant tulips, we have a stunning selection of bouquets to make her smile this holiday.
For any questions about our products or delivery process, or to let us know how we can assist you, please contact us at Ode à la Rose.