Although Mother's Day as we celebrate it is just over 100 years old, people have been celebrating and honoring their moms pretty much since time began. The Ancient Greeks and Romans held festivals to honor Rhea and Cybele, the goddesses of motherhood. An early Christian festival, "Mothering Sunday," eventually evolved into and merged with what we know as Mother's Day today.
Mother's Day might be a special time for you and your mom. Perhaps you've planned something special for her every year since you can remember. But this year might be different. You might be on different sides of the country or even on different continents. How can you celebrate Mother's Day when you can't be by your mom's side?
It might take a bit of creativity, but there are several unique and fun ways you can honor your mom and let her know how much she means to you this Mother's Day, even if you can't be together in person. Read on for the best Mother's Day long-distance gift ideas to consider giving this year.
Related Posts:
1. Send Mom a Handmade Card
One way to let your mom know that you love her and appreciate her, even if you can't be with her on Mother's Day, is to make and send her a handmade card. Here are a few ideas.
One option is to find a photo of the two of you, either a recent picture or one from your childhood. Try to find a photo that has another object in it, such as a table with a vase of flowers or a tree in the background. Purchase a skein of embroidery floss, either in the same colors as the objects in the photo or in any colors that you like. You'll also need a sharp-pointed needle.
To bring the photo to life, stitch around the border of the object in the photo, such as around the outline of the tree's trunk using a brown-colored floss and around the perimeter of the leave's trees with green thread. You can get as creative as you would like and stitch fun patterns around the photo, not necessarily around an object in the picture.
After you've finished stitching, use a glue stick to attach the picture to a piece of cardstock. Ideally, the cardstock will be slightly larger than the picture, about an inch or two wider on each side. Write a message to your mom, either in the border around the photo or on the back of the card. It all depends on how much you want to say to her and how much space you will need.
Another photo-centric card option is to find pictures of your mother at different stages of her life, or photos of the two of you together throughout the years. For example, you could choose a photo from when you were born, a picture of you and your mom on your first day of kindergarten, a photo from your high school or college graduation, and pictures from other important milestones.
Purchase a piece of cardstock that measures 6 inches by 24 inches. Fold the cardstock into four 6-inch sections. You can use a bone folder to create an extra-sharp crease on each section and to make the folds look neat and tidy.
Choose four photos to use on the card and trim each one to the same size. Glue one photo to each section, centering the pictures on the page. If you've chosen pictures from major life milestones you've celebrated with your mom, you can write about a memory from each event on the card. If you prefer, you can write a general message to your mom on the back of the card.
2. Put Together a Nostalgic Slideshow or Video
If you're not particularly crafty, you can still celebrate your mom and the memories you share. Instead of decorating printed photos, gather a collection of digital pictures from social media, your hard drive, or emails. You can also digitize older pictures from your childhood or ask your siblings to contribute photos.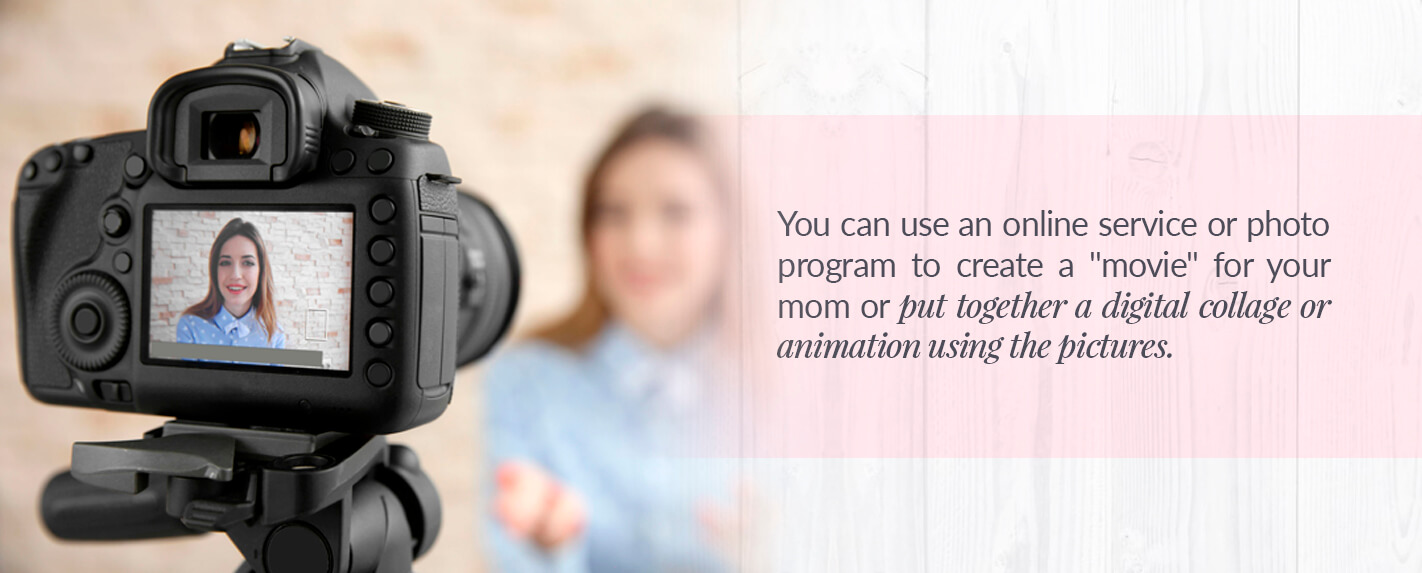 You can use an online service or photo program to create a "movie" for your mom or put together a digital collage or animation using the pictures.
3. Prepay for a Relaxing Beauty Treatment
You might not be able to go with your mom to the nail salon or spa on Mother's Day, but you can still treat her to her favorite beauty treatment, whether it's a manicure, pedicure, facial, or massage.
You can prepay for your mom's beauty treatment in a few ways. If she usually goes to a locally owned spa or nail salon, call up the location and ask if you can prepay for a service, such as a manicure or a massage. If the establishment is a chain, you might be able to purchase a gift card for your mom. If neither of those options works, you can send your mom the money to pay for the treatment, either right before she goes in or right after.
4. Enjoy a Long-Distance Breakfast or Lunch
Thanks to a variety of apps, you're never really that far away from your mom, even if you're not in the same country. One way to make the most of video calling apps on Mother's Day is to call up your mom while you enjoy a meal together, such as breakfast or lunch.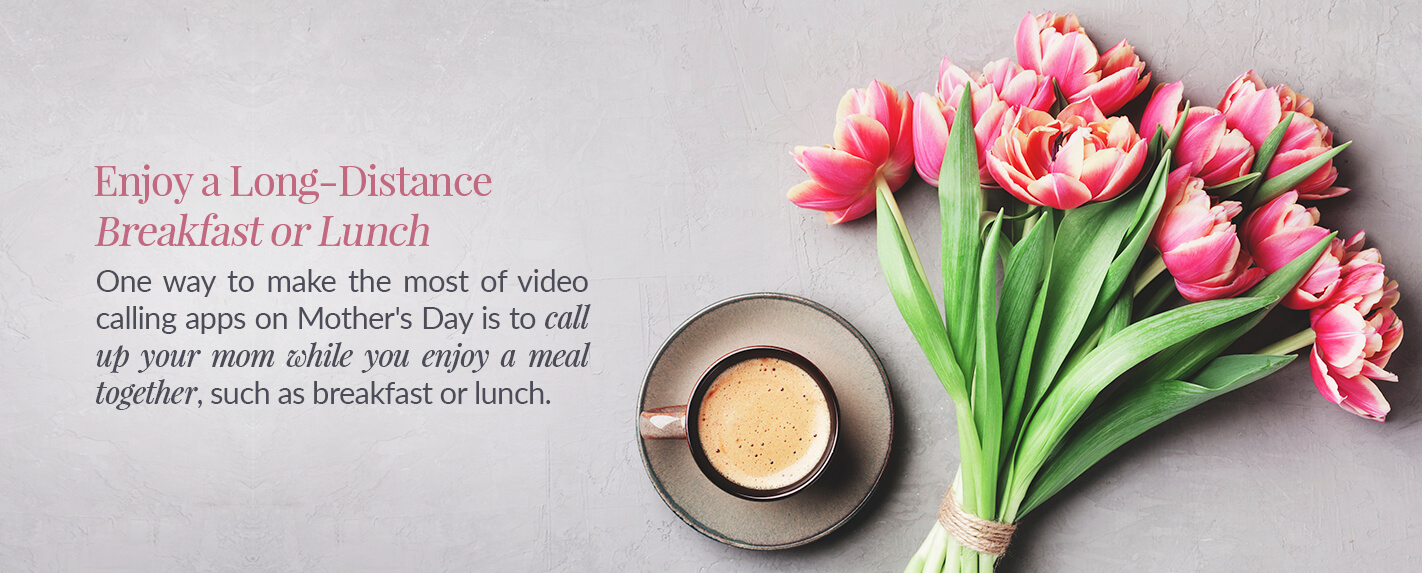 What you eat really depends on your preference. If you've traditionally gone out to eat somewhere on Mother's Day, see if the establishment will deliver to your mom — and perhaps to your house, too. That way, you can carry on your tradition, even though you're miles apart.
Another option is to cook together, but in separate kitchens, staying in touch over video chat as you work. Once your meals are ready, you can sit down and eat together, chatting all the while.
Related Post:
A Complete Guide to Cooking With Roses
5. Purchase a Monthly Subscription Service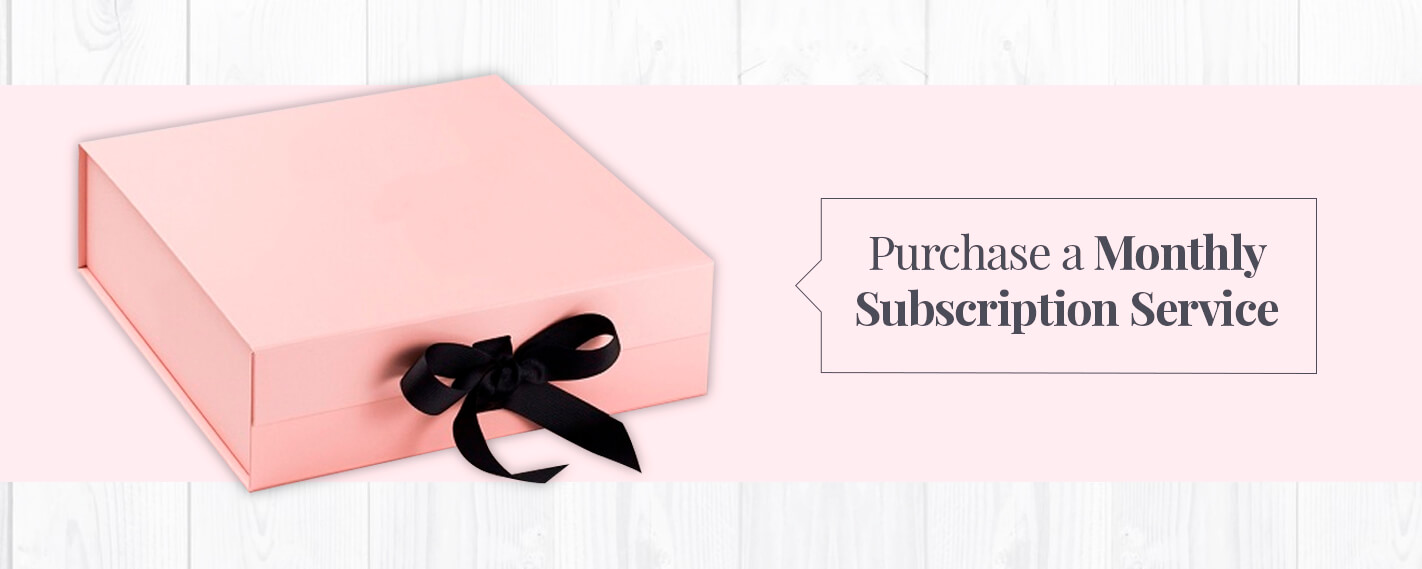 Subscription boxes are a Mother's Day gift that keeps on giving, month after month. Whatever your mother's interests, there is very likely a subscription box to match it.
If your mother is trendy and chic, you can purchase her a subscription to a style service. Before shipments begin, your mom will complete a "style quiz," and a stylist from the service will pick out clothes for her based on her answers. If she likes the clothing, she can keep it. If things aren't a fit or don't work for her style, she can send them back. You can send her one box or set up the subscription, so she gets a box every month or every quarter.
Another option is to pick a beauty subscription box for your mom, most of which can be customized to match your mom's tastes.
If your mother isn't into clothing or beauty, there is still a subscription box for her. Other options include:
Wine
Meal kits
Perfume
Fitness
Socks
Snacks
Vitamins
6. Send Mom a Care Package
Although a subscription box is a fantastic way to remind your mother that you're thinking of her each month, it's not necessarily the most personal option. If you want to send a mom a personal reminder that you're thinking of her, try putting together a care package. You can make a single package, in honor of Mother's Day, or you can create a package each month, as a sort of personalized, unique-to-her subscription box.

What should you put in your mom's care package? Anything you want. One option is to pick a theme, such as snacks, memories, or a particular hobby your mother has, then choose items for the care package based on the theme.
For example, if you're going to create a garden-themed care package, you can include:
Seeds for flowers or herbs
Gardening gloves
Small gardening tools, such as an herb clipper, trowel, and hori-hori knife
Floral or herb-scented hand lotion
Small flower pots
Small watering can
A spa-themed care package can include:
Bath bombs or bath salts
Scented body lotion
A sheet face mask
Lip or body scrub
Natural bristle body brush
Loofah
Scented candle
Eye mask
A snacks-themed care package can include:
Popcorn
Fancy mustard
Water crackers
Candy or cookies
Pretzel bites
A baking-themed care package can include:
A selection of chocolate chips from a high-end chocolate company
An apron
Mixing bowls
Measuring cups
High-end flour
A cookbook full of baking recipes
A selection of extracts
You can also put together a "mom-centric" care package, which includes:
A framed photo of the two of you together
A copy of your mom's favorite book or movie
A journal or memory book
If you have children, drawings or other pieces of artwork from them
7. Watch a Movie at the Same Time, Then Discuss It
Just as you don't have to give up on eating a meal together because of the distance between you, you also don't have to give up on spending quality time together bonding while watching a movie or TV show. Pick a time and a movie or show, then watch it at the same time. You might be in different locations and time zones, but you'll be viewing the program at the same time.
You can set up a time to chat about the movie or show after you both watch it or, to make it feel like you're in the same room, text each other during the program. If it's an old family-favorite movie, you probably won't feel so bad about texting back and forth during it. You can also use a video messaging app and set your phone or laptop on the couch next to you, so it's like your mom is sitting with you.
8. Select the Perfect Travel Accessories
For moms who are travel enthusiasts or love a good vacation, a special gift may be some travel accessories that will be useful for their next adventure. Travel gifts like a new pair of beach flip-flops or an item that makes plane travel more relaxing are perfect presents for your mom.
Think about where your mom loves to travel and what items could make her trips more enjoyable. Here are some examples of vacation gifts that will make your mom smile and start planning her next trip:
Passport holder
Airplane pocket tray table cover
Suitcase organizer bags
Mini cocktail kit
Personalized beach towels
A new set of suitcases
Electronics organizer
Travel jewelry organizer
Travel journal
Travel scrapbook kit
Travel pillow
New e-reader
Wireless earphones
Travel water bottle
These and other travel gifts will help transform your mom's vacation experience. Even better, plan a trip for you and mom as your Mother's Day present.
9. Commission a Custom Family Portrait
Give your mom a gift you know she'll adore with a custom portrait of your family. Surrounding yourself with photos of the people you care about most can make you feel happy and loved, making a special photo the perfect gift for any mother.
You can find many options for custom family portraits. Check out these options if you are considering buying a family photo for your mom:
Print out a large photo and purchase a nice frame.
Order large canvas prints of a family photo.
Find a digital artist online to make a graphic photo of a family photo you have. This is a unique Mother's Day gift and a lovely item for your mom to display in her home.
Create a collage of many family photos and place them in a large frame. Your mom will love seeing all the family members together in one place.
10. Curate Fun Bar Accessories
If your mom enjoys a nice cocktail or glass of wine, give her some cute and unique bar accessories for Mother's Day. Bar gifts are fun, thoughtful, and useful presents that your mom can enjoy every time she makes a drink. Take a look at some of these gift examples that your mom will love:
A new set of drink glasses, like those for wine, margaritas, whiskey, martinis, or beer
Custom wine glasses with her name on them
A bar cart to decorate with her favorite glassware and bottles
A fancy wine opener
Wine bottle stoppers
Custom drink koozies
A new set of engraved coasters
A new wine rack or shelf
11. Send Mom an E-Reader Full of Books
If your mom is a bookworm who hasn't gotten on the e-reader bandwagon yet, you can let her know you are missing her and thinking of her this Mother's Day by sending her an e-reader and choosing a selection of books to load onto it.
You can buy an e-reader for someone as a gift and also buy the books for them as a gift. You will need to have your mom's email address to purchase the books and to set up her e-reader.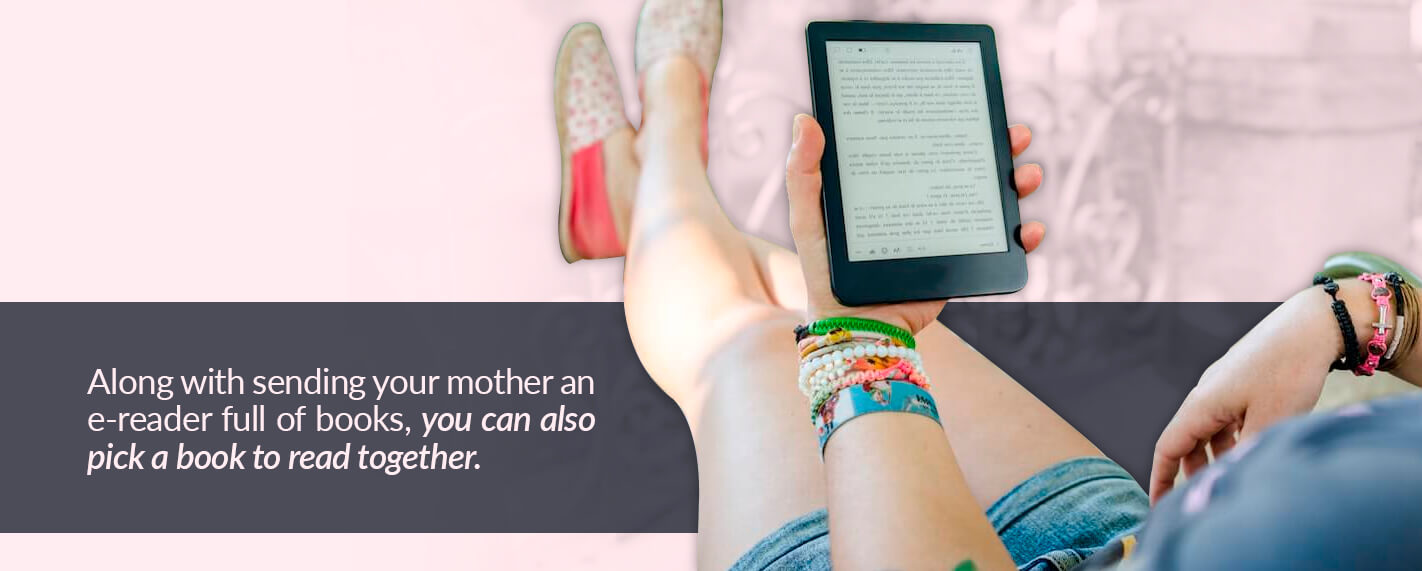 Along with sending your mother an e-reader full of books, you can also pick a book to read together. After you've read either the entire book or a specific number of pages or chapters, you can call each other and have a mother-child book club.
Need ideas for a book to read? Here are a few:
"Jane Eyre" by Charlotte Bronte
"Emma" by Jane Austen
"Educated" by Tara Westover
"The Nightingale" by Kristin Hannah
"The Odyssey" by Homer (Emily Wilson translation)
"My Brilliant Friend" by Elena Ferrante (the first in a four-book series — you might want to read all four together)
"Hidden Figures" by Margo Lee Shetterly
"I Am Malala" by Malala Yousafzai
12. Make Your Mom a Hobby Playlist
Music makes many hobbies even more enjoyable. You can put together a playlist for your mom to listen to while she goes about doing what she loves. Here are some options:
Exercise playlist: Pick upbeat songs. You can choose a mix of older songs, from the 1970s or 1980s, as well as some newer songs.
Gardening playlist: Make the plants and your mother happy by choosing some inspiring music for a day out in the garden. Orchestral music is a good pick. If your mother finds gardening to be a meditative, quiet activity, you might want to choose to fill the playlist with minimalist music, by the likes of Philip Glass.
Cooking/dancing in the kitchen playlist: Fill the playlist with songs your mom loves to dance to. At least one song from ABBA had better be on the list.
"Mom" themed playlist: Pick songs that have "mother" or "mom" in the title or that have something to do with moms. Don't be afraid to get too sappy with this one. Options include "The Wind Beneath My Wings" by Bette Midler and "Mama" by the Spice Girls.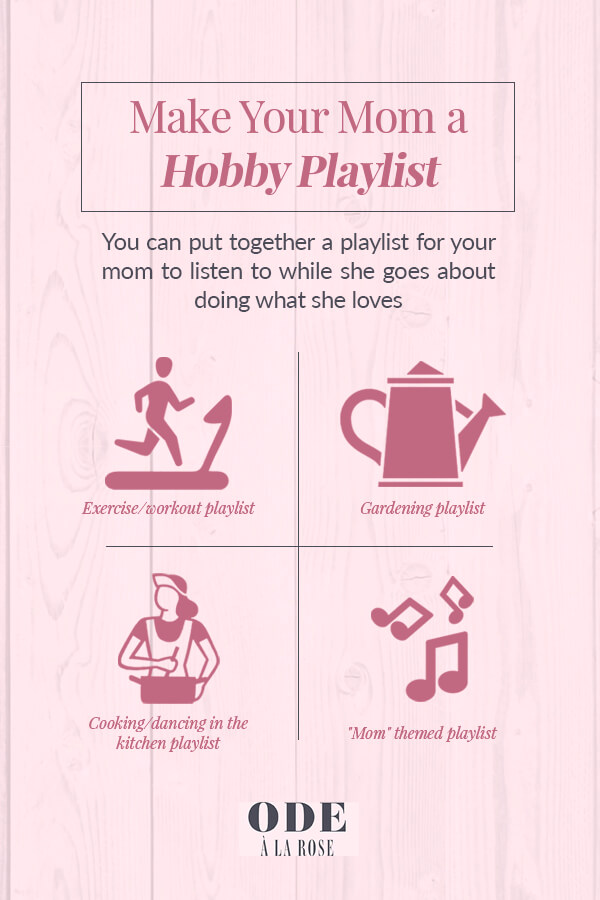 13. Send Mom Multiple Gifts
You've heard of the 12 days of Christmas, but this year, you can celebrate the 12 days of Mom — or something similar, choosing the number of days to match your budget. Order one gift for your mom to arrive on each of the "days." You may be able to stagger your orders so they'll each arrive on a specific day.
As with the subscription boxes or care packages, you can pick a theme for your gifts. One option is to order a different beauty product for each day, such as perfume on the first day, a sheet mask on the second, and so on.
You don't have to choose multiple gifts or aim to have one package arrive each day, which could be difficult to arrange. Instead, you can look online to find the perfect gift for your mom and have it sent to her house in time for Mother's Day. There are many places online for finding one-of-a-kind, can't-get-anywhere-else gifts for moms.
14. Get Your Mother a Train or Plane Ticket

Absence makes the heart grow fonder, but you wish you could see your mom right away. If you can't go visit your mom, another option is to have your mother come to see you. In honor of Mother's Day, book a plane ticket or train ticket for your mom, so she can pay you a visit.
You might need to consult with your mom before booking the ticket, so this gift can't exactly be a surprise. Choose a date that works for both your schedules. It's also a good idea to decide how long the trip will be in advance.
If you and your mom live very far away from each other, such as on opposite sides of the coast, another option is to pick a meeting point somewhere in the middle and plan a trip there with your mom. One option is to meet in Chicago if you're on the East Coast and your mom is on the West Coast.
The destination doesn't have to between where you two live, either. If you've long wanted to head to Paris or to visit London, book a trip with your mom this year. You might be spending Mother's Day apart, but in a few months, you'll be together in the city of your dreams.
15. Send Mom a Bouquet of Fresh Flowers
Few things are better than waking up on Mother's Day to a beautiful bouquet of fresh flowers. Even though you can't be by your mom's side this Mother's Day, that doesn't mean you can't send her flowers long distance.

Mother's Day flowers vary in their meaning and significance, so you can express how you feel about your mom through the flowers you choose for her bouquet. For example, pink roses symbolize grace and gentleness, an excellent pick for a mom who's graceful and loving. Coral roses symbolize friendship and modesty and are a great pick for a mom who's become like a friend to you over the years. If your mom has recently started on a new quest in life, white roses, which can stand for a fresh start, can be a perfect choice.
Roses aren't the only flowers that have special meanings. Alstroemerias, sometimes known as Peruvian lilies, are meant to represent wealth and devotion and are an ideal choice if you want to remind mom of your devotion to her, even though you're far away. Chrysanthemums represent cheerfulness and optimism, making them a fantastic pick for a mom who's always been there to cheer you up.
Get Beautiful Flowers Delivered From Ode à la Rose
Wondering where to look for flowers for your Mom? Ode à la Rose delivers beautiful bouquets nationwide. If your mother is in New York City, Philadelphia, or Chicago, we offer same-day delivery. Next day delivery is available to more than 1,500 cities in the Northeast and Midwest.
Each of our bouquets is beautifully and expertly arranged, then hand-tied with raffia. We package our flowers in our signature gift box. Once packaged in the box, the bouquet is covered in tissue paper. When you send flowers from Ode à la Rose to your mom for Mother's Day, you have the option of making the bouquet extra special. You can choose to include a vase or glass jar to hold the flowers and can add on items such as macarons and a candle.
You might not be able to spend mom's special day by her side, but that doesn't mean that you're not thinking of her. There are many ways to let her know you love her and that she means to the world to you. Ode à la Rose can help you show your affection and love for your mom. Take a look at our Mother's Day floral arrangements and order a bouquet for your mom today.