International Women's Day 2020 is just around the corner, taking place on March 8th. It's a globally recognized day in which we celebrate and advocate for women. The day has been observed for more than 100 years — the first gathering to mark the occasion occurred in 1911. Since then, the day has been an opportunity to raise awareness for gendered issues and to celebrate the achievements and accomplishments of women.
Each year, there is an International Women's Day theme, and this year's theme is #EachForEqual. It encourages everyone to challenge inequality and harmful stereotypes in their everyday lives. Although it's a day to be politically active, there are many ways to celebrate International Women's Day that can be done alone or with loved ones.
What to Do on International Women's Day
Every year, there are International Women's Day activities in various cities around the world ranging from marches to peaceful protests, but there are also several low-key activities you can do to mark this day.
Donate to a Women's Refuge or Charity
Many women are victims of domestic violence, with approximately 35 percent of women in the world experiencing some sort of physical or sexual abuse at the hands of their spouse — that's about one in three women worldwide.
It is incredibly difficult to leave an abusive relationship, especially when there are kids involved, so women's shelters are a necessity that has helped save many lives. These shelters also usually provide women with skills and training they may not otherwise have had, so they can go on to get well-paying jobs and become financially independent.
Donating to charities that aim to empower women and girls is a great way to support them. After all, the girls of today may become the leaders of tomorrow.
Support Female-Run Businesses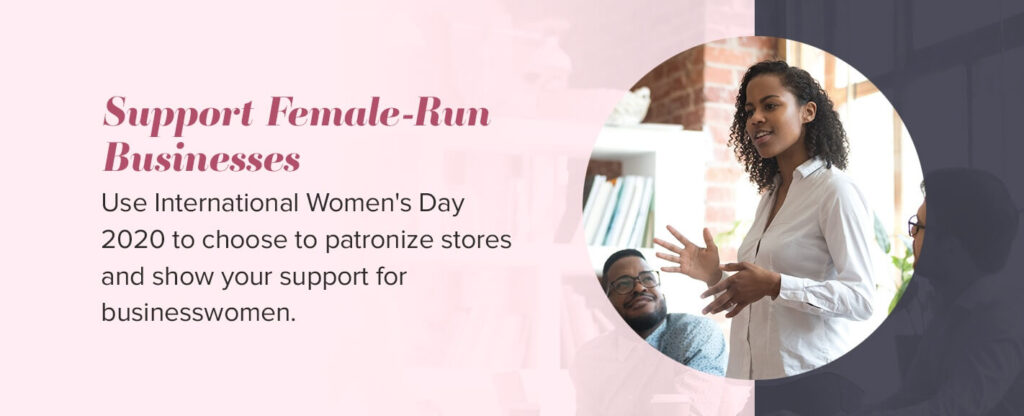 Do you know of a local cafe or shop that is run by women? Use International Women's Day 2020 to choose to patronize these stores and show your support for businesswomen. You can use this day to advocate for the female leaders and business owners in your local community.
Get together with some friends and work to encourage your workplace to support women. If not that, then encourage your friends and coworkers to start going to more local female-run businesses. You can even extend your International Women's Day celebrations and make a pact with your friends and coworkers to only patronize businesses owned and run by women for the rest of the month.
Treat the Women in Your Life
Celebrating women can be as simple as gifting them a gorgeous bouquet of International Women's Day flowers or making breakfast in bed. Show the women in your life that you appreciate them and support them. Surprise your wife by sending her flowers at work or let your mother know much you appreciate her by taking her out for a nice meal.
This year's theme can be practiced by supporting the women in your life, but support doesn't have to be in the form of political activism — it can be as simple as just letting the women in your life know that you care and that you're on their side. Small acts of kindness can go a long way every day, but they can mean a little bit more on International Women's Day.
Showing the women in your life that you admire them and support them is a small way of saying something meaningful — the women in your life will appreciate being acknowledged.
If you're a woman yourself, go ahead and treat yourself, too! Order your own flowers for International Women's Day. Take yourself out to a high-class meal, or treat yourself to a new outfit by a female designer. It can be difficult being a woman in this world, and you deserve to give yourself some credit.
Celebrate Women in Arts
Since the International Women's Day theme this year is #EachForEquality, use the day to support movies, TV shows, and other art by women. Have a mini film festival featuring only movies created by and starring women — you can even take it a step further by making sure the movies all pass the Bechdel Test.
If you're more of a reader than a movie-watcher, there are tons of books by women about women that you can start. Writers like Roxane Gay, Chimamanda Ngozi Adichie, and Naomi Klein have made a career of unapologetically writing about tough topics pertaining to women.
If you're still stuck on how to celebrate International Women's Day, check your local art galleries and see if there's an exhibit by a female artist that you can go see to support the artist.
Attend a March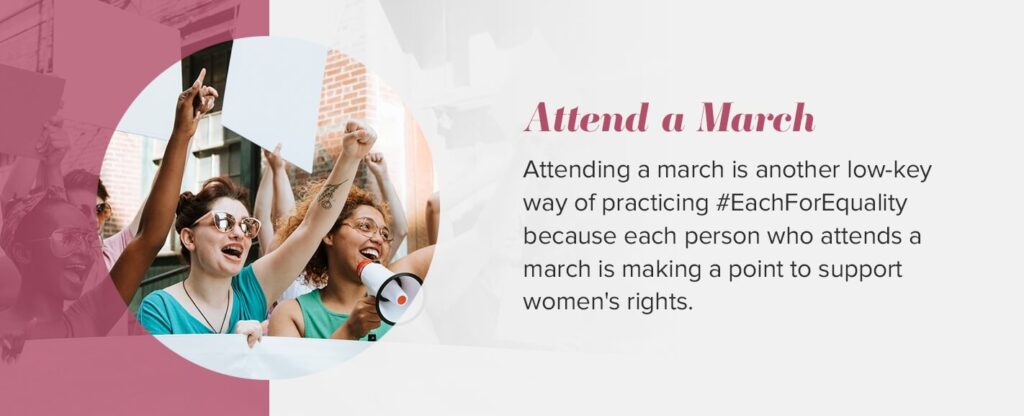 When it comes to International Women's Day activities, annual marches are probably the most popular. Ranging from activities like parades and guest speakers to advocacy for specific causes, marches are one of the best ways to show your support for International Women's Day and all it stands for.
Check with your local organizations to see what's planned for your area since every city — and even every neighborhood — has its own way to celebrate this day. These organizations are also an excellent way of learning about impactful women in your community as well as meeting like-minded individuals.
Attending a march is another low-key way of practicing #EachForEquality because each person who attends a march is making a point to support women's rights.
Surprise Them With Flowers This International Women's Day
Show the women in your life that you admire them and send flowers for International Women's Day from Ode á la Rose. Our chic, modern bouquets are handmade by professionals, so they're always unique. We even send you a photo of your special bouquet so you can see exactly what will be sent. We use top-quality flowers from around the world and ship nationwide.
From small attention bouquets to luscious rose bouquets, Ode á la Rose delivers one-of-a-kind floral arrangements for every occasion. Order flowers for International Women's Day and surprise the women in your life. All our bouquets are delivered in a chic gift box, and the flowers arrive in water, so they're as fresh and gorgeous as promised.
Browse our bouquets or get in touch for more information today.