Whether through end of life rites, funeral services or celebration of life ceremonies, honoring the memory of deceased loved ones is an integral part of all cultures.
In times of grief, a community gathers around a bereaved family, offering their support and helping to honor the life of the one they have lost. However, the exact expression of this honoring and support has taken many different forms over time and across cultures.
One of the latest evolutions of the funeral is a celebration of life ceremony. Unlike traditional funerals, celebrations of life have no set rituals or etiquettes — they vary depending on the family and the person being honored. While some celebration ceremonies follow the tradition of memorial services, others take the form of casual parties or gatherings.
If you are invited to a celebration of life ceremony, you might be unsure of the proper etiquette — how do you properly express your condolences? Flower arrangements are common gifts of sympathy brought to funerals, but does the same rule apply to celebrations of life?
We've created this guide to help you navigate a celebration of life ceremony and choose the right gift to show your love and support. However, before we explore specific etiquette, we must have a full understanding of what a celebration of life ceremony is and how it differs from traditional funeral services.
What Is the Flower Etiquette for a Celebration of Life Ceremony?
Celebrations of life have a more festive, cheerful, and celebratory atmosphere than traditional funerals. Because of this, the etiquette is often different — the family might request that no one wear black, for example. Some celebrations of life even feature music, dancing, and an open bar, but it depends on the specific family and the family member they are honoring.
As a general rule, it is best not to bring flowers to a celebration of life event unless specifically requested by the family members. Instead, you can send an arrangement privately to their home, along with any condolences. This lets the family know that you are grieving with them as well as celebrating, and shows them that you are aware of their sorrow and pain in this difficult time.
When sending a sympathy bouquet, you can choose whatever flowers and colors you feel are appropriate — white flowers are traditional, but if you know that the family loves bright colors or a specific flower, you can customize your bouquet for a personalized touch. Below, we've listed some lovely and contemporary sympathy bouquets to help generate some ideas.
Roses, tulips, and snapdragons: This white and green arrangement is simultaneously modern and classic. Filled with snowy roses, ivory snapdragons, and greenery, this bouquet is a beautiful way to extend sympathy to a grieving family.
Hydrangea, ranunculus, and roses: White roses feature again in the Amelia arrangement, but the true showstoppers are the spreading, white hydrangeas. Pearly ranunculus add depth to the bouquet, and soft green foliage adds a touch of elegance to the arrangement.
Lush greens and white roses: The tall sympathy arrangement is sophisticated and breathtaking — featuring vibrant greenery and white roses, lisianthus, eucalyptus, and orchids, this bouquet is a contemporary and lush take on traditional sympathy arrangements.
Wildflowers and roses: Sometimes, a little color gives new life to a traditional sympathy bouquet. This arrangement features white and pink mondial roses and pink alstroemerias, producing a gentle and lovely bouquet.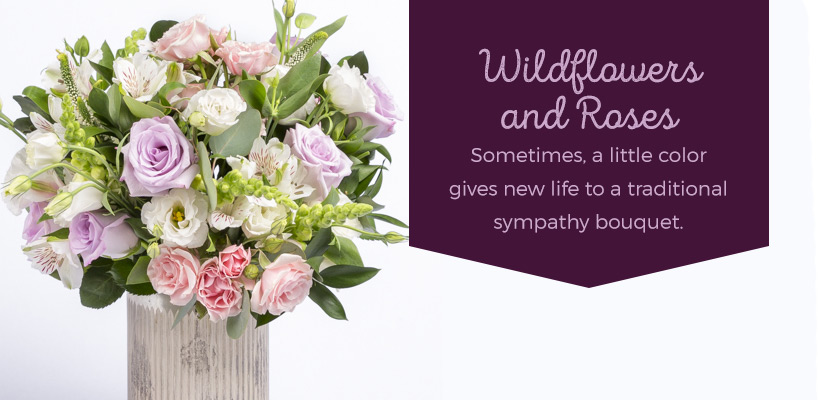 Eucalyptus and roses: This white and green sympathy bouquet brings a soft French flair to traditional white arrangements. Contrasted with soft green foliage, the bouquet's alabaster flowers combine to create a truly charming, chic, and contemporary arrangement.
White roses: A bouquet filled with dozens of elegant white roses makes a moving and lovely sympathy arrangement. Roses are some of the world's favorite flowers, so if you don't know the specific flower preferences of the bereaved family, a white rose arrangement is sure to be enjoyed and appreciated. For a smaller, quieter version, consider a small white rose arrangement like the Petite Josephine — the quaint and accessible size doesn't diminish any of the flower's charm.
Whatever arrangement you choose, a privately sent gift of flowers is a touching and thoughtful expression of sympathy.
What Are Other Appropriate Options?
It is often hard to know what to say or give to a grieving friend. A gift or gesture of sympathy can show them that they are in your thoughts — while nothing you say or do will make a grieving friend less sad, it can show that you support them and are available if they need you.
For a celebration of life ceremony, the traditional sympathy gifts can sometimes feel stiff or outdated. If you are looking for a way to show your support beyond a floral arrangement, don't worry — there are many alternative and appropriate ways to extend condolences to the family.
1. Make a Charitable Donation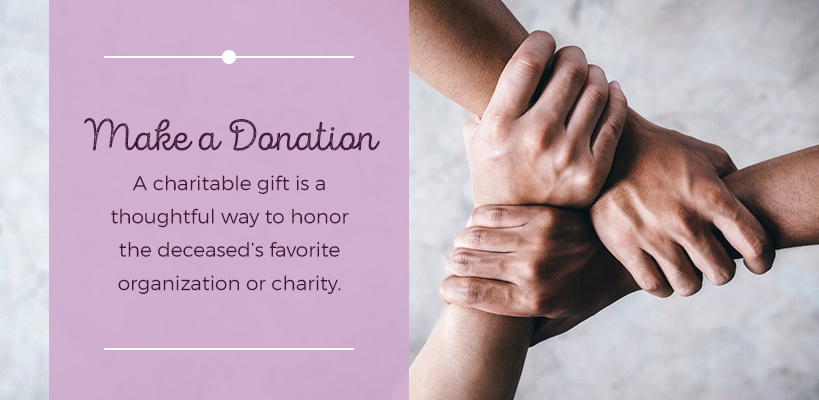 One way to express sympathy is to make a charitable donation on behalf of the deceased or their family.
A charitable gift is a thoughtful way to honor the deceased favorite organization or charity, or to a cause that you know they were passionate about. Instead of receiving flowers or another tangible gift, the family will get a card or notification from you or the charity, letting them know about the donation. Donations extend the legacy of the deceased, and it can comfort the family to know that good is being done in the name of their loved one.
Another way to extend love to the family is to sponsor a gift that honors the deceased. For example, some parks allow you to sponsor a new tree, and they will install a plaque giving the name of the honoree along with any brief words. Gifts such as these are a tangible way to commemorate the deceased, and they can mean a great deal to their family.
2. Deliver a Meal to the Family
During a time of grief, normal, daily tasks can seem overwhelming. Meals are one of the things that can easily be overlooked in the haze of sadness and making arrangements. Especially if extended family is gathering together, having enough food to feed everyone can become a source of significant stress.
Delivering meals to a bereaved family is a practical and meaningful way to show your support. If you decide to bring some food to the family, try making it easily served or frozen for later use — pre-packaged food is another practical choice since it doesn't require much effort to preserve or use.
Food baskets are a common way to show your sympathy for the bereaved. You could make one yourself from some of the family's favorite foods, or you could order one from a specialty shop.
3. Mail a Handwritten Letter of Condolences
Store-bought cards can help us find the words to say in difficult situations. But to show a grieving family that you love and support them, consider adding handwritten elements to your letter of sympathy.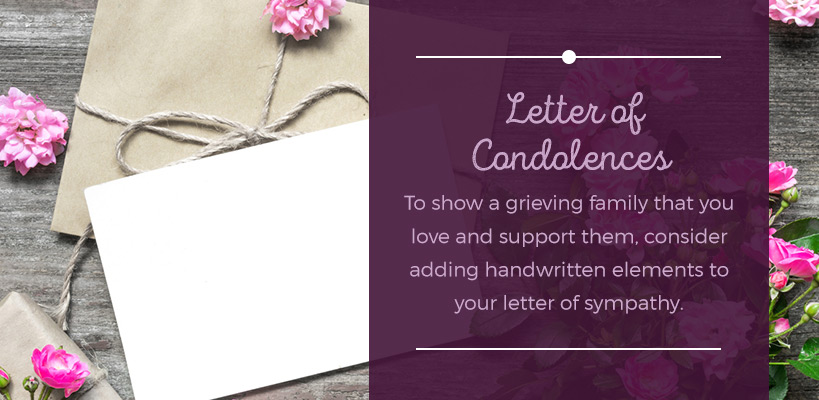 Whether it's a quick note on the inside of a store-bought card or an entirely handwritten letter, adding your own words will make a card personal and genuine. For many people, just knowing someone cares about them and is thinking of them is a comfort — it doesn't require a large gift or gesture to show your support.
4. Send a Sympathy Gift
There are many gifts beyond flowers that you can privately send to a grieving friend. The best gifts are inspired by the deceased or their grieving loved ones. For example, if you know that your friend loves gardening, you could send them a sapling — more permanent than flowers, a tree will live for decades and will remind your friend that they are thought about and loved.
If it matches the personality and tastes of the recipient, almost anything can be an appropriate sympathy gift, including memorial garden stones, candles, a blanket, or one of your favorite comforting books.
The Difference Between Funerals and Celebration of Life Ceremonies
In many ways, funerals and celebration of life ceremonies are very much the same — they are services held to honor someone who has died, and they are attended by people who share a common loss.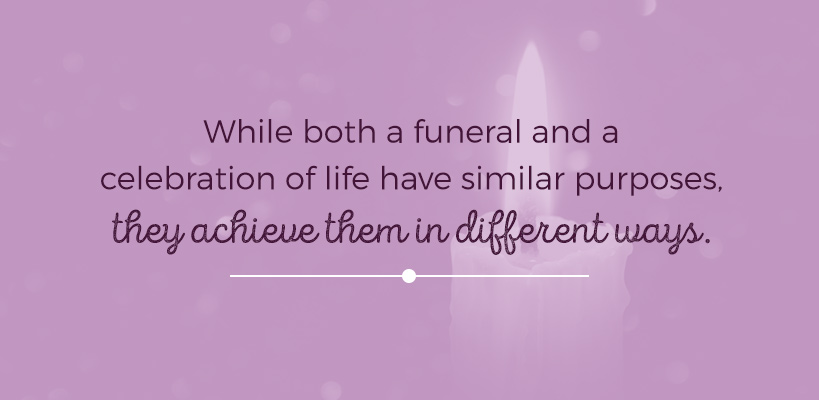 Both types of ceremonies achieve three things:
They support the bereaved family by surrounding them with caring friends, neighbors, and co-workers.
They help the grieving family and their community publicly acknowledge and mourn the death of a loved one.
They signify a movement of the deceased from one social status to another.
While both a funeral and a celebration of life have similar purposes, they achieve them in different ways — one ceremony is rooted in centuries of tradition, and the other one reflects current societal shifts and changes.
To better understand the etiquette surrounding celebration of life ceremonies, let's explore the intricacies of both kinds of events — their traditions, atmosphere, and etiquette.
The Traditional Western Funeral
Over generations, the American funeral model has evolved into its current form, carrying with it many traditions and rites.
Ultimately, a Western funeral has traditionally revolved around a person's death. Guests wear dark colors and exhibit subdued behaviors to honor the grief of the family, and the ceremony often maintains a sober, reflective atmosphere. However, the funeral has adapted over centuries — more and more, families are exploring alternative ways to commemorate their loved ones, and the atmosphere of the traditional funeral continues to change.
Although the American funeral is in flux, it has three traditional stages — the visitation, the funeral service, and the committal ceremony.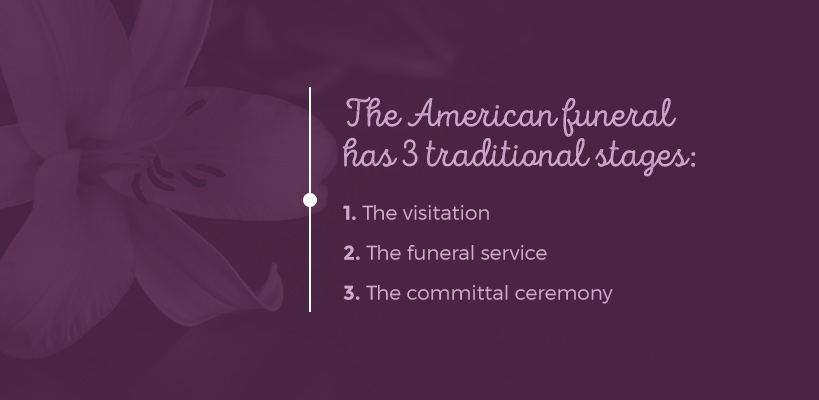 1. The Visitation
The visitation service is usually held before the funeral, often the night before. Sometimes, a family will have the visitation the same day as the funeral — the visitation in the morning, and the funeral in the afternoon.
During a visitation, guests come to support the family and pay their respects to the deceased. Often, a visitation is smaller than the funeral. While a funeral service is commonly attended by a variety of guests with varying degrees of closeness to the family and the deceased, the visitation is typically filled only by those closest to the deceased. However, this is not always the case — some families choose to have a large and public visitation followed by a small, intimate funeral service attended by close friends and immediate family.
Depending on the preferences of the family, the deceased may be visible in an open casket during the visitation. Guests will approach the casket to view the body and say their final goodbyes to the deceased, either alone or accompanied by a member of the family.
A visitation service is typically held at the home of a family member or a funeral home. When attending a traditional visitation, the mood is often quiet and subdued, and the dress is formal.
2. The Funeral
Of the three parts of a traditional funeral, the funeral service itself comes with the most traditions and rituals.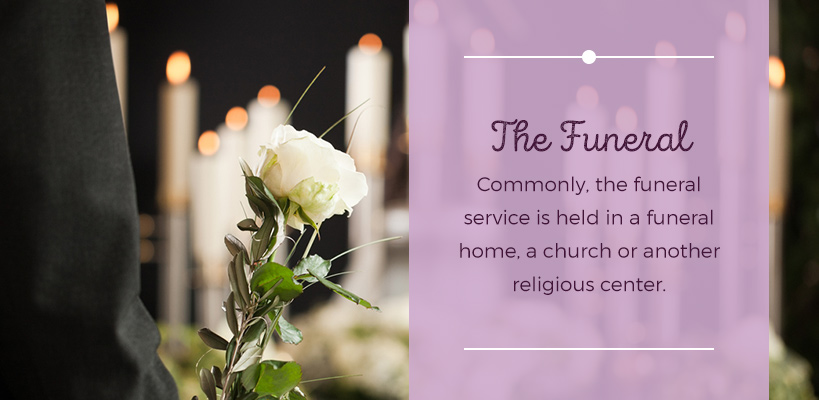 Commonly, the funeral service is held in a funeral home, a church or another religious center. An officiant leads the service, most often a religious leader or the director of the funeral home. During the service, the officiant follows a predictable and traditional order of service which often includes elements like singing hymns, reading religious passages, and prayer. A family member or friend close to the deceased will commonly give a eulogy, sharing stories about the deceased and emphasizing how much they will be missed.
Every funeral service varies depending on the wishes of the deceased and the preferences of the family. However, formal, dark clothing is usually appropriate, and many guests choose to bring flower arrangements to the service as an expression of condolences.
3. The Committal
After the visitation and the funeral, the family begins an automobile procession to the cemetery. The final stage of a traditional American funeral is the committal service, which takes place at the gravesite.
Also called a graveside service, the committal service is often more intimate than the funeral — family and close friends gather around the gravesite, and an officiant again leads those present in traditional rites. Similar to a funeral service, a committal ceremony often includes singing, readings or prayer.
The committal service ends once the casket is lowered into the grave and the final prayers or words are said. Since the committal ceremony directly follows a funeral service, the dress code remains the same — formal, respectful clothing. Committal services are often shorter than a visitation or a funeral, and someone close to the deceased may give a short eulogy. The family may choose to bring some of the flower arrangements from the funeral to leave on the gravesite.
Celebrations of Life Ceremonies
Where a funeral traditionally focuses on the death of the deceased, celebration of life ceremonies focus on their life.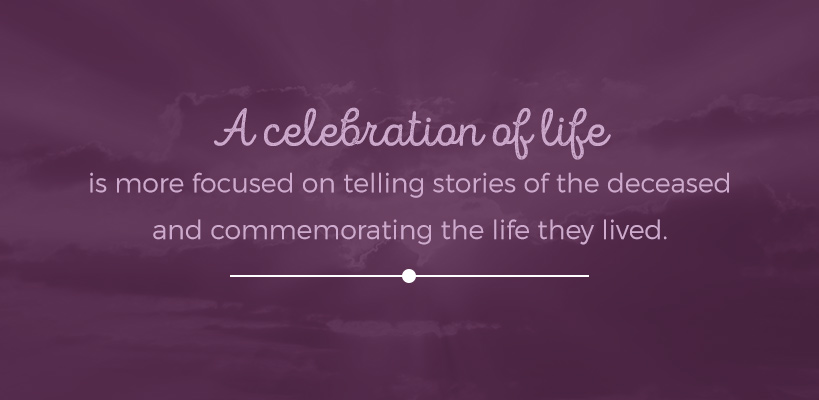 A funeral revolves around the often orderly transition of the deceased from one social or spiritual state to another. In contrast, a celebration of life is more concerned about telling the stories of the deceased and commemorating the life they lived. These ceremonies are a time where people come together to celebrate the achievements and unique personality of the deceased, instead of simply witnessing a transition from one stage of life to the next.
In many ways, a celebration of life ceremony resembles a memorial service — both events serve to commemorate the life of the deceased. However, a celebration ceremony often lacks the traditional activities associated with a memorial service. While a memorial service may resemble a funeral in many ways, a celebration of life ceremony embraces a lack of tradition that is not typically associated with funeral services.
Celebration of life ceremonies have increasingly gained traction in American society. Some of the most common reasons people choose a celebration of life over a traditional funeral are the flexibility of timing, atmosphere, and creativity provided by these less formal services.
1. The Timing
Because a funeral involves the body of the deceased, they often occur a few days after the person's death. Planning and executing a funeral can be overwhelming on such short notice, especially for those who are experiencing acute grief.
However, a celebration of life ceremony doesn't require the deceased to be physically present during the service — in many cases, they are held after the remains have been cared for through cremation or burial. Because of this, celebration ceremonies can occur at any time after the death of the deceased, whether the family wants to wait a few weeks, months or even years after the death.
With a celebration ceremony, the planning is less rushed, and the family will often experience less pressure, which can be a relief as they mourn.
2. The Atmosphere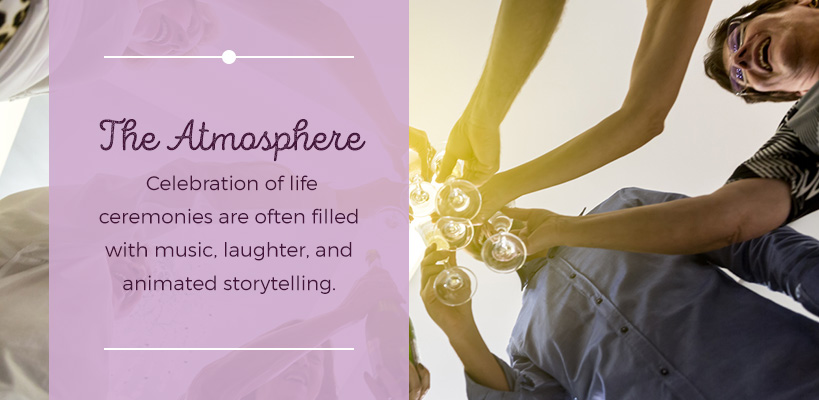 The atmosphere of a celebration of life ceremony is distinctly different from a funeral — while funeral services are typically subdued and somber, celebration ceremonies are often filled with music, laughter, and animated storytelling.
At a celebration ceremony, family and friends remember the joy that the deceased brought to them and others. Music is often featured, and some families even choose to have dancing during the event. While some ceremonies will ask guests to wear formal clothing, others invite you to wear whatever you like — the event is meant to create an atmosphere of peace, thankfulness, and joyful remembering, and dark, formal clothing may seem out of place.
3. The Freedom
For many people, traditional funeral services can feel too formal or rigid. When guests are invited to a funeral, they come with certain expectations — they will look for a guestbook or an officiant, for example. Because a funeral is so steeped in tradition, it can feel difficult to branch out or break convention.
One of the primary attractions of a celebration ceremony is its lack of tradition. In American culture, these types of services are still relatively new and developing, which means that they don't come with expected traditions or rites. This room for creativity is appealing for many families — it gives them the flexibility to customize the service around the personality of the deceased.
This room for creativity means that celebration ceremonies are as unique as the person they honor. It's difficult to know what to expect — each ceremony will look different, and many of the elements of the service are personalized to the deceased. The hosts could ask you to wear the honoree's favorite color, for example, or they could play the person's favorite music during the event and serve their favorite foods. Because of this personalization, every celebration ceremony is distinct.
Express Your Sympathy With Flowers
Whether you are invited to a funeral or a celebration ceremony, show your friends or coworkers you are thinking of them during this difficult time through a beautiful arrangement of sympathy flowers.
At Ode à la Rose, we offer a wide selection of high-end, Parisian-inspired flower arrangements perfectly suited for a funeral or celebration of life ceremony. Whether you are looking for elegant snapdragons, sophisticated orchids or timeless roses, we have a bouquet that suits your needs and preferences.
We source only the highest-quality flowers from eco-friendly farms, and every arrangement is handmade by an expert floral designer. You will receive email updates at every stage of your bouquet's journey, and you will receive pictures of the arrangement so you know exactly what the bouquet looks like before it is shipped.
All of our bouquets are delivered in a chic, elegant gift box, and any large arrangements are delivered in water to ensure fresh, vibrant flowers and foliage. Our signature box delivery adds an elegant touch to your gift, presenting the flowers a fresh and unique way.
Express your sympathy and purchase a flower arrangement today.