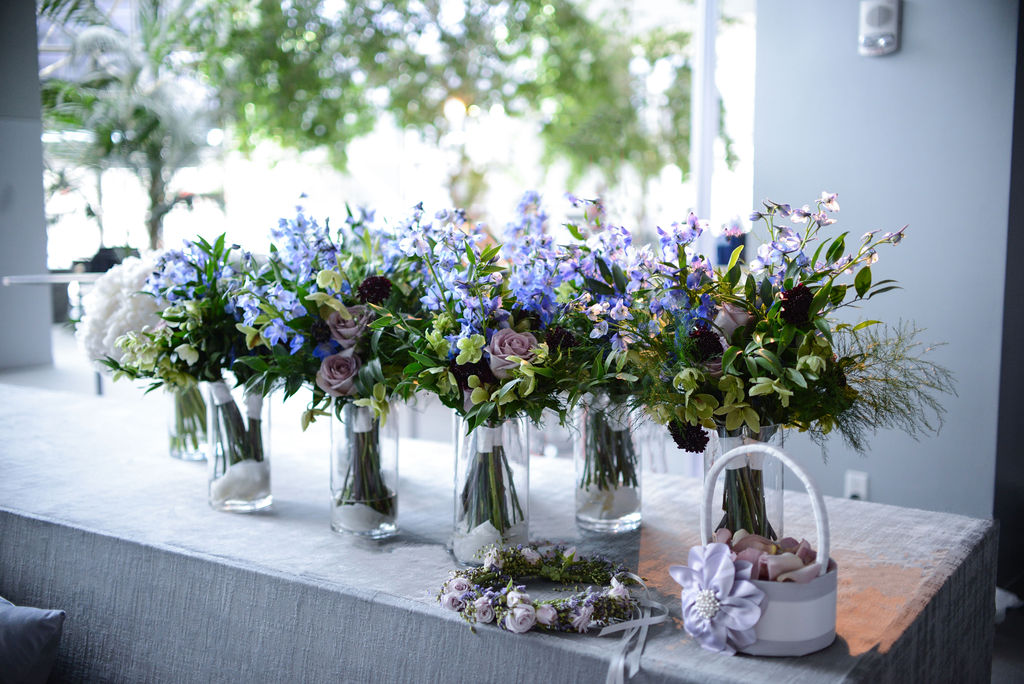 When you're planning an event, you might be unsure how far in advance to order event flowers. If that's the case, let Ode à la Rose's artisans guide you:
If you need bouquets for an event, two weeks of notice gives us enough time to order the flowers.
If you need a custom proposal for a corporate event, aim for ideally three to six months of advanced notice, or as soon as you know the date you can start the process.
If you are planning a wedding, it is best to contact your florist as soon as you know your date to confirm they are available. 6 months to a year is a perfect amount of time to start the process, but as little as 3 months is doable!
Planning Special Event Flowers
Ode à la Rose creates stunning floral arrangements for any event. France's chic floristry inspires our designs, allowing us to add charm to wedding ceremonies, receptions, galas, conferences, parties, and dinners. Choose from our signature bouquets, fresh flowers, or custom arrangements to infuse your celebratory event with flair and beauty.
When to Order Flowers for Your Event
Placing your wedding or corporate event flower order early will give the artisans at Ode à la Rose time to procure the most beautiful flowers for your arrangements. With access to our sustainably sourced blooms from all over the world — farms in Colombia, Ecuador, Italy, Holland, and France — our flowers are the freshest and so special. We ship our flowers as soon as possible, but longer lead times will ensure that your arrangements are everything you imagined.
We recommend that you place your order two to four weeks before your event for custom bouquets. If you plan to order seasonal flowers, consider doing so even earlier. Certain colors and varieties are very popular when in season, so we may need additional time to source the most beautiful blooms that surpass your expectations.
For large events such as weddings and galas, we suggest starting your floral design process six to nine months in advance (or sooner if you have details to share). While such a long lead time might seem excessive, it gives you the opportunity to make sure we are available and it allows ample time for the design team at Ode à la Rose to create a plan, design your special day, and perfect more custom installations. The process takes time and preparation to bring everything to live from the consultation, to the proposal, to the final execution.  All of the desing elements, such as floral walls, suspended installations, and other pieces that require custom fabrication take time to come to life!
If you have recurring corporate events or order the same flowers on a regular schedule, consider placing a standing order. If you do, your flowers will be delivered before your event as usual, and you can take those monthly reminders off your to-do list. Enjoy the convenience that comes with giving us extra notice.
How to Care for Flowers Once They Arrive
For smaller orders, Ode à la Rose delivers bouquets in water, so your flowers will arrive hydrated. To care for them until your event, follow the steps in our floral care guide.
When you order flowers for a wedding or corporate event, you won't have to think about taking care of your arrangements before and after the occasion. Ode à la Rose will come to you. Our artisans will install your flowers so that look perfect for your event. This carefree setup prevents stress, lost time, and damaged flowers. When the event is over, we'll even come back to remove your arrangements from the venue.
Planning your event is challenging enough. On the day of, leave the setup, last-minute touch-ups, and cleanup to us.
Order Event Flowers From Ode à la Rose
Place an order with Ode à la Rose to stun attendees at your next event. Browse our selection of bouquets to start preparing. For more information about custom requests, contact us by calling 646-660-5281, emailing events@odealarose.com, or filling out our contact form.