Thinking of getting hitched in Brooklyn? You need to start planning for a lot of things — setting your budget, drafting a guest list, finding your wedding dress, choosing a photographer, selecting a Brooklyn florist, and, most important of all, booking a venue! We've put together a list of the coolest wedding venues in Brooklyn to make planning a little easier. Look at the wedding venues below and see if the location of your dreams is right here in Brooklyn.
For a rustic industrial wedding with an emphasis on wide-open spaces, The 1896 in Bushwick is the place to go. This venue is classic Brooklyn, boasting the grit without the dirt. The space is perfect for the customization it offers — some well-placed lighting and decor are the key to bringing the venue from industrial to industrial-chic. The 1896 is ideal for a couple looking for a more alternative wedding, away from fluffy ball gowns and overly staged photos.
While The 1896 often hosts photography and film shooting sessions, it has served as the backdrop for breathtaking weddings. Select from their four indoor areas and one outdoor space, or book multiple sections to create the industrial wedding of your dreams. The 1896 lets you tailor your celebration to your tastes and select your vendors. As a shooting location, the venue books up fast, so you're better off celebrating there on short notice or paying in full and scheduling in advance.
Brooklyn Winery combines sophistication with a rustic feel, thanks to the abundant reclaimed wood decor, exposed brick, and wine barrels. You'll feel like you're in Napa Valley rather than Williamsburg, ideal for West Coast transplants. And of course, there's no better way to toast your marriage than with a glass of wine from the venue's fully functioning winery.
With a Brooklyn Winery wedding, you get a full-service experience. They'll help you craft a wedding menu and make sure every other detail is exactly right for your special day. Create the rustic feel of a barnyard wedding without stepping foot on a farm at this sophisticated Brooklyn wedding venue.
Getting married in New York City doesn't have to mean tourist-filled sidewalks and taxis in place of limos. Escape to an oasis of pastoral lawns, lush flower borders, and a greenscape of trees at the Brooklyn Botanic Garden. The Brooklyn Botanic Garden is full of gorgeous locations within the grounds to tie the knot, including The Palm House, a glass-walled space perfect for an afternoon event, or their outdoor atrium for a truly romantic garden wedding.
The Brooklyn Botanic Garden partners with Patina Restaurant Group to cater your big day. The culinary partner offers world-class dining that will treat you and your guests to a delicious meal that accompanies your celebration. Cross finding a caterer off your wedding to-do list and tie the knot surrounded by natural beauty in New York.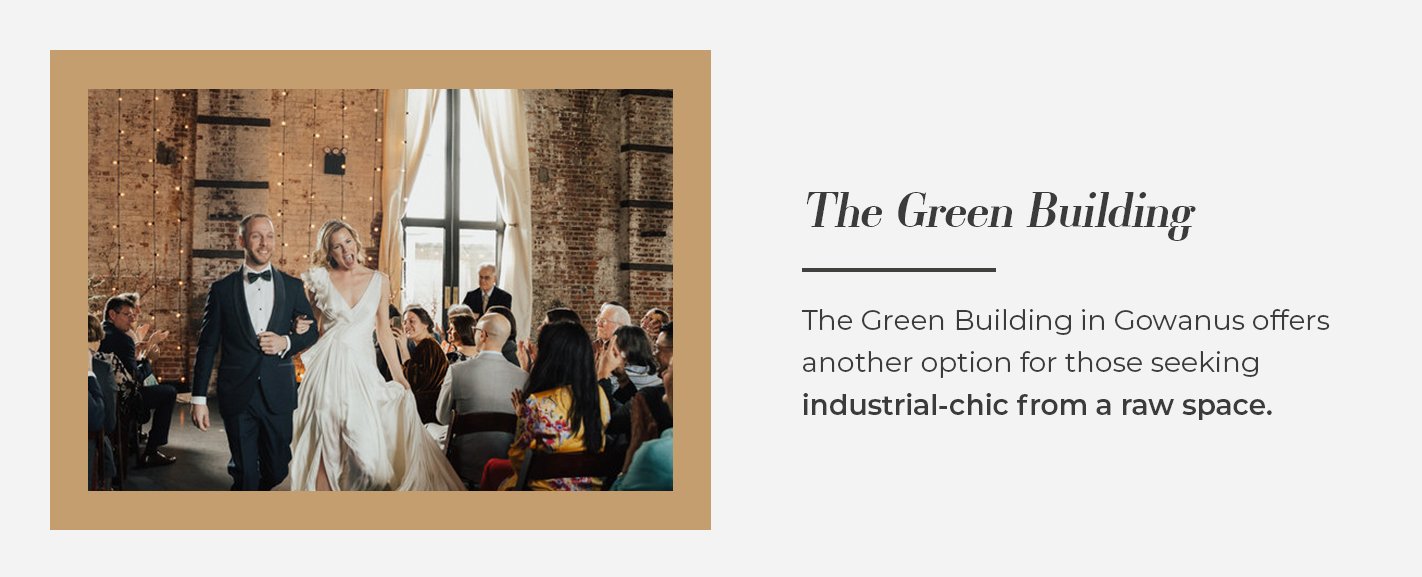 The Green Building in Gowanus offers another option for those seeking industrial-chic from a raw space. The venue displays chandeliers, exposed brick and beams, and large open spaces – everything else is up to you! Host anything from an intimate gathering to an all-out bash at this Brooklyn wedding venue, and select the perfect decorations to complement the modern industrial feel. Strings of vintage-style light bulbs and floral arrangements heavy on greenery will provide the right accents for a Brooklyn wedding here.
There aren't many more picturesque city backdrops than the Manhattan skyline. The Brooklyn Grange offers one of the most gorgeous venues for a New York City wedding – a 2,000-square-foot rooftop deck, complete with enviable views. To top it all off, the roof also boasts a secret garden, making it the perfect marriage of city and country. Select intimate lighting scattered among your ceremony and reception decor to complement the sunset's golden rays and the twinkling city lights.
Dobbin Street's event space has everything you need for a wedding that hopes to use both indoor and outdoor spaces. Although minimalist, this venue – only steps away from McCarren Park – evokes a luxury feel and manages to be upscale without seeming too exclusive. Dine under elegant, vaulted ceilings, and enjoy post-ceremony cocktails on the rooftop terrace among breathtaking views.
This Brooklyn venue also makes planning your wedding a bit less stressful. Consult with Dobbin Street through their premium wedding package and take advantage of their well-established relationships with vendors. Create a sustainable celebration with help from the venue's preferred local vendors.
One of the biggest draws of this Bushwick venue, Fitzcarraldo, is its fully window-paned wall in the dining room. This spot is a beautiful and industrial-chic place to celebrate your marriage and enjoy the results of your carefully planned menu. Book a daytime wedding at this space to capitalize on the abundant natural light. Fitzcarraldo is ideal for naturally lit, intimate celebrations. Gather with close friends and family in this warm, romantic oasis.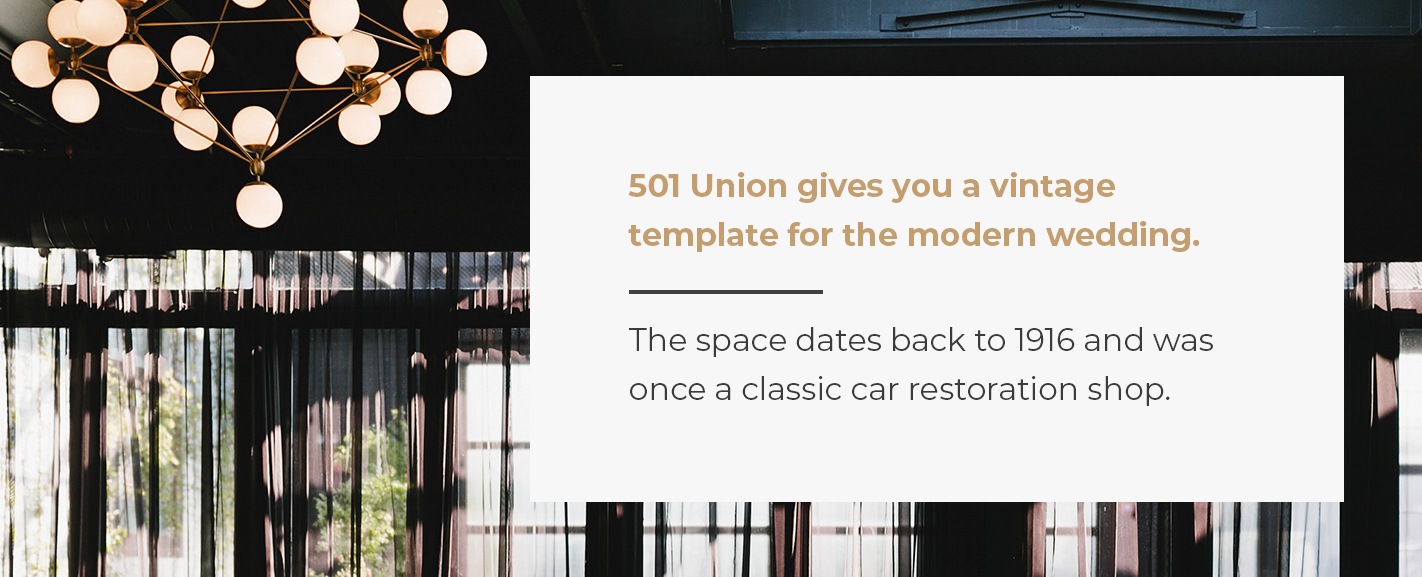 501 Union gives you a vintage template for the modern wedding. The space dates back to 1916 and was once a classic car restoration shop. Whether you choose to host your wedding in the reception hall, the lounge, or the courtyard, 501 Union has no lack of space. Ditch the limo for a brightly colored vintage car and add your special day to this venue's history.
If you tie the knot in this unique venue, you get a combination of convenience and customizability. 501 Union works with a vendor to supply kitchen items and linens, but the rest is up to you and your spouse-to-be.
The Greenpoint Loft was once a pre-World War II rope factory, but by no means do you need to include rope in your wedding decor. This raw space offers views across the East River in addition to roomy indoor areas. You'll have free rein to create the exact style and atmosphere you want for your big day — with a little help from The Greenpoint Loft's inherent, classic Brooklyn vibe. The venue's brick walls, exposed beam ceilings, and skylights will enhance your ceremony and reception and complement decor from rustic to modern or industrial.
The Brooklyn Academy of Music – BAM, for short – is a truly iconic location for your wedding. If you and your partner are fans of film, art, and dance, consider BAM for your special day. All weddings take place on the second floor in the Lepercq Space, which has tall, gorgeous windows surrounding the room. The result is a magical venue that's a versatile space for your ceremony and your reception. Be sure to coordinate your schedule so you can catch a show the same day you go to check out the venue!
Use Ode Events to Decorate Your Brooklyn Wedding Venue
Once you've selected from these and other stunning Brooklyn wedding venues, it's time to find a wedding florist and decorator. Let our expert team at Ode Events help bring your wedding to life. We craft everything from bridal bouquets to flower walls and whatever else you can dream of for your celebration.
Complete a wedding inquiry form online to learn more about our wedding services. Trust Ode Events to create ceremony and reception decor for your special day.