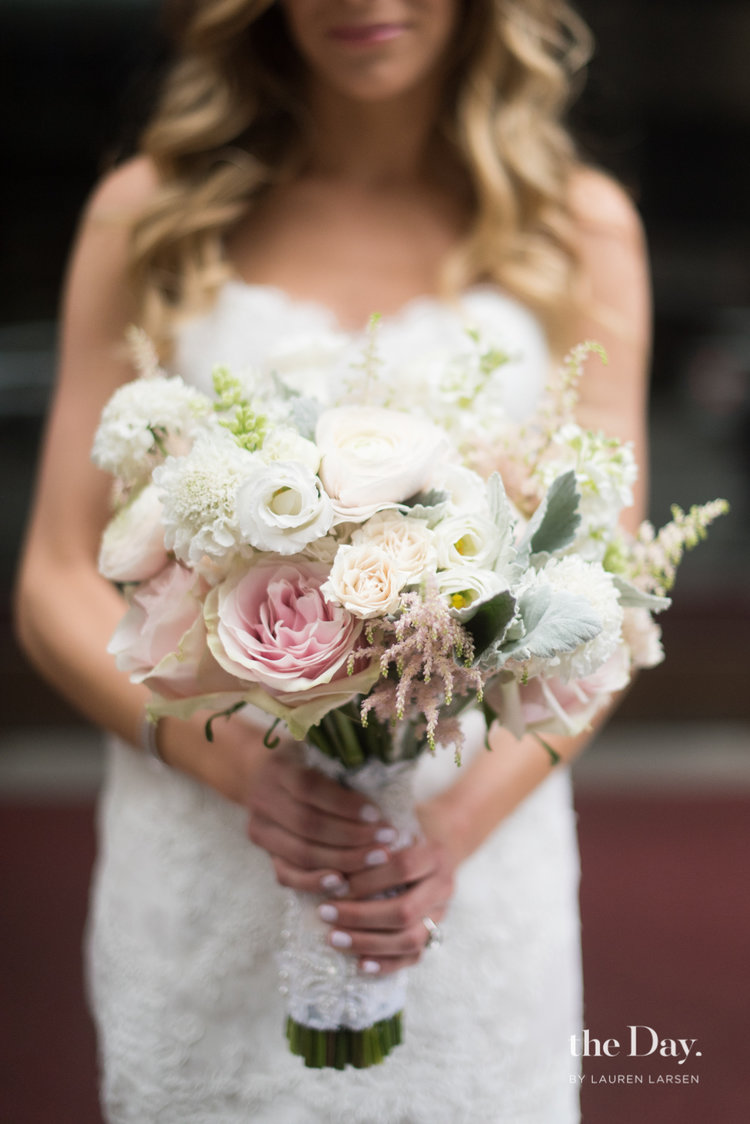 How to Choose a Wedding Florist in NYC
New York City is gorgeous and chic and is known for its classic metropolitan atmosphere. You want your wedding flowers to complement your city setting and give you a night you'll never forget. Working with a wedding florist can elevate the look and feel of your special day. The perfect wedding florist will work within your budget, have a good understanding of your floral design aesthetic and style and is dedicated to bringing your vision to life.
Creating a Wedding Flower Budget
Experienced wedding florist will be helpful in guiding you through the flower selection process, it is therefore important to have an idea about how much you are willing to spend on flowers when meeting with your florist.You should also decide if your budget is flexible. If you see a floral arrangement that would be perfect for your venue, would you be willing to spend more on flowers and less on another aspect of the wedding? Knowing the flexibility of your budget beforehand will save you time and help manage your own expectations as your choosing your wedding flowers.
Based on past surveys, the average cost of wedding flowers nationwide can be between $700 and $2,500. In New York City the starting price of wedding flowers may be closer to $3,000. Please keep in mind that prices may vary depending on your specific flower selection and design style.
The following items can affect how much you will spend on wedding flowers:
The location of your wedding: If you want exotic flowers, you may have to pay more money to have them shipped to your location.
The date of your wedding: Certain flowers are only in season during specific times of the year.
The style and theme of your wedding: A more upscale venue calls for a high-end floral arrangement.
The experience of your florist: When you hire a florist, you pay for the quality of the flowers and the expertise of the florist.
Here are some tips for saving money on your wedding flowers:
Buy seasonal flowers: Typically, seasonal flowers cost less than out-of-season blooms, because of greater availability. Choose flowers that are in season during your wedding, or consider buying flowers that are readily available all year long.
Buy flowers in bulk: Try to limit your floral arrangement to a couple of different types of flowers, so your florist can buy your flowers in bulk.
Be honest with your florist about your budget: When you choose a florist, be honest about what you can afford. Your florist might swap more expensive flowers for more affordable options.
Reuse your flowers at your reception: After your ceremony, your bridesmaids can use their bouquets as centerpieces at the reception. You can find creative ways to reuse your flowers.
Choose a naturally beautiful venue: If you get married in a botanical garden, you might need fewer flowers than if you were getting married at a hotel. Use the natural beauty of your venue to decorate for your wedding.
Now that you have a budget in mind, you can start creating your vision for your beautiful wedding flowers.
Get Inspired and Create a Wedding Flower Vision
Before you dive into creating your wedding flower vision, you need to consider:
Your unique style: The floral arrangements you choose should match your personality. Does simplicity appeal to you or do you think that more is more? Your flowers should reflect who you are.
Your venue: The location of your wedding is the canvas that brings your flowers to life. Explore your venue and try to imagine how flowers can enhance the location.
Your wedding colors: Depending on the time of year — and on what you enjoy — seasonal flowers can match your wedding colors. Your flowers could also accent what your parents, bridesmaids, and groomsmen are wearing.
Your wedding gown: You should match your floral arrangement with the design, color, and style of your wedding gown. Your florist can use a picture of your wedding gown as inspiration as they craft your perfect bridal bouquet.
Your bridal party: Think about what you want your bridal party to carry as they walk down the aisle. As you envision your bridesmaids, parents, grandparents, and groomsmen walking into the ceremony venue, imagine the bridesmaids' bouquets, the mothers' and grandmothers' corsages, and the men's boutonnieres.
Your guest list: The more guests you invite, the more tables you will need in your reception venue. Consider how many tables you'll need to determine the extravagance of your floral centerpieces.
Draw inspiration for New York City wedding flowers from websites and magazines. As you scroll through pictures of floral arrangements, make notes about your likes and dislikes. Focus on the color, size, texture, and type of flower in the floral arrangements that catch your eye.
You could also ask your friends and family for advice. If you have friends who are already married, ask them what type of flowers they used for their wedding. Sometimes your friends and family can help you discover more about your own likes and dislikes.
Think about what types of arrangements you'd like to have at your wedding. Some of the options include:
Bride Flowers
Bridal bouquet
Flowers for bride's hair
Groom Flowers
Bridal Party
Bridesmaids' bouquet
Maid of honor bouquet
Flower girl crown
Flower girl basket
Petals for the flower girl
Groomsmen's boutonnieres
Best man boutonniere
Family of Bride/Groom
Corsages for the mothers and grandmothers
Boutonnieres for the fathers and grandfathers
Venue Flowers
Ceremony floral arrangements
Decorations for the pews or chairs
Florals for the escort card display
Floral arrangements for the reception entryway
Centerpieces for guest tables
Decorations for the buffet tables
Decorations for the bar
Floral decorations for the cake
As you search images online or flip through magazines, save the pictures of floral arrangements that you like. Imagery is a helpful tool when communicating your flower design aesthetic and style to your wedding florist.
How to Hire a New York City Wedding Florist
If you are getting married in NYC, choosing the right wedding florist is essential. Now that you have some ideas and inspiration, you can start looking for a florist who can bring your floral dreams to life.
It's a good idea to book at least eight months before the wedding, so start your search early in the planning process. Here's what to look for in a wedding florist:
Design aesthetic that matches your own: Each florist has their own style. You should find a florist who matches your style and can capture your unique vision for your floral arrangements. Before booking an appointment with a florist, scroll through their pictures on their website to get an idea of their aesthetic.
Positive reviews from previous clients: While their website may share the highlights of the company, you can develop an honest opinion of the florist by reading about both the positive and negative experiences of previous clients.
Plenty of experience: Professional florists often have years of experience in the flower industry. Choose a florist who can give you educated, professional assistance with your floral arrangements.
During your consultation, the florist will ask you questions about your venue and the type of flowers you like. They will provide you a proposal with the projected cost of your floral arrangements. They might also provide samples of your wedding flowers.
Questions to Ask a Wedding Florist
Here are some questions to ask a wedding florist before you hire them:
How many weddings have you done?
Do you have a portfolio to show?
Do you have any other weddings scheduled during the weekend of my wedding?
How do you store your floral arrangements?
How do you transport your floral arrangements?
What additional fees do you charge?
What suggestions do you have for creating my wedding flower design?
Which other items do you provide, and which items will I have to buy myself?
Can you work with my budget for my floral arrangements?
Will you provide samples?
Choose Your Flowers & Finalize Your Plans
While you may not be a professional florist, you should know the basics of the floral industry before you begin choosing your flowers. Your florist can work with you to choose the best flowers for your wedding season, your preferred wedding colors, and your desired bouquet shape.
Seasons
Think about your wedding date when flower planning. Using seasonal flowers in your bouquet will save you money and will help you create a uniform color theme for your wedding. For a spring wedding, you could add these flowers to your bouquet:
Roses
Calla lilies
Lilacs
Peonies
Tulips
For a summer wedding, you could use these flowers in your bouquet:
Roses
Sunflowers
Poppies
Freesias
Hyacinths
Yellow gerberas
The following flowers work well during a fall wedding:
Roses
Calla lilies
Chrysanthemums
Orange gerberas
Celosias
Dahlia
You could use these flowers in your winter wedding decor:
Roses
Tulips
Stars of Bethlehem
Ranunculus
Red gerberas
Carnations
Colors
While wedding flower planning, you also need to pick colors that match the shade and style of your wedding gown. Here are ways to incorporate each color into your bridal bouquet and floral decorations:
Red:  The symbol of romance, security, and passion. Use red roses against your white dress for a classy yet simple bridal bouquet.
Orange:  The perfect hue for autumn and summer weddings. This vibrant color pairs well with black dresses for a sweet pop of color.
Yellow: A color that will make everyone happy on your exciting wedding day. Use a pale shade of yellow for a romantic, elegant look.
Green: Adds a touch of nature to your wedding and pairs well with black or pink dresses. Use succulents, tropical flowers, cacti, or green orchids to incorporate green into your floral arrangements.
Purple: Works best with bright colors, like pink or yellow. Purple also pairs well with white, so you can include purple flowers in the bridal bouquet.
Pink: The symbol of femininity. You could mix different shades of pink in your bouquet to add a fun splash of colors.
White: The symbol of purity and the color to use on your wedding day. Since white complements any color, you can add any of your wedding colors to your white bridal bouquet.
Shapes
You could also discuss the shape of your bouquet with your florist. A professional florist should be able to put together any of these types of bouquets:
Cascade: For a high-end, elegant look, you can incorporate greens and flowers to make your bouquet look like a waterfall garden. Roses and garden lilies are typically the best types of flowers for this bouquet shape.
Posy: For a petite, simple look, you could use a posy bouquet for your bridesmaids. In a posy bouquet, you typically only use flowers, not any type of greenery. 
Hand-tied: For a relaxed look, grab a handful of flowers and tie them together with a ribbon. You can choose any flowers you want, and you could even create this shape of bouquet yourself.
Round: This bouquet shape is similar to the posy but is bigger. If you choose a round bridal bouquet, only use a few flowers to create consistency.
Nosegay: A nosegay is a classic arrangement. It's a small, round bouquet with one primary flower surrounded by multiple little flowers. You can use this as your bridal bouquet if you plan on having a small, intimate wedding.
Pomander: This type of bouquet is popular with flower girls and junior bridesmaids. The Pomander consists of a round bouquet of flowers tied together and suspended by a piece of ribbon.
Composite: The composite is a bouquet of flowers that has been crafted to look like one giant flower.
Biedermeier: The Biedermeier style bouquet is a collection of flowers that form concentric circles, giving your bouquet a striped look. Roses, dahlias, and orchids would look nice with this style of bouquet.
Crescent: For a modern or romantic book, the Crescent consists of a bunch of flowers in the center, with a couple of flowers branching out. Use flowers with a natural arch to complete your bridal bouquet.
Work With the Floral Experts at Ode à la Rose
You can trust the professional team at Ode à la Rose to construct your floral arrangements for your wedding in NYC. We'll sit down with you to understand your unique style, so we can create floral arrangements that reflect your personality. You'll also be impressed by our white glove installation and breakdown services so that your flowers are one thing you won't have to worry about on your wedding day.
Fill out a wedding inquiry today and we'll be in touch soon.
Source: