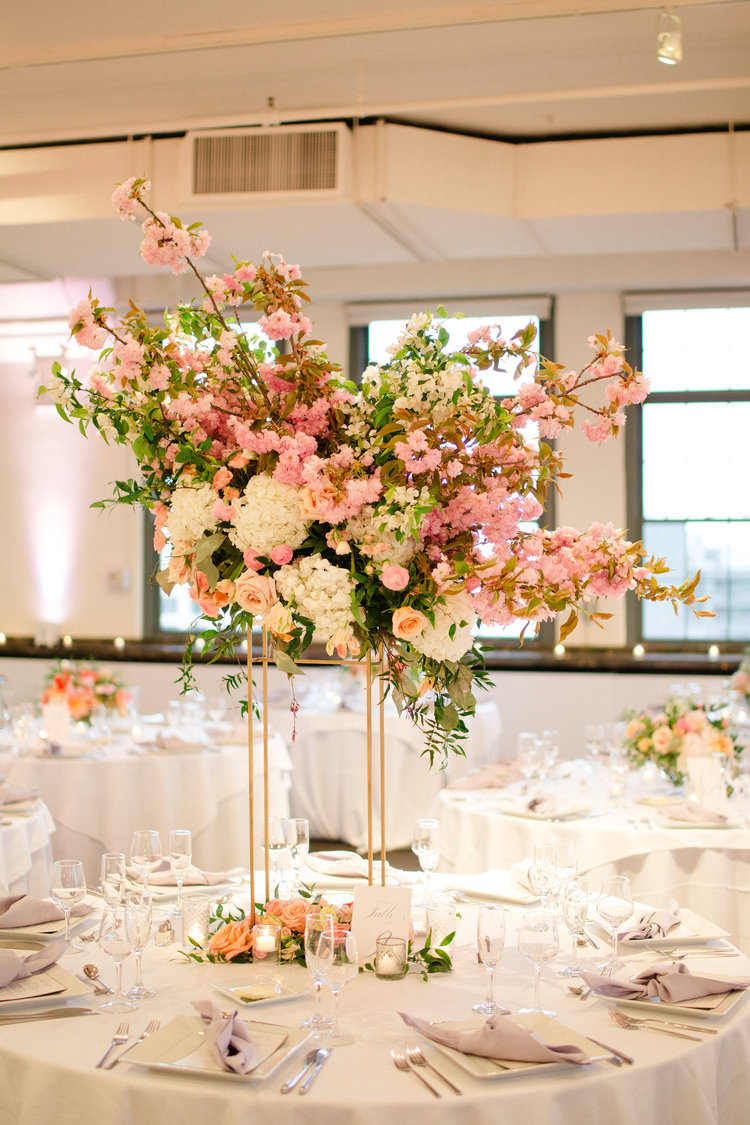 Average Cost of NYC Wedding Flowers
New York City sets the best scene for your unforgettable wedding day to be celebrated with your closest family and friends. Luxurious flower arrangements will create a beautiful backdrop for your celebration of love. As you start putting the numbers together for your wedding day, it's important to understand how to factor in the cost of wedding flowers in New York City.
In New York City, couples allot approximately 10% of their budget to florals. Based on past surveys, the average cost of wedding flowers nationwide can be between $700 and $2,500. In New York City the starting price of wedding flowers may be closer to $3,000. Please keep in mind that prices may vary depending on your specific flower selection and design style.
How Much Do Wedding Flowers Cost?
Based on your budget, you can determine what floral arrangements are most important to your vision for your wedding day. Before you decide on where you will splurge and where you will save money, here is a list of frequently requested floral items by our clients:
Bride & Groom Flowers
Bridal bouquet
Groom's boutonniere
Bridal Party Flowers
Bridesmaids' bouquets
Boutonnieres for the groomsmen, fathers and grandfathers
Pin-on or wrist corsages for mothers and grandmothers
Bag of flower girl petals
Flower crown for the flower girl
Venue Flowers
Ceremony flowers
Floral arrangement next to the guest book
Floral arrangement next to the place cards
Head table centerpiece
Garland for the sweetheart table
Centerpieces for the guest tables
Flowers to decorate the cake
As you plan your budget, think about which florals are essential for your big day and which ones will not be missed looking back at your pictures 10 years from now.
What Factors Affect the Cost of Wedding Flowers?
Knowing what affects the price of floral arrangements can help you in your design process. By simply adjusting your vision for your floral arrangements, you can save hundreds of dollars.
Type of flowers: The cost of your flowers is determined by their availability throughout the year and their ability to grow. Peonies, gardenias, and hydrangeas tend to be the most expensive because of their slow growth rate. On the other hand, greenery, babies breath, roses, daisies, and carnations usually cost less money because they are widely available.
Time of year: Some flowers are in season at one time of year and not at others. You can always ship flowers in from other parts of the world, but shipping flowers out of season will cost you extra money.
Size of the bridal party: Each of your bridesmaids and groomsmen will need bouquets and boutonnieres, respectively. The more people you have in your bridal party, the more bouquets and boutonnieres you'll need to buy.
Number of guests: The more guests you have, the more tables you'll need. If you want to include centerpieces on each table, you can expect to pay more money than if you only had a small number of centerpieces.
Doing it yourself vs. hiring a florist: You can create your own floral arrangements to save money, but you probably want to hire a professional to help you save time and energy. Before running to the store and making your own flowers, think about how hiring a florist can give you peace of mind on your wedding day.
How Can I Save Money on Wedding Flowers?
You can save money on wedding flowers by considering what is most important to you. For example, if you always imagined having peonies at your wedding, even though they are more expensive, have peonies and compromise on other parts of your flower budget.
On your special day, you should splurge on specific elements in your floral arrangements:
Bridal bouquet: Second only to the wedding dress, your bridal bouquet is the most important part of the bridal ensemble. You might think it worth it to spend money to have the bridal bouquet of your dreams.
Centerpieces: Your guests will be spending the majority of their time at the reception. Enhance the beauty of your venue with beautiful lush floral arrangements.
Ceremony arrangements: The ceremony is the central focus of the day, the place where you will share your wedding vows. Decorate the ceremony area with memorable florals that can potentially be repurposed after the ceremony.
If you splurge on the bridal bouquet, the centerpieces, and the altar arrangements, you can save money on the flower girl's flowers, decorations for the ceremony seating, and decorations for the entryway door. When designing your floral arrangements for your wedding, here are some additional tips to help you save:
Reuse your bridesmaids' bouquets as centerpieces in the reception.
Find other ways to decorate your reception hall, such as with pictures or candles.
Choose flowers that are in season.
Buy your flowers in bulk.
Mix inexpensive flowers into your bridal bouquet.
Add greenery to your centerpieces.
Are New York Wedding Florists and Bouquets More Expensive?
Florists typically charge higher rates in places like California and New York because of the cost of living. Sales tax in New York City is also more expensive than in other parts of the United States. If you want to ship exotic flowers to New York from another country, that will add to your flower bill as well.
When you hire an NYC wedding florist, you are investing in a service as well as a product. Florists in NYC have years of experience in the floral industry, and they invest time and energy into choosing the perfect flowers, designing the flowers arrangements, placing the bouquets in safe packaging and delivering the floral arrangements to your wedding venue. You could create your own floral arrangements, but to match the luxurious venue you've most likely chosen in NYC, you need high-quality flowers arranged in a high-class fashion.
Achieve Your Vision at Ode à la Rose
At Ode à la Rose, you can choose from a wide variety of seasonal flowers to fit within your wedding budget. We have a great team that is ready to support you with all your floral needs for your special wedding day. For more information, fill out a wedding inquiry and we'll be in touch soon!
Sources: