Weddings aren't only for warm summer nights and crisp autumn days. Winter weddings can be lavish and romantic, and many couples enjoy the magical essence that takes over the cool air. The months wrapping up the year or kicking off a new one can bring snow, cozy feelings, and a beautiful glow.
Wedding planning involves discovering the beautiful trends circulating for the year and deciding which ones best match your style and visions. There's a trend for everything from cakes and dresses to interior decorating and table settings.
Whether you're looking for outdoor winter wedding venues or an intimate, indoor ceremony, there are many stunning ideas for winter weddings this year. For some winter wedding inspiration, check out these 2023 trends that will impress your guests and make your big day beautiful and bright.
13 Winter Wedding Ideas and Trends
It's never too late to find some of the best trends for the winter season and fill your magical day with elegant touches and beautiful pieces. Find some unique winter wedding ideas or put a personal twist on the ones you love. Either way, these trends can transform your big day and help create the wedding of your dreams.
1. Warm Lighting
Ambient lighting that glows on the walls and tables is making a big appearance this year. Soft candles, string lights, and other warm lights add a romantic touch that is becoming increasingly popular. This type of lighting can make large, grandiose weddings feel more intimate and close.
Curtain string lights appear as magical backdrops for indoor or outdoor photos. These lights behind the head table create a beautiful waterfall that shines on the happy couple and their loved ones. Rainshower lights are also adding an elegant touch to outdoor venues. Perfect for rustic or tropical weddings, these lights drape over trees and create dreamy canopies.
2. Velvet
Winter wedding dresses, groomsmen suits, bridesmaid dresses, and upholstered chairs are showing up to winter weddings in luxury with velvet fabrics. Outdoor weddings use this beautiful style to stay warm and give a touch of elegance. If you have other ideas for your wedding party, you can incorporate the fabric by asking bridesmaids to wear velvet shoes, shawls, or clutches. Groomsmen can wear velvet pocket squares or ties to complement the glamorous look.
3. Sustainability
After months of putting weddings and life on pause, people are starting to think about our effect on the planet. Venues, vendors, and companies are offering more sustainable options than ever before. Farm-to-table meals, recycled paper invitations, and repurposed decorations are showing up in every part of the wedding planning and ceremony. Couples are choosing to reduce their environmental impact and opt for greener options that don't produce as much waste and can have different uses after the big day.
4. High-Quality Details
This year is about quality over quantity. As many venues reduced maximum capacity and availability became harder to find, brides- and grooms-to-be started looking at the quality of details rather than the number of details. Guest lists are getting shorter, and many couples enjoy intimate weddings with friends and family, exquisite meals, and high-quality experiences. Although some couples will still opt for a grand and large wedding, many have found a new appreciation for the intimate and high-quality experience.
5. Vintage
Winter tends to bring feelings of nostalgia, and many happy couples incorporate vintage details into their special day. Antique picture frames and candelabras are becoming elegant table centerpieces. Brides are wearing bold lipstick and exaggerated eyebrows. Capes are accompanying delicate wedding dresses, and muted colors are pleasing guests and loved ones. There are no rules to vintage — you can touch your wedding with nostalgia by finding anything that matches your style and aesthetic.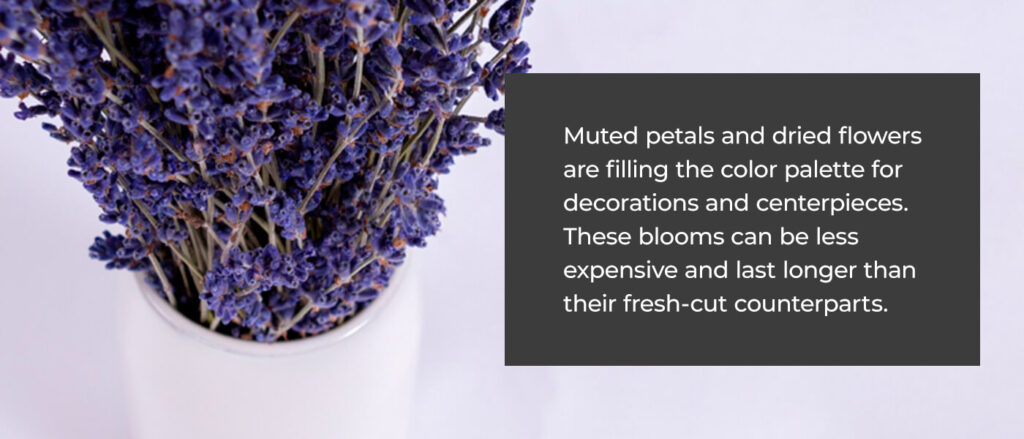 6. Textures and Dried Flowers
Muted petals and dried flowers are filling the color palette for decorations and centerpieces. These blooms can be less expensive and last longer than their fresh-cut counterparts. These flowers are less attention-grabbing and give the venue space an elegant feel rather than an over-the-top touch.
Couples also pair floral arrangements with unique textures resembling the Renaissance era. The muted colors of the flowers enable you to get more creative with the textures you want to use. Unique pots and vases are centering tables and reflecting intricate styles around the venue.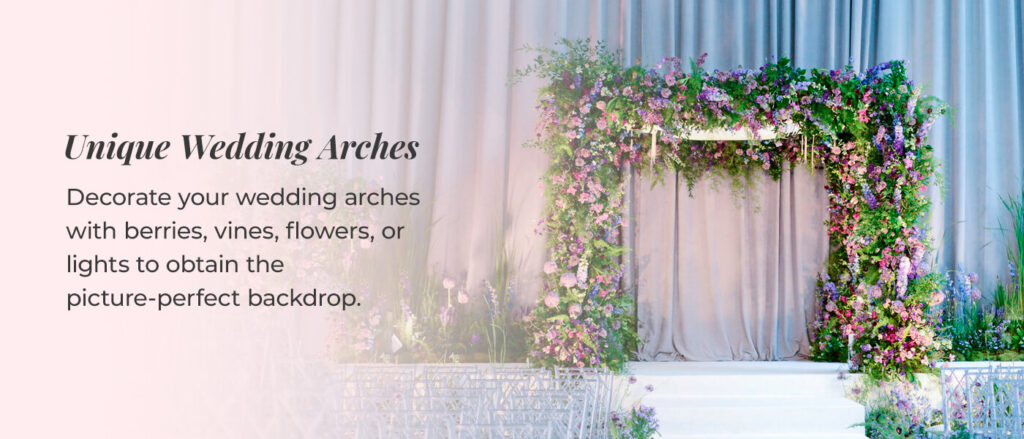 7. Unique Wedding Arches
Brides and grooms are incorporating backdrops to their unique locations by using wedding arches, perfect for photos and grabbing guests' eyes during the ceremony. Metal arches are perfect for couples looking to achieve the minimalist look, and you can decorate them with flower garlands or your favorite faux or fresh greenery.
Hexagon and birch arches are appearing in rustic, woodland, and country weddings. Decorate your wedding arches with berries, vines, flowers, or lights to obtain the picture-perfect backdrop. These arches can fit in outdoor or indoor venues, and you can dress them up or down to complement the rest of your decorations.
8. Interesting Cakes
Winter wedding cakes are boasting unique designs and taking fun forms this year. Drip cakes are a particularly interesting trend. These sweet treats have dripping icing, and some showcase exquisite drips of metallic bronze, silver, and gold colors. Clean lines and intricate designs aren't appearing as frequently on the big day.
Mini cakes are also filling the dessert table. Whether you're filling your plate with other desserts or want to showcase a variety of your favorite cake flavors, mini cakes are sweeping the dessert table. Encourage your guests to try more than one flavor, or fill each plate with a surprise piece and enjoy whatever you get.
9. Near-Neutral Colors
One of the most critical elements of wedding planning is deciding the color scheme for attire, decorations, and flowers. This year, colors for winter weddings are merging tradition with a unique flair. Neutral colors are blending traditional white with other tones to create fashionable themes.
Grays, light pinks, faded blues, forest greens, and muted reds can highlight bridesmaids, groomsmen, and decorations. These colors are icy enough to match the weather while brightening the space with unique tones that stand out to your friends and family.
Some of the best colors for winter weddings are:
Navy blue: Blue is the color of winter, but many weddings are moving away from the icy tones to embrace the lush dark hues of navy. This color is stunningly elegant and pairs well with forest greens, gold, and silvers to create a winter wonderland on your magical day.
Peach: Light pinks and blush colors aren't just for summer— they're beautiful in the winter, too. Peachy tones complement many other colors, so you can make your day as unique as possible while staying in style.
Burgundy: This deep red can add sophistication to your wedding party and venue. You can pair this shade with blush, grey, or white accents to imitate the holiday season or complement it with blues and muted tones to stand out.
Green and copper: This color combination captures the essence of pine trees with hints of vintage. You can get creative with textures to reflect the Renaissance or aid a touch of elegance. These colors are luxurious, and you can dress them up or down to complement your style.
Gold: Everyone looks stunning in gold. With this color, you have endless complementary options, and you can match your favorite colors to create a unique palette. Many winter weddings pair gold with reds, greens, and blues, but your options are endless with this classic choice.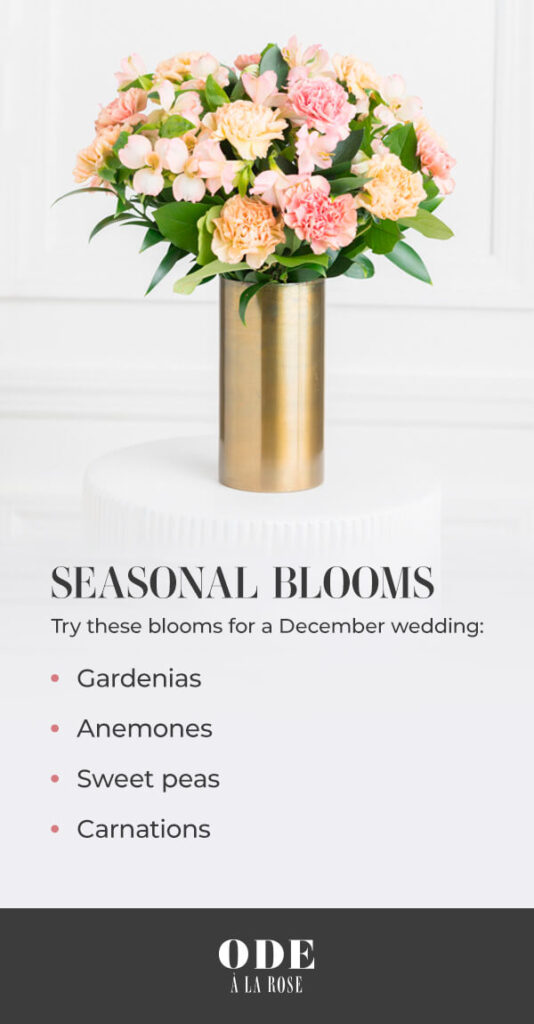 10. Seasonal Blooms
Many flower trends for a winter wedding center around the seasonal blooms you can find during this time of year. Although tulips, lilies, and hydrangeas are stunning during the warmer months, there are other blooms you can find for a December, January, or February wedding. Swapping the traditional blooms for something seasonal is an excellent way to celebrate your beautiful day.
Try these blooms for a December wedding:
Gardenias: These blooms are classic for weddings, and they smell as great as they look.
Anemones: With muted pinks, reds, and purples, these florals make an excellent pairing for winter weddings.
Sweet peas: The petite petals and bright colors of sweet peas make them the perfect centerpiece.
Carnations: With a subtle scent and a wide color variety, carnations can complement any wedding palette.
For a January wedding, consider these:
Snapdragon: These bright blooms can stand out on your big day with vibrant colors and a slender profile.
Paperwhites: Bouquets of paperwhites are fragrant and classic white with a look similar to daisies.
Lilium stargazer: If you want a truly unique bouquet, stargazers are bold and vibrant.
Dahlias: For a bright aesthetic that's still in season, dahlias are the way to go.
To complement your February wedding, browse these blooms:
Calla lily: A relative of the lily family, calla lilies have wrapped petals that add to your wedding's elegance.
Delphinium: With long stems and luscious pinks, blues, purples, and whites, you can keep it classic or go bold. Use delphiniums on their own or to complement a large bouquet.
Iris: Many February weddings feature iris arrangements because they can add beautiful pops of color.
Lisianthus: You can find double or single lisianthus blooms, which are an excellent choice for the groom's boutonniere.
11. Elegant Venues
Choosing the perfect spot to begin the next chapter of your life is one of the most significant decisions you'll make during wedding planning. As you browse unique venues and determine whether you want an indoor or outdoor ceremony, you'll find many interesting locations. Some popular winter wedding venues this year include:
Lakes: Landscapes have been a long-time favorite for many happy couples, and a still lake can provide a stunning elegance on your day. If you're looking for an outdoor venue, a lake shore is a beautiful location to say "I do" and celebrate with your friends and family.
Hotels: Many couples are using hotel amenities to host their weddings. Many hotels offer interior and exterior locations for ceremonies. You can rest assured knowing your guests can move safely from the ceremony to the reception to their rooms at the end of the night.
Ballrooms: Ballrooms provide endless possibilities for decorating and designing. You can turn a ballroom into a rustic space or a sophisticated dance floor from floor to ceiling. You can opt for chandeliers or photo booths and still ensure your guests have enough space to mingle.
Rooftop spaces: Rooms with large windows or open areas with magnificent views are excellent for winter weddings. Whether you're opting for a city view or want to capture snow-capped mountains in the background, rooftop spaces are amazing for capturing the beauty of winter without putting you in the cold.
Gardens: Many would think gardens are only for the blossoming warm months, but these romantic settings can transform your ceremony into a fairy backdrop or winter wonderland. You can opt for a conservatory to stay warm or say your vows in the organic outdoors. You can use the venue's natural beauty to create inspiring arches, welcome signs, and green decorations.
12. Welcome Drinks
Warm welcome drinks will help keep the frost away from your loved ones and give them something sweet to enjoy while your ceremony unfolds. A popular choice for winter weddings is to install a hot chocolate bar. Set up a station with chocolate bombs, marshmallows, sprinkles, cinnamon, and other flavors so that they can create a unique drink every time.
However, you can also get creative with welcome cocktails. Mulled white wine is a popular winter choice, and you can keep your guests warm with every citrusy sip. A spiked apple cider, buttered rum, and Spanish coffee can also appear at your bar. Find a drink that matches your color palette, or experiment with some recipes at home beforehand.
13. Winter Menu Options
When it's time to celebrate after the ceremony, you and your guests will appreciate the delicious meals that fill the plates. Choosing a delectable dish that fits your wedding is one of the most fun choices you can make for your wedding. Chow down with some of these delicious winter meals:
Carrot parsnip bisque: Warm your bellies and enjoy this winning appetizer with vegetables and toasted bread.
Brussels sprouts with bacon jam: A classic combination of savory and sweet, these brussels sprouts look like lollipops, and you can make them vegetarian by using a date jam instead of bacon.
Beef wellington: This classic dish is a showstopper at weddings, and you can enjoy the crisp flavors of this comfort food with your friends and family.
Pumpkin ravioli: For a fun and seasonal twist on the classic pasta, pumpkin ravioli can have even your most avid meat-eaters coming back for seconds.
Potato bar: Serve them baked or mashed, and encourage your guests to load their potatoes with cheese, bacon, chives, and sour cream. Keep it as simple or as loaded as you'd like.
Creme brulee: A toasted dessert is the perfect pairing to your winter dishes. This sweet treat is fun and delicious.
Chocolate lave cakes: Gooey and oozing chocolate over a warm brownie and ice cream is a delectable combination. Your guests will love how it looks and tastes.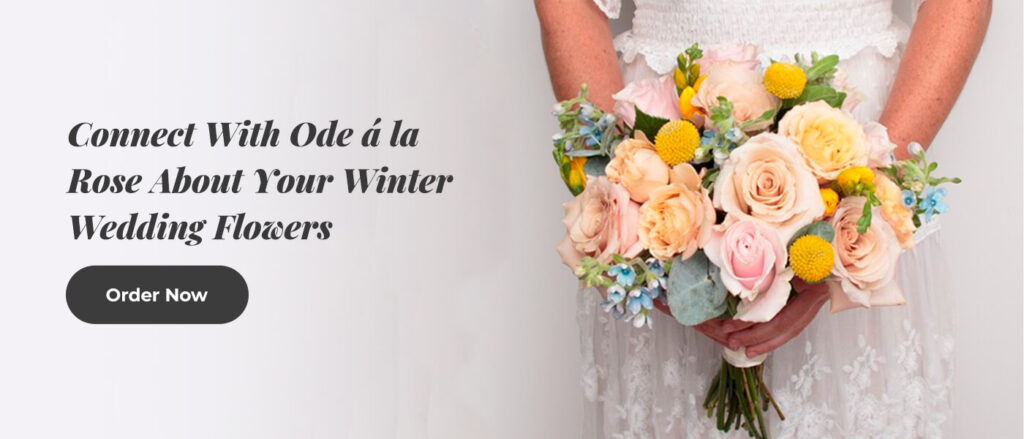 Connect With Ode á la Rose About Your Winter Wedding Flowers
Ode à la Rose professionals want to help you transform your winter wedding into a wonderland. Whether you're looking for the perfect centerpieces, need to find the perfect boutonnieres, or are still searching for that dream bridal bouquet, we can help.
At Ode, we consider every floral detail to ensure your arrangements are perfect every time. Our dedicated team is always available to help you find the best blooms and construct elegant bouquets, no matter the occasion. Browse our wedding collections or speak with a florist to craft the floral arrangements of your dreams.
Our experienced designers can help you craft intricate bouquets that complement your dresses, decorations, and theme. Our wedding services are stunning and unique, and we'd love to help you add the finishing touches to your beautiful day.