Your wedding arch completes the remarkable scenery of the altar. You'll stand before it with your love and say your vows before the company of your family and friends. So how should you decorate your arbor? We've gathered 14 ways to decorate a wedding arch to inspire you and get you dreaming of altar décor for your wedding day. Whether your wedding is simple and sophisticated or it's magical and eclectic, you'll find arbor ideas that suit your style. Discover beautiful methods for how to decorate a wedding arch, and find the perfect setup to accent your day.
Decorating With Fabric
Flowing fabrics are graceful and romantic when draped along a wedding arbor. Use fabrics for indoor wedding arch ideas to add a soft touch that complements any theme. If you'll display a wedding arbor outdoors, be sure to secure the fabric, especially if it's a windy day. Fabric is a beautiful way to highlight your wedding colors, and white, ivory, cream, and light colors create stunning wedding arch décor. The fabric you select also makes an impact.
Select your fabric material and colors based on these arbor decorating ideas:
1. Drape Elegant Organza
Organza is a thin, silky fabric that you've likely seen as you're planning your wedding. The material on its own creates a light layer that's easy to see through, but you can bunch or layer it for a solid appearance. However you use it, organza works well on any type of arch for a variety of wedding aesthetics. Consider using it with a:
Rounded arch: Organza highlights the shape of a graceful, rounded arbor. With organza wrapped closely around the entire arch, you'll have an even more romantic decoration at your altar.
Square arch: A loose wrap of organza around a square frame makes a simple and elegant design. A flowing piece of fabric that's longer than the sides and top of your arch is the perfect addition.
Doubled arch: The two frames of your wedding arch help suspend and drape organza. You'll get a layered look to your backdrop or make a lightly covered area at your altar.
2. Get a Dramatic Design With Chiffon
Chiffon is similar to organza but often a bit thicker and less sheer. It still has the same elegant impact on your wedding arch, especially if you use it in these ways:
Make faux curtains: Create the feeling of a large window as your wedding backdrop with your arch. A square or rounded arbor with two panels of chiffon attached to the top of your frame at the back gives the feel of curtains. Each panel goes to the sides, secured with ribbon, jute, or a material that matches your wedding's aesthetic.
Combine colors: A dark and lighter chiffon in complementing colors look gorgeous. Pull the colors from your wedding theme and accent your wedding party's outfits. A twist in opposite directions with two chiffon colors along your arch shows off and combines the individual colors.
Create a backdrop: Chiffon draped along the back of your arch forms a wall of flowing fabric. Because the chiffon is somewhat sheer, it can let a bit of light shine through and create the effect of a glowing altar.
3. Add Volume With Tulle
Tulle is a stiff netting that's typically more sheer than chiffon and organza. It comes in matte varieties or options that shine and feature glitter. For a wedding, matte or shiny tulle will likely work best for your arch.
Because tulle holds its shape better than organza or chiffon, you can use it to add volume to your arbor. Tulle and a rounded arch are a classic combination, but feel free to use the material on any shape you choose.
If you want tulle, consider a look that drapes at the center of the arch, flows along the sides, and bunches in sections. With those sections secured, you get voluminous puffs of tulle. If you prefer a more dramatic, curtain-like style, opt for tulle bunched and flowing along the top of your arch and loose along the sides. Either method will result in a dreamy wedding altar.
Decorating With Lights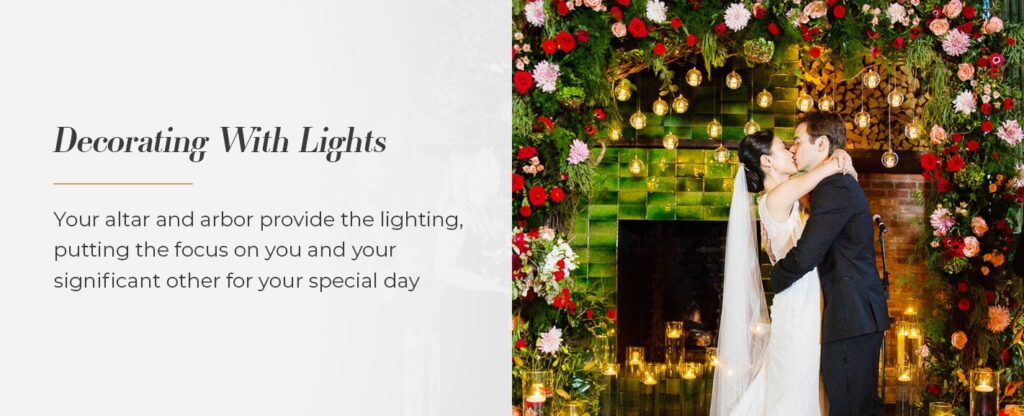 Decorating your wedding arch with lights works well for evening ceremonies or intimately lit indoor venues. Your altar and arbor provide the lighting, putting the focus on you and your significant other for your special day. Combine lighted decorations with fabric for a soft and romantic glow, or use them with different decorating methods. Whatever you prefer, you can use lighting in your wedding arch with the following ideas:
4. Hang and Place Lanterns
Lanterns come in a variety of styles to suit your wedding design. Paper lanterns are charming for a backyard wedding, and metal lanterns are modern. Depending on the size of your lanterns, you can either have them suspended from your arch or placed around the altar and arch base.
Place plenty of lanterns along your wedding arch for a glowing ceremony. Use varying sizes of these light features for an eclectic design. If you want small lanterns hanging from your arbor, hang them at different lengths to add beautiful dimension.
5. Light the Whole Arch
If you're wondering how to decorate your wedding altar with a dramatic look, weave string lights throughout your arch. Accent the sheer or slightly sheer fabric adorning it with string lights woven underneath, or create a curtain of lights. A single strand of lights is subtle, while multiple strands create an impactful glow.
Any arch style is gorgeous when entirely lit. A circle arbor will appear especially dramatic with lights as it becomes a glowing ring. A rustic branch arch will be even cozier with lights woven throughout, and strings of lights elevate traditional square and rounded arches to make them just as magical.
6. Get a Gentle Glow With Candles
Use battery-powered candles for a safe way to add a flickering look to your arch. Vary the sizes of your candles to play with dimension and height. White, cream, or ivory candles are a soft, romantic choice for weddings, but you can choose whichever color suits your wedding's aesthetic. When you decorate your wedding arch with candles, you have a few options:
Arrange groups of candles on the floor or ground around the arch.
Display clusters of candles on pillars, pedestals, stumps, rocks, or other features.
Place smaller candles in jars that you suspend from the arch with jute.
Use round candle votives to hang candles from the arch in an elegant design.
7. Incorporate Other Light Fixtures
Light your wedding arch in unique ways to suit your wedding's style. You can either use these light fixtures in combination with lanterns, string lights, or candles or let them stand out on their own:
Lit letters: Marquee signs or lit three-dimensional letters in you and your partner's initials are fun for your altar. You can suspend smaller lights from the arch if it's a sturdy design or use the wall behind the arch in an indoor venue. A marquee or lit letters suit wedding themes that draw inspiration from movies or Hollywood, but they'll look great with almost any wedding design.
Chandeliers: Use a chandelier above your wedding arch for an elegant touch of drama. Chandeliers are a beautiful and surprising addition to outdoor wedding arch ideas, especially for storybook or whimsical weddings. White chandeliers with crystal accents suit a wedding, but gold or another metallic options also look gorgeous.
Larger bulbs: Edison bulbs or strands of large light bulbs are bright and rustic. They hang beautifully from the top of your arch at varying lengths. Use a wedding arch with more than one frame to your advantage when you want hanging lights. Scatter the placement along different levels of the frame for dimension in your lit backdrop.
Decorating With Greenery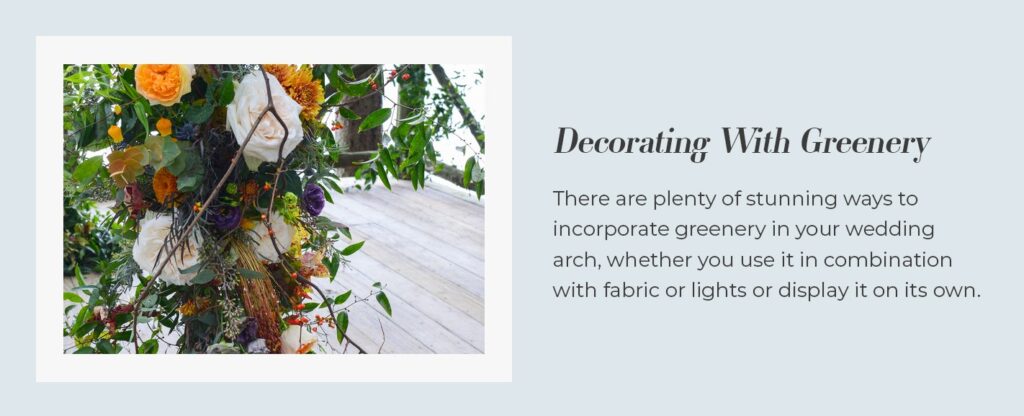 Wedding décor is all about the greenery and flowers. There are plenty of stunning ways to incorporate greenery in your wedding arch, whether you use it in combination with fabric or lights or display it on its own. Transform your altar into a natural landscape or make traditional designs with these ideas:
8. Make a Greenery Base
Use your wedding arbor as a frame to support a complete arch of greenery. An entirely green arbor works with any shape and any wedding style. When you want an arch flowing with greenery, consider multiple style options such as:
Full branches of greenery at the sides of the arch for a natural look.
Voluminous greenery for a hedge-like arbor, perfect for a garden theme.
Thin garland greenery for a subtle touch that pairs well with other decorations.
Greenery that flows onto the ground from your arch to make it appear like a natural feature.
9. Keep It Minimal
If you're incorporating other décor in your wedding arch, keep the greenery subtle. Use it as an accent with flowers or decorative items instead of putting greenery along the whole arbor. When working with minimal greenery styles, consider the following:
Bunches of eucalyptus at the corner look simple and modern.
Accents of monstera leaves can add a tropical addition.
Vines along one or two sides of an arch are delicate and natural.
Greenery to secure fabric curtains on the arch is a subtle, classic option.
10. Combine Textures and Colors
Whether you want a lush arch overflowing with greenery or a few leafy accents along it, make the design textured. Different shades of green and varying textures create a more dimensional and breathtaking arbor.
A garland of round leaves, whether eucalyptus or another greenery, can create the base of your arbor. Vines or thin branches tucked among the leaves add subtle texture. Picks of greenery with smaller leaves in different colors can stick out or hang from the top of your arch for an overgrown feel. Choose any combination of textures and colors that suits your wedding style, and go as wild or as simple as you like.
Decorating With Flowers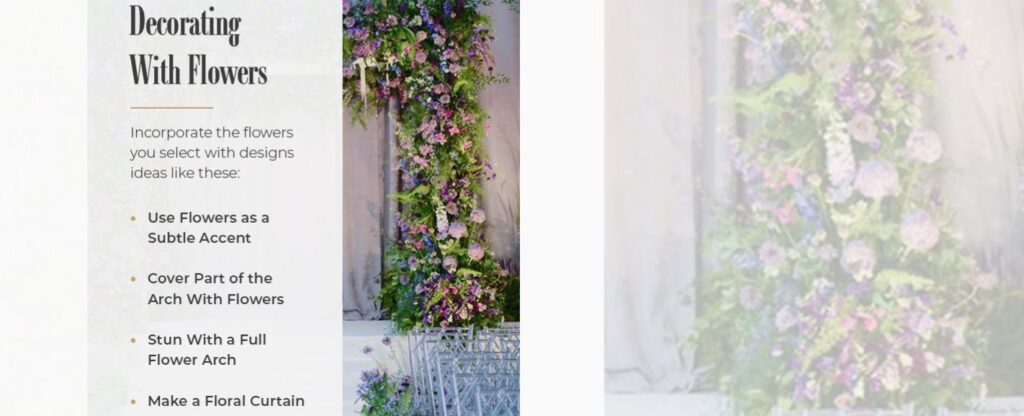 When you decorate a wedding arch with flowers, you create a gorgeous backdrop that perfectly suits your wedding. It will tie in with the rest of your floral decorations if you select flowers from your bouquet, décor, and other accents. Use flowers with greenery, lights, and fabric for a stunning arch, or keep your wedding arbor simple and stunning with only floral decorations.
Flowers for a wedding arbor can be real or faux. While faux flowers will last longer, real flowers are lush and high-end, perfect for your special day. Incorporate the flowers you select with designs ideas like these:
11. Use Flowers as a Subtle Accent
Create an elegant backdrop at your floral wedding altar with a subtle accent of blooms. You still get the look of a beautiful floral arch, but it won't overwhelm the scenery around your altar. You can keep floral accents minimal with one type of flower or one color from your wedding design. Even if you combine colors or blossoms, you can consider these floral wedding arch ideas:
Accent the sides where you tie back fabric curtains with flowers.
Feature a bouquet in a corner of a square arch.
Dot a greenery arch with scattered flowers.
Make a floral wedding altar with arrangements around the arch instead of on it.
12. Cover Part of the Arch With Flowers
Elevate a subtle floral arbor by incorporating blooms into an entire section of your arch. The result combines the feel of a simple and showstopping floral arbor. If you only cover part of your wedding arch with flowers, you can choose to decorate:
The top: A squared arbor is gorgeous with arrangements secured along the top. Include hanging greenery for a dramatic touch of texture.
A side: Square and rounded arches look beautiful with an asymmetrical floral accent. Choose one side to weave bunches of flowers and greenery around.
Half: A full circle arch is already breathtaking, and flowers enhance the style. Half of the circle woven with flowers creates an elegant and magical backdrop.
13. Stun With a Full Flower Arch
If you like the look of an arbor covered partially with flowers, consider the enchanting appearance of one that's all floral. You can use a variety of flowers for a wedding arch that's entirely covered, or keep it uniform with a covering of the same flower type. With a mix of blossoms and colors or the same blooms in your full floral wedding arch ideas, consider using one of these styles:
A hedge style arch with flowers layered throughout the greenery.
Flowers all along an arch with a fabric curtain detail.
Flowers and greenery woven into a trellis arbor.
14. Make a Floral Curtain
Use your wedding arch as a frame to hold whimsical strands of flowers. The magical feel of this look is perfect for storybook weddings and adds an elegant addition to your arbor. You can either use floral garlands or simple strands of flowers for this effect. If you use a curtain style for your floral wedding arch ideas, you could:
Feature a dense floral curtain that becomes a statement wall of blooms.
Use a sparse style for a hanging floral display.
Choose one flower from your floral design in one color for a minimalist touch.
Hang flowers and greenery for a lush feel.
Create Your Dream Wedding Décor With Ode à la Rose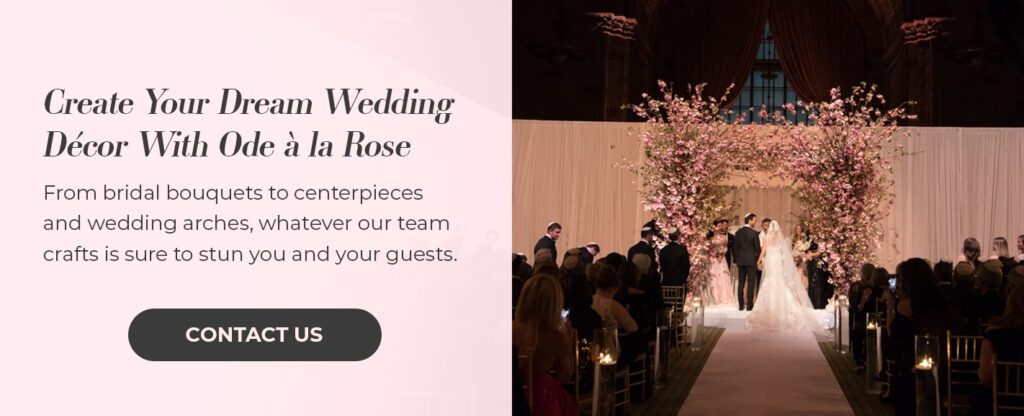 If you want to incorporate one of these wedding altars into your special day with more showstopping wedding décor, trust Ode à la Rose. Our highly skilled team uses sustainably sourced flowers in our creations for your wedding. From bridal bouquets to centerpieces and wedding arches, whatever our team crafts is sure to stun you and your guests.
In your consultation with Ode Events, we'll collaborate with you to understand your vision, event space, and other needs. Fill out a wedding inquiry and let us know how we can make your dream wedding a reality.