When you have a special anniversary coming up, Los Angeles is the perfect destination to celebrate in. The City of Angels is known for its Hollywood glitz and glamour, as well as its balmy Mediterranean climate and gorgeous views, making it ideal for a romantic getaway. If you're lucky enough to live here, you know there's no shortage of exciting things to do in Los Angeles. Maybe it's time to revisit a favorite spot or find a new place with your loved one at your side. And if you're from out of town, a weekend getaway to Los Angeles can be full of excitement and romance. Your anniversary is worth celebrating, so why not do it in style!
Top Los Angeles Anniversary Ideas
To help you plan your upcoming anniversary, we've gathered some of the best date ideas in and around Los Angeles. Surprise your sweetheart with any one of these ideas, or plan a whole weekend of fun and romantic surprises. Explore this beautiful city together, sharing new experiences and creating lasting memories. Try these anniversary ideas in Los Angeles:
1. The Hollywood Sign
Let's start our list with a Los Angeles classic — The Hollywood Sign. You can walk or take a shuttle up to this iconic stop anytime, but we highly recommend going just before dusk. Watch the sun set over the city for a truly romantic evening. Wait here as the city lights come to life at night and gaze at the glittering city below you and the sparkling stars above you. You'll feel like a star yourself surrounded by all the gorgeous views. Just keep in mind that this hotspot is popular for tourists of all kinds, so don't expect to have the place to yourself if you do go.
2. El Matador State Beach
Are you looking for the most romantic beach in the Los Angeles area? El Matador State Beach should be at the top of your list. Visit at dawn for some of the most beautiful views in the area, or stop by any time of the day for fun in the sun and sand. Walk together along the shore, or sit on a blanket and watch the waves come in. While it's popular, this Malibu beach has a more secluded feel to it than other beaches in the area, as it is surrounded by beautiful outcroppings of rock formations. It's a romantic spot to splash around in the surf or bring a picnic while the waves provide a soothing backdrop.
3. Santa Monica Pier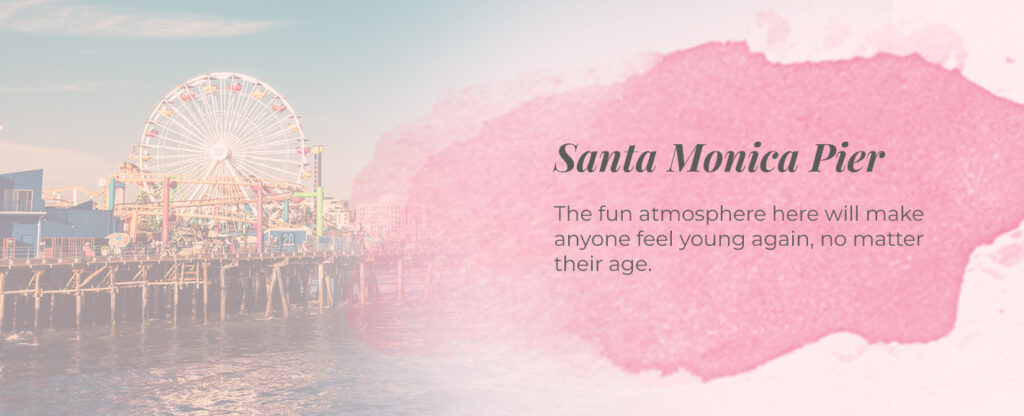 Another classic California spot for romantic dates is the Santa Monica Pier. Spend the day here strolling with your partner, taking in all the sights and sounds of the pier. The fun atmosphere here will make anyone feel young again, no matter their age. Ride the merry-go-round, ferris wheel, roller coaster, and more with your love at your side. Visit one of the many on-site restaurants for a meal on the water or grab a quick treat from the kiosks. If you want to get away from all the busyness up on the pier, wander down to the beach and spend some time relaxing on the sand, watching the waves roll in.
4. Helicopter Tour of L.A.
Why not see L.A. from the sky in a private helicopter tour for the best scenic views around? There's no better way to see the city than from a helicopter. This unique date idea is full of adventure and lets you see all of your favorite L.A. attractions from high up in the air. It's sure to give you both a more exciting perspective of the area and provide you with lasting memories you're sure to talk about for years. Make your helicopter trip into an afternoon adventure to see the sights in daylight, or go up at sunset for gorgeous horizon views and see the city lights come to life from above. Some helicopter rides even include champagne or drop-offs at high-end restaurants.
5. Griffith Park
A huge municipal park situated in the Santa Monica Mountains, Griffith Park provides all sorts of fun things to do and romantic places to take your loved one. Try your hand at a round of golf, or wander the many miles of hiking trails throughout the park. You could spend an entire day in this huge park, watching the wildlife and taking in all the fun activities and things to see. Round out your day with a concert at the iconic Greek Theater — located right in the park. Or, cap off your evening gazing at the sky at the Griffith Observatory. Here, you'll find a museum, planetarium, and some of the best night sky viewing in all of Los Angeles. It is often listed as one of L.A.'s most romantic places!
6. The Getty Center
The Getty Center and Getty Museum are easily one of the most romantic spots in L.A., especially if you and your sweetheart enjoy the fine arts. At this world-class museum complex with a European feel, you'll be able to view ancient antiquities, illuminated manuscripts, and works of fine art from many well-known artists like Monet, Cezanne, Van Gogh, and lots more. Many other modern art pieces are also on display here at the Getty Center, and the on-site gardens are not to be missed. What could be more romantic than strolling among works of fine art and exquisite rose gardens with the one you love?
7. Universal Studios Hollywood
Do you and your partner bond over watching movies? Love all the classics as well as all the newest blockbusters? Then Universal Studios Hollywood may be just the perfect spot for you to spend a romantic day wandering this fun theme park that's devoted to the movies. The park isn't just for families with kids — movie lovers and grownups of all ages love Universal Studios and all the fun things to do here. Reminisce with your partner over all your favorite movies, and make new memories trying out the fun rides, attractions, restaurants, character sightings, and more. See a real working movie studio and imagine what it's like to be a movie star here in Hollywood.
8. Walt Disney Concert Hall
Architecture buffs will surely recognize this as one of Frank Gehry's iconic works, but the Walt Disney Concert Hall is truly for music lovers. One of the most sophisticated concert halls in terms of acoustics, the venue is home to the Los Angeles Philharmonic, Los Angeles Master Chorale, and features other visiting artists. Spend your anniversary date here, with world-class music and entertainment, in an unforgettable setting. Come early and take a tour of the concert hall, learning all about the architecture, the amazing acoustics, the music, and the history of this fantastic building. Then, pair your evening's concert with dinner and drinks at a nearby restaurant to round out the romantic experience.
9. Exposition Rose Garden
What could be more romantic than strolling hand-in-hand through a beautiful rose garden with your love! Sometimes called the best-kept secret of Los Angeles, Exposition Rose Garden features historic sunken gardens full of gorgeous roses and other beautiful flowers and plants. The gardens make for excellent photo ops, with the many roses, gazebos, scenic surroundings, and provide the ideal setting for romance any time of the day. This park is also home to the California Science Center and the Natural History Museum of Los Angeles County, among other attractions, so you can easily turn this destination into a whole day of fun.
10. Beverly Hot Springs
A day of pampering and serenity may be just what you need for a special anniversary outing, especially if you both enjoy relaxing spa treatments. At Beverly Hot Springs, a natural hot spring provides the setting for a gorgeous spa that features waterfalls, pools, natural rock, and lots of flowers. With facilities for men and women separately and co-ed and VIP areas coming soon, you can both experience hot and cold pools, a steam room, sauna, as well as a full menu of spa services like facials, massages, and more. Spend the whole day here relaxing, or use this time to pamper yourself before an evening out.
11. Disneyland
Maybe you think of going to Disneyland as cliche or only for families with children, but this theme park can also be a great destination for couples. Indulge your inner child and go on the rides, meet with the characters, and enjoy all the attractions here. With a gorgeous castle as a backdrop, you can pretend to be a prince or princess and enjoy the romance of this lovely setting. And if you want a little extra attention on your special day, stop by the City Hall near the main entrance and pick up a Happy Anniversary pin, so everyone will know you're celebrating something special. See a show, take in a romantic meal at one of the top-notch restaurants, and enjoy all the fun things to do at the Happiest Place on Earth.
12. Cicada Club
For any couple that loves the allure of old Hollywood, the Cicada Club is a must-see romantic spot in L.A. Here, you and your partner can enjoy great food and drinks, along with music, dancing, and entertainment — all with a classic, retro vibe. Located in a gorgeous Art Deco-style building, the Cicada Club exudes grandeur and glamour. It's like stepping back into the 1920s and 30s here and sure to be an amazing place to spend your anniversary. Check the calendar for entertainment listings featuring big bands, orchestras, swing dancing, and so much more. Sit back and enjoy the live music and entertainment, or get out on the dance floor and learn a few new moves! Many movies and tv shows have been filmed here, so you may even recognize the setting inside.
13. Hot Air Balloon Ride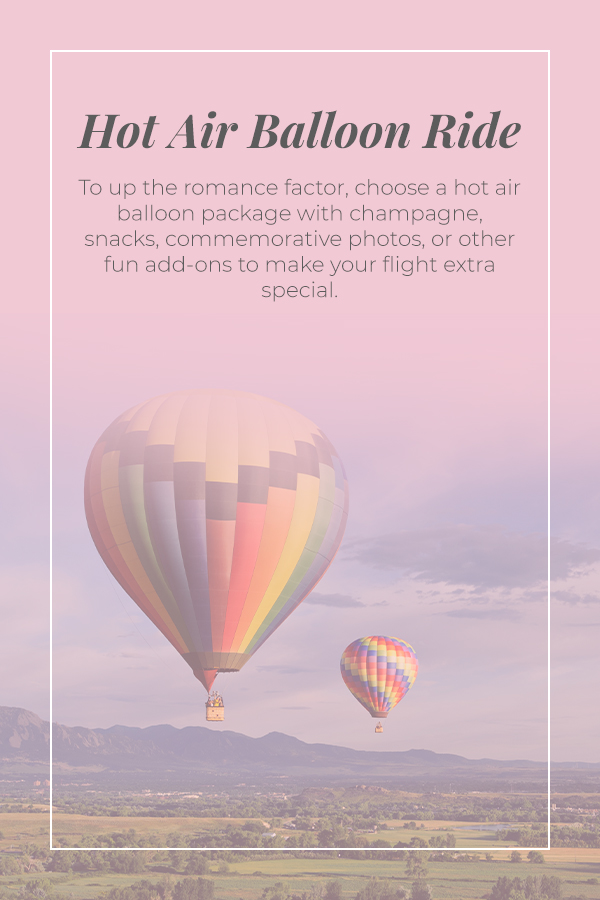 One of the most exciting ideas for an anniversary in L.A. is a hot air balloon ride. You can quite literally sweep your sweetheart off of their feet with this idea. Several companies in and around Los Angeles offer hot air balloon rides, so you'll have your pick of several options. To up the romance factor, choose a hot air balloon package with champagne, snacks, commemorative photos, or other fun add-ons to make your flight extra special. Most balloon rides operate in the mornings, with some companies offering evening rides as well, pending wind and weather. See the sunrise or the sunset as you cruise around the area in your own balloon — now, what's more romantic than that?
14. Gondola Ride
If taking to the skies isn't your cup of tea, how about a classic gondola ride? Yes, the Los Angeles area has gondola rides, and you'll feel like you're in Venice, Italy with one of these beautiful, romantic gondola cruises. You and your sweetheart can have your own private tour in a gorgeous gondola. A few different gondola companies operate near Los Angeles and offer various tours, services, and packages. Shop around to customize your ride with options like champagne, light snacks, wine tastings, a full catered dinner, pizza, brunch, and more. It's a great way to see the area from the water and a classically romantic date idea.
15. Dinner at a Fancy Restaurant
Going out to dinner on your anniversary is a classic date night idea for a good reason — it has universal appeal and can make anyone feel special. Thankfully, Los Angeles has no shortage of excellent top-notch restaurants to choose from. So, no matter what cuisine you and your partner are craving, you're sure to find some of the best options here. From restaurants with posh lounges and lavish interior decor to those with rooftop terraces or seating overlooking the ocean, you'll find a variety of romantic atmospheres too. Los Angeles is home to many world-class chefs, so some of the best menus in the country are right here. Go all out and order your favorite dishes, and choose a bottle of wine to share.
16. Anniversary Flowers From Ode à la Rose
No matter what type of anniversary date you choose, it just isn't complete without flowers. An anniversary is an ideal time to buy a gorgeous bouquet of flowers for your love, to show them how much you care. Anniversary flowers from Ode à la Rose are the perfect way to say "I love you" to your partner. Roses, especially in red and pink, are a classic choice for any anniversary. Or choose blooms that speak to your loved one's favorite flowers or colors, flowers that were used in your wedding, or seasonal arrangements that are unique and beautiful. There really isn't a wrong answer when choosing anniversary flowers! Have your bouquet delivered to your home or hotel, or have it at your date destination as an added surprise for your partner.
Shop Ode à la Rose for Anniversary Flowers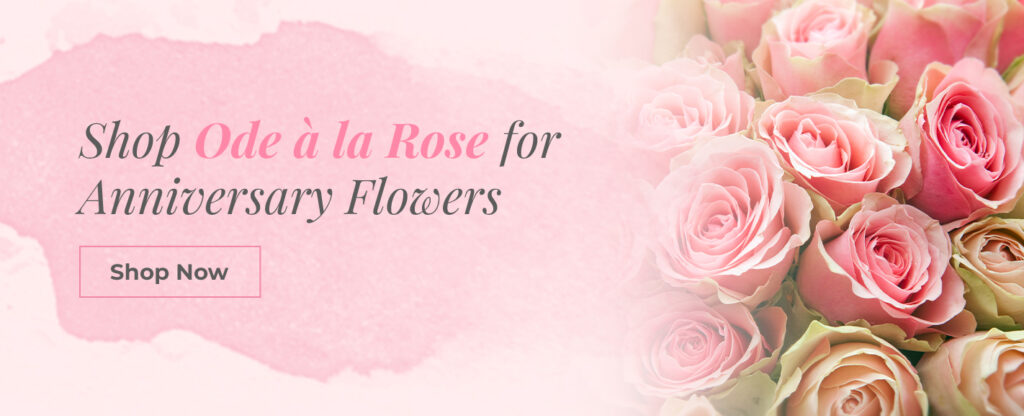 We hope our list of the best places in L.A. for a romantic anniversary date gives you plenty of ideas for your upcoming anniversary. There's so much to do and see in this beautiful and vibrant city. To truly treat your sweetheart to an extra special anniversary, a gorgeous bouquet of flowers is the way to go. The experts at Ode à la Rose will make sure that your flowers are exactly what you need for your anniversary. Browse our bouquets to find the perfect arrangement for your special day. We look forward to helping you have the best anniversary in Los Angeles!