When envisioning the perfect bridal bouquets and wedding flowers for your big day, you probably picture vibrant blossoms that look and feel lush. Between the weather, delivery and the arrangement process, wedding flowers run the risk of becoming wilted and drab. By choosing the right types of flowers that are both durable and long-lasting, you can avoid a wedding day disaster as well as an abundance of dead flowers afterward.
The 15 Longest Lasting Wedding Flowers
Everyone wants resilient wedding flowers that remain fresh and look beautiful throughout their entire celebration. We have compiled a list of the hardiest blooms that will look amazing long after your I dos.
1. Chrysanthemums
Chrysanthemums are one of the most resilient flowers. When cut just before they fully bloom, these perennial mums can stay fresh for up to 14 to 21 days. Their strong, dense petals make for beautiful pops of color in any floral arrangement. Chrysanthemums have a wide range of hues and shades to choose from, including:
Red
Orange
Yellow
Lavender
Purple
White
They bloom as early as the end of July and as late as October, making these great fall wedding flowers that will outlast the celebration. Plus, the color variations of these mums are fantastic for late summer or early fall nuptials.
2. Alstroemerias
Once cut, alstroemerias can last up to two full weeks. Also referred to as a Peruvian lily, these native South American perennials can withstand heat and sunshine. As long as you pluck their petals as they begin fading, alstroemerias can look stunning for longer. These beauties come in a plethora of rich colors as well, including:
Magenta
Red
Yellow
White
Blush
Apricot
Alstroemerias have an especially lengthy bloom time, making them extra accessible for weddings over nearly two full seasons. These plants bloom starting in the early summer and finishing well into the fall time.
3. Dahlias
Dahlias are extremely hardy flowers native to Central America and Mexico. These colorful perennials can stay lush for just under a week after being cut. They begin blooming at the beginning of summer and continue through the fall and come in the following color variations:
Peach
White
Pink
Orange
Lavender
Red
Yellow
Bi-color
The head size of a dahlia flower can reach up to 15-inches in width. Once cut, dahlias do not continue to blossom, so you should snip them only as or just after they have fully grown.
4. Gypsophilas
Gypsophila, better known as baby's breath, is often used as filler for other arrangements. It can be a beautiful addition to nearly any other flower. The small blooms are very hardy and have a rough texture. Once cut, their versatile, tiny petals can endure anywhere from seven to 10 days before drying out. Baby's breath begins blooming in late Spring and continues until the fall time, making them some of the best flowers for summer weddings.
Gypsophila naturally comes in variations of white and can sometimes appear yellow or pink in color. At Ode à la Rose, we offer a fluffy, pink gypsophila arrangement named Gladys that is both unique and chic. We cut the stems to 15 inches and arranged these fresh flower bouquets in tight bundles that look and feel lush.
5. Carnations
Carnations are extremely resilient wedding flowers. With routine watering, these perennials can last for up to three whole weeks after being cut. Though these are pinkish-purple naturally, they can come in an array of colors. Through selective breeding, carnations can bloom in the following colors:
White
Orange
Yellow
Red
Green
Carnations typically bloom in late spring. In some areas, their growing season does not end until well into the summertime. They thrive best in 50-65 degree temperatures, making them ideal for late spring or early summer weddings. Pairing carnations with alstroemeria creates a very long-lasting, dreamy arrangement. We call this pairing the Nicolette at Ode à la Rose.
6. Sunflowers
Sunflowers can last up to 6 to 12 days after being cut. They have hardy, strong stems that make for resilient bouquet flowers. Bright orange and yellow petals contrast with the dark, rough center. Sunflowers bloom during the summer and last until fall brings colder temperatures, making them some of the best flowers for summer weddings.
An early fall or late summer wedding calls for bridal bouquets that make a statement and sunflowers are amazing for long-lasting wedding bouquet flowers. They pair beautifully with jewel tones and greenery. At Ode à la Rose, we offer the Summer Sunflower Bouquet, where sunflowers are joined by calla lilies, protea, snapdragons, and dog Circus roses.
7. Eucalyptus
Eucalyptus can last around three weeks after being freshly cut. This minty scented plant adds a muted, earthy touch of greenery to any bouquet or flower arrangement. Eucalyptus is an evergreen plant, so you can incorporate it into your wedding no matter what time of year it is. Because it is native to Australia and surrounding islands, eucalyptus can endure hot, humid weather during outdoor summer weddings.
There are more than 500 species of eucalyptus. Some have bunches of seeds, others are bluer in color. With such a wide variety, you can select the best variation to match your wedding.
8. Peonies
Peonies can stay vibrant for up to five to 10 days after being cut. The flower's soft, feminine shape has a romantic feel. Peonies begin blooming in spring, typically starting in April and ending in very early summer. These perennials flourish in cooler climates and are very resilient to the winter cold. Peonies come in white and mostly warm-toned colors such as:
Perfect for a spring wedding, peonies pair beautifully with roses, carnations and greenery. Their ruffled petals are the perfect bloom to welcome the incoming warm weather while holding onto the sweetness of spring. Though these pretty flowers are long-lasting, they do not combat summer heat well and are better for a springtime ceremony.
9. Ranunculus
Ranunculus makes for some of the finest, long-lasting wedding flowers out there. If you cut them at the proper time, just before the ranunculus is fully open, they can last up to 10 to 12 days. The lengthy, strong stems associated with ranunculus make these blooms especially great for a bridal bouquet. Ranunculus begins to bloom in late winter and early spring and continues blooming for about six to seven weeks in the right conditions.
Ranunculuses come in a range of warm colors, including:
Pink
Cream or white
Light yellow
Apricot
Orange
Red
Burgundy
Ideal for a spring wedding, ranunculus pairs splendidly with greenery or looks beautiful in an arrangement on its own. At Ode à la Rose, our Claire bouquet is a collection of lush, pink ranunculus that is both interesting and chic.
10. Lavender
Freshly cut lavender can last up to 10 days after being cut, making it a durable choice for weddings. Lavender has a lengthy blooming season as well. Some plants bloom as early as spring while others blossom through mid to late summer. Its hardy stems make for wonderful wedding flowers as you can easily use them in bouquets, decorations and arrangements.
The color range of lavender is astounding, with light lilac hues to deep blue-toned purples. Being heat resistant, lavender makes for a lovely summer wedding flower as it can withstand high temperatures and maintain its sweet, willowy look through the most humid of days.
11. Zinnias
Zinnias are extremely long-lasting as they can stay vibrate in a vase for up to 7-12 days. These perennials are stunning, round blooms with an abundance of dainty petals that come in a range of colors including:
White
Yellow
Pink
Orange
Red
Lavender
Green
Bi-color
The bold tones of zinnias pair beautifully with other rich-colored flowers such as dahlias or marigolds. Because zinnias are easy to grow and ultra-durable, they bloom from mid-summer until the cold of fall. These bold florals are wonderful to add to arrangements for nuptials with summer or fall color schemes.
12. Freesias
With the right maintenance, cut freesias can last up to three full weeks, making them one of the longest-lasting flowers on our list. These sweet-smelling plants come in a variation of colors, such as:
White
Red
Yellow
Pink
Purple
Cream
Orange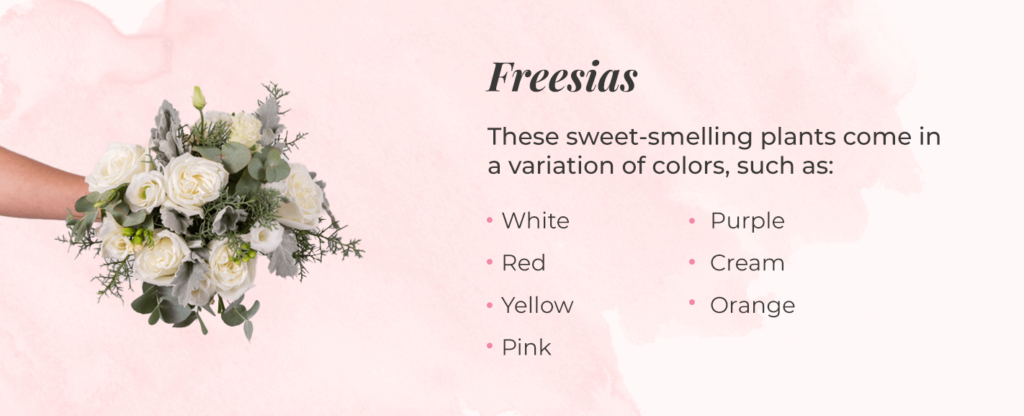 Freesias are some of the best flowers for winter weddings as they are cold-hardy and begin their blooming season in late winter and early spring. Native to South Africa, these tender perennials typically sprout during the chilly, rainy season and flower closer to the warmer, early months of springtime.
Freesias pair wonderfully with pillowy flowers such as roses or peonies. You can easily use freesias for bouquets, boutonnieres, or decorations because of their long stems.
13. Succulents
While succulents are not traditional wedding flowers, they have gained tremendous momentum and popularity in recent years. They are also one of the most durable options for weddings in any season throughout the year. Because they originate in desert climates, succulents retain water and require little maintenance. When the wedding is over, the succulents can be re-planted and thrive for years to come.
Mixing succulents in with other blossoms such as roses, lavender or eucalyptus makes for a rustic, yet stylish wedding choice. Succulents can come in a variety of shapes, sizes, and colors. This offers beautiful textures and shades to any arrangement.
14. King Protea
Protea is one of the most striking wedding flowers out there. There are 43 different species of proteas, but most couples opt for protea cynaroides, better known as king protea, for their big day. After being cut, this protea flower type can last up to 16 days! These unique plants bloom from June to October and are native to South Africa. They are both heat and cold weather-resistant, making them a hardy wedding pick no matter what season.
King protea is perfect for making a statement as the head can reach up to 10 inches in width and make for hardy wedding bouquet flowers. Most bouquets with this bloom focus on one large protea flower in the center and surround it with greenery. King protea has a thick stem and deep green leaves with a creamy colored base and varying shades of pink petals, a perfect mix of femininity and boldness.
15. Roses + Preserved Roses
It comes as no surprise roses are among the most common wedding flowers. With proper care, they can last for up to 7-10 days after being freshly cut. Their strongly structured stems make them great for any decoration, bouquet, or boutonniere. They bloom from late spring until early fall in most cases. Finding the perfect long-lasting roses for your wedding is simple as there are a variety of colors including:
Bright red
Dark red
Yellow
Orange
White
Lavender
Blush
Bright pink
We have a variety of stunning roses to choose from at Ode à la Rose ranging from monochromatic bouquets to multi-colored arrangements. For a traditional, romantic wedding, our Grand Amour, a collection of vibrate, long-stemmed red roses is a perfect decorative piece. For a lighter, flirtier wedding theme, the Odette will make the stunning statement with a bundle of premium Mondial pink roses.
Preserved roses are an excellent option if you want to create arrangements that last up to an entire year or want something different than fresh flowers. Explore our collection of preserved roses at Ode à la Rose.
What to Consider When Choosing Your Flowers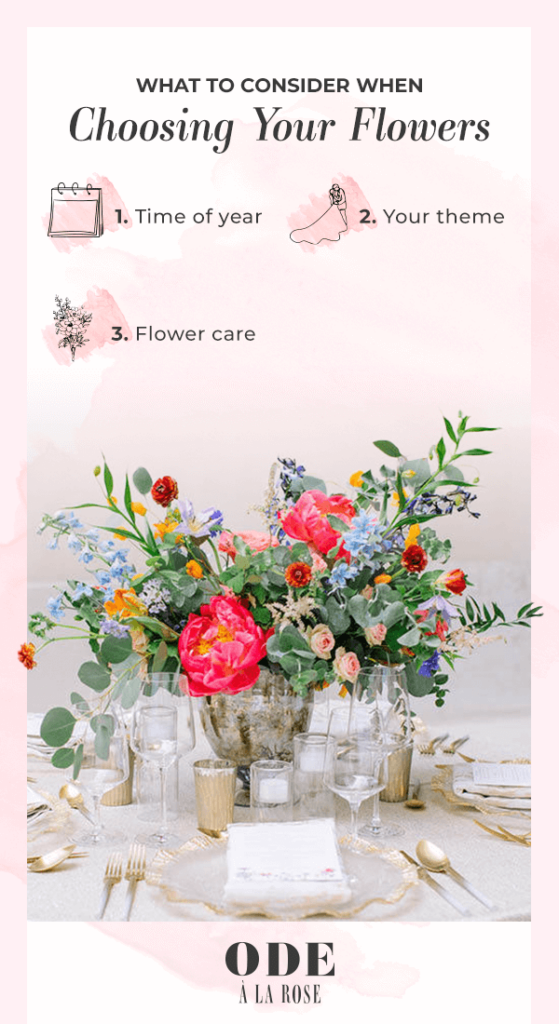 In addition to cost, there are several factors to consider when choosing the right flowers for your upcoming nuptials. Before setting your sights on any floral arrangements for the big day, reflect on the following factors:
Time of year: Consider what season your wedding is in and what flowers naturally grow then. This will cut down on costs and your blossoms will inevitably look nicer. Picking seasonal flowers can potentially make your blooms last longer as well. If you are having a summer wedding, note that certain flowers are more resilient in the heat and sunshine than others.
Your theme: Whether you are looking to have a glamourous event or a rustic gathering for your wedding, there are flowers to match the occasion. Consider the theme of your wedding and seek out floral arrangements and decorations that complement the colors scheme you have chosen. Your flower selection should make sense with your taste and the formality of your big day.
Flower care: How long your wedding flowers will last after the ceremony depend almost entirely on how you care for them. After researching the best ways to extend the life of your chosen flowers, you should prepare the vases of water that you'll put your bouquets in. Caring for your flowers is a more sustainable solution than tossing them out after the I dos. You can dry out many flowers as well and then beautifully display them for weeks or even months.
Find Your Perfect Wedding Flowers at Ode à la Rose
Get the most out of your wedding flowers by choosing hardy options that will stay vibrant throughout your ceremony and beyond. If you are getting married and looking for long-lasting flowers, look no further. At Ode à la Rose, we sustainably source our flowers and craft high-end arrangements that are one of a kind. Our wedding clients can count on us for beautiful bridal bouquets, ceremony and reception decorations, centerpieces, garlands, hanging flowers and more.
Contact us by calling 646.370.1832 or visit our events site to learn more about our luxury wedding florist services today.