Whether you receive flowers casually or for a special occasion, a few tips can help you keep them as fresh as long as possible. Enjoy beautiful and fragrant arrangements longer by learning the best ways to take care of your bouquet when you display it in a vase.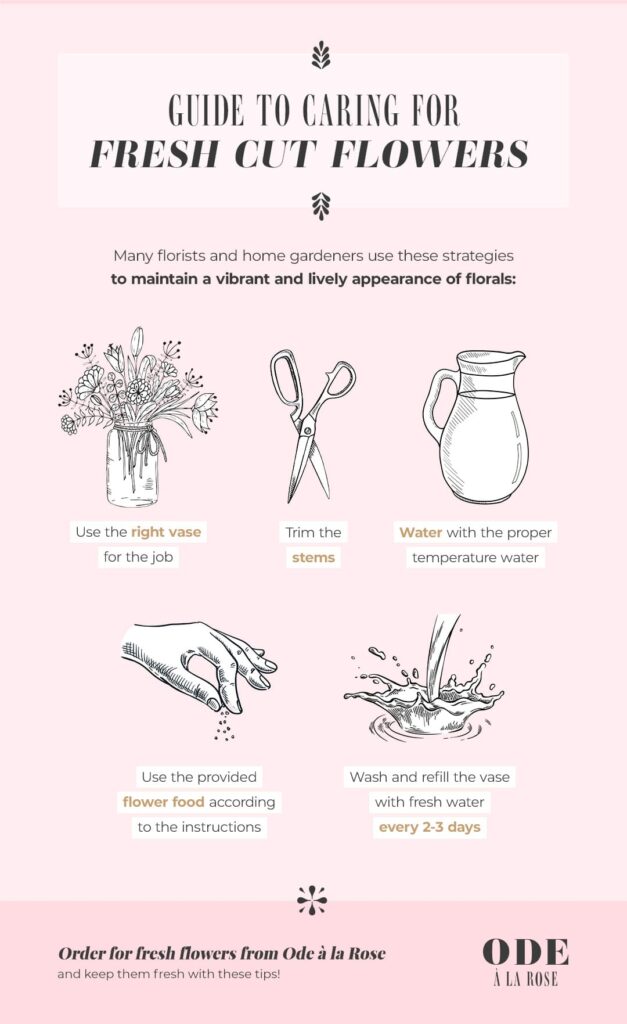 How to Water Fresh Cut Flowers in a Vase
Many florists and home gardeners use these strategies to maintain a vibrant and lively appearance of florals:
Prepare the stems: If your flowers arrive in a box or tied with a band, start by cutting 2-5 inches off the flower stems at a 45-degree angle. Submerging the stems in the water while you cut them cleanly prevents air bubbles from getting stuck and allows excellent water absorption.
Pick the right vase: Place the stems in a clean vase without residue. Lighter, more delicate flowers need a tall vase, whereas heavy blooms should go in a low container offering more room to spread out.
Add water: When you're ready to add water, choose slightly acidic water with a pH between 3.5 and 5. Gently pour water up to 3/4 of the container's height, or according to your instructions, and remove any submerged leaves.
Add flower food: Mix in the provided sugar packet to keep your arrangement of florals and greenery nourished longer. You can easily make your own flower food from scratch if you prefer a special recipe with some common ingredients you might keep at home or use the included packet and need another.
Wash and refill: Refreshing the water keeps the florals as fresh as possible. Trim another 1/2 inch off the stems and thoroughly wash the container before adding your florals, water, and flower food again.
Water temperature For Fresh Cut Flowers
Placing your bouquet in room-temperature water, around 68-72 degrees, eliminates air bubbles and allows plant food to travel up the stem, feeding the flowers. Follow these other temperature-related guidelines:
Cool water: Bulbs with flowers blooming in the cooler months, like tulips, anemones, and daffodils, do better with water below room temperature. Cooler temperatures between 60-68 degrees help them last longer.
Warm water: If you have unopened flowers and want to speed blooming along in the next day or two, use warm water of around 100-110 degrees to open them more quickly and then stash them in a cool area. If your petals begin to wilt, you can also try submerging them in warm water and then putting them in a fridge for a couple of hours to perk them up.
Hot water: Avoid placing your flowers in boiling water to keep the stems healthier. The warmth, like heated areas from the sun, speeds along the floral's life span.
How Often Should You Change Flower Water?
Typically, you should check the water's condition daily and refresh your flower's water every 2-3 days. Always change cloudy water right away. When the water level gets low, you should thoroughly wash and fill the vase with the proportions of flower food and water recommended by your instructions.
How Full Should You Fill a Vase of Flowers?
Since flower and plant types vary, so you should follow the instructions included with your bouquet. Generally, you can fill your vase with water up to 3/4 of the container's height.
Order Fresh Flowers From Ode à la Rose
Unique flowers add a lovely touch to any home, business, or venue — trust Ode à la Rose as your provider of chic and modern florals for all occasions. We carry a versatile assortment of stunning colors and floral types. Feel free to reach out to us with any questions or requests, and we'll be happy to get back to you as soon as possible.
To create an order, browse our inventory of bouquets today!