Corporate events serve a host of purposes. You could be thanking your employees for their hard work or launching a new business or product. Or, perhaps you're gathering with clients to thank them for their support. No matter why you're hosting, make it a stunning affair with the perfect decorations.
Floral decorations for corporate events demonstrate your professionalism. They show guests your attention to detail and that you care about the company's image. But what are the best flower arrangements for a corporate event? We've gathered inspiration for the best corporate event flowers and installations below to help you plan the perfect evening.
Where to Place the Arrangements
When it comes to corporate flower arrangements, you need to consider their placement. Too many florals can crowd a venue, but too might not make an impact. How many floral installations you use in your event and where you place them will depend on your venue's size and the purpose of your event. As you take that into account, consider these places to put corporate flower arrangements.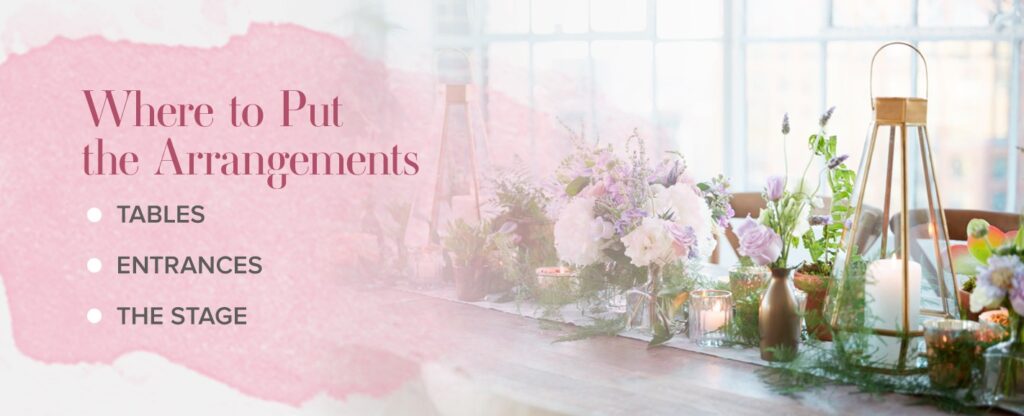 Tables
Tables are one of the most prominent places to decorate with flowers. When you order flowers for a business event, you'll want arrangements for the following.
Dining tables: If your corporate event will host guests at various dining tables, make them beautiful. Add impressive centerpieces, no matter the size or shape of each table. Select arrangement sizes and heights that suit the space.
Cocktail tables: Small bud vases on each cocktail table will embellish the room, without breaking the bank.
Escort tables: Your corporate event may be a black-tie ceremony with designated seating. You may then have escort cards on a table, which you can decorate with floral touches. That'll help direct guests' attention to their cards.
Buffet or drink tables: Depending on how you have your corporate event catered, you may have food or drink tables. Accent the sides of these tables with small arrangements. That'll tie these areas into the rest of your venue.
Favor or gift tables: Perhaps your function will thank your employees for their hard work or clients for trusting your company. Offer gifts or favors and decorate the table with beautiful flower arrangements.
Presentation tables: If your corporate event flowers are for a trade show, accent your business' setup with an arrangement. You'll draw eyes to your company and demonstrate your attention to detail.
Entrances
Make a venue feel grand and your guests feel special with decorated entrances. These details will set the tone for the rest of your event. Tie them in with table decor to create a cohesive room, and consider using these entranceway floral decoration ideas.
Archways: Let guests feel special as they make grand entrances to your black-tie corporate functions. Archways are suitable for fun or casual events, as well, and can either include mostly greenery for a simple display or have flowers for a beautiful decoration.
Garland: Garland isn't just for holidays, though it would be a suitable decoration for a company holiday party. Garland can adorn archways or doorways to add decorative details. Whether they're mostly greenery or include flowers, garland decorations are perfect for simple decor.
Pedestals: Use floral arrangements on pedestals for either side of your entrance. Select pedestals at the right height for your arrangements and in styles that suit your business and the event venue.
The Stage
If you're hosting an awards ceremony, corporate charity event, or another gathering that requires a stage, be sure to decorate it. A plain stage won't match your grand event, but one decorated with flowers demonstrates your dedication to the cause. Incorporate floral decorations around these areas of the stage.
The stairs: If the event stage has stairs leading to it from the audience, adorn the sides with short floral arrangements. It'll make guests who take the stage feel like they're getting a red carpet treatment.
The front of the stage: Use low arrangements on the front edge of the stage to add depth, texture, and beautiful decor. Match them to the stairs if you're decorating with flowers in those areas, as well.
The backdrop: Your stage may have a curtain as the backdrop. Use that as a canvas for floral arrangements, archways, or floral sculptures. They'll add an extra touch of interest to keep guests' eyes on the presenter, and they'll make photos of your corporate event look stunning.
The lectern: If your presenters will speak at a podium, decorate it with flowers. Select a large bouquet arrangement or hang a flowing floral display on the front.
Which Flowers to Choose for a Corporate Event
When you decide which flowers to choose for a corporate event, consider their meanings. Flowers like roses have romantic associations that wouldn't be appropriate for a business gathering. Instead, select blossoms with meanings and appearances that evoke strong, business-oriented qualities. Consider these flowers for meetings, conferences, and other events.
Amaryllis for pride
Chrysanthemum for honesty
Cornflower for good luck and fortune
Daffodil for new beginnings
Dahlia for dignity
Edelweiss for courage and devotion
Hollyhock for ambition
Iris for wisdom
Orchid for refinement and maturity
Tiger lily for pride and wealth
Violet for loyalty and devotion
To select the right flowers for a conference or corporate event, you want arrangements that suit your tone. Think about your business' attitude. Are you an emerging company with a young, fresh vibe? Are you an established business looking to impress your clients with high-end details? These considerations are essential. You don't want flower arrangements that are out of step with the tone of your business.
You should consider the tone of your function, as well. A conference will have a stricter business feel, while an awards ceremony is celebratory. Incorporate flower meanings for arrangements that perfectly suit your event. A product launch or business launch party, for instance, can decorate with daffodils and cornflower to represent new beginnings and good luck for the future.
The colors in your venue also influence floral selections. A white or neutral event hall benefits from colorful blossoms. A venue that already has bold colors will suit subtle color palettes and white flowers.
Large Installations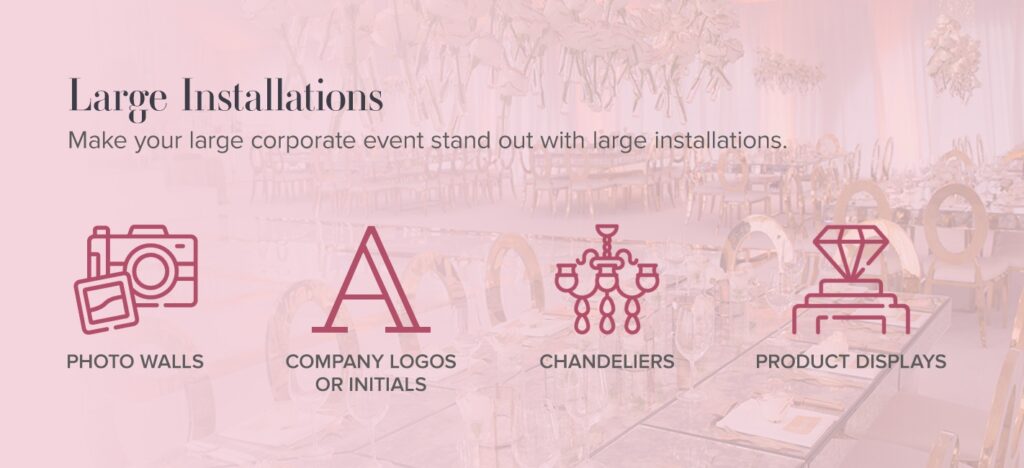 Make your large corporate event stand out with large installations. Dramatic pieces suit gatherings like awards shows, charity galas, appreciation functions for large groups, and other celebratory gatherings. Consider these floral installations for your event.
Photo walls: A floral accent wall can be a decoration or a backdrop for photos. For a marketing touch, add a sign with your business name or logo into the wall. Take photos of guests in front of the feature or encourage them to take theirs and post them for company exposure.
Company logos or initials: For another branded floral touch, have professionals construct letters for your company initials or your business logo. This decor can accent a blank wall in your venue or greet guests as they enter your event. It's a unique way to market your company and create exposure for your business as guests take photos of the impressive display.
Chandeliers: A floral chandelier or hanging installation hangs from above. It's a unique sculptural touch you could use on a stage, at entranceways, or above tables. A hanging floral installation is sure to get guests talking. It'll leave them stunned with how much thought you put into your ceremony decor.
Product displays: If you're launching a new product, you could display it with showstopping floral structures. What you use will depend on your product and the rest of the setup. A team of professional designers can make suggestions based on your particular needs.
How Ode à la Rose Can Help
At Ode Events, we're ready to bring your gala, dinner, conference, party, or other corporate events to life. Our team of skilled floral designers has experience in a wide range of disciplines. Whether you need table compositions, floral walls, ceiling treatments, or any floral decor in between, we can help. You'll get unique displays that incorporate our sustainably sourced flowers and impress your guests.
If you need to order flowers for a business event, we'd be happy to help there, too. We offer farm-fresh floral options at Ode à la Rose for the freshest-cut flowers from Holland and Ecuador delivered right to you. Create seasonal arrangements to add flowers to conferences or meetings, and let us handle the larger installations.
When you collaborate with Ode Events, we'll start by discussing your needs. From your budget and venue specifications to the purpose of your function, these details help us design the perfect decor for you. You'll get accents and large installations that show off your business' values and professionalism. We're ready to accommodate any event space — large or small, indoors or outside.
We understand planning and setting up a corporate function can be stressful. That's why our on-site production crew handles the floral and decor installation for you. And at the end of your event, our team will return to take everything down and leave the venue in perfect condition.
Get Flowers for a Corporate Event With Ode à la Rose
Hire the experts at Ode Events to design your function's floral needs. We'd be happy to help you impress clients, thank your employees, and put on the best corporate event your company has ever seen. It all starts with flowers and decor from Ode Events.
Complete an event inquiry today. A member of our team will be in touch to discuss how Ode Events will bring your corporate function to life.