For many people, planning a wedding ceremony and reception is one of the most exciting and overwhelming of all life events. There are so many considerations to keep in mind during the wedding planning process. The clothes, food, guest list, photographer, and flowers — the list goes on! However, few wedding planning decisions are more impactful to the overall event than the venue.
The venue you choose often dictates the size of the wedding's guest list, the type of catering allowed, and the décor possibilities. The type of venue you select can even impact the season and time of year during which your wedding takes place. With the right flowers and décor, any wedding can be spectacular regardless of size and budget.
The 12 Best LA Wedding Venues
As the second-largest city in America, Los Angeles is a vibrant, diverse metropolis. No matter what you and your future spouse envision for your wedding celebration, there is a perfect venue for you in the greater Los Angeles area. Depending on your taste, you and your spouse may feel especially attracted to one of the following aesthetics.
Keep in mind that most venues offer at least some opportunities for personalization. One of the best and easiest ways for a couple to express their style is through flowers and décor.
Urban Oasis
The following venues are sleek, stylish, and modern, perfect for the couple that thrives in an urban environment and wants to incorporate downtown style into their wedding.
1. South Park Center
South Park Center's City View Penthouse & Skydeck is unquestionably one of downtown Los Angeles' most stunning event venues. Located on the 30th floor of this modern skyscraper, the Penthouse event space offers spectacular views of the Los Angeles skyline. These views can look especially dramatic and glamorous at night! The event space is industrial, minimalist, and modern, with features like exposed ductwork and crystal chandeliers.
Given the minimalism of South Park Center's interior design features, there are many opportunities for customization with florals and décor. Rental fees can vary. This venue can accommodate about 200 people. Additionally, it is LGBTQ+ friendly and offers both indoor and outdoor spaces.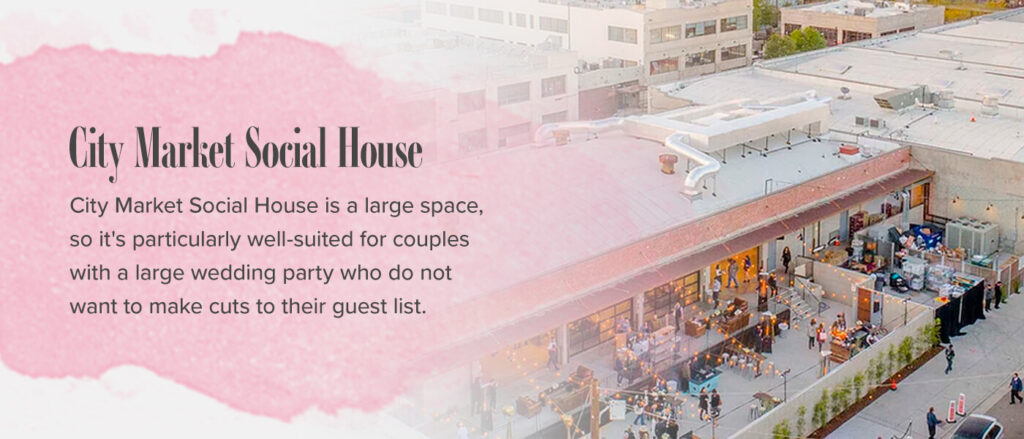 2. City Market Social House
Founded in 2017, City Market Social House is a relatively new event space located in the heart of the Downtown Los Angeles Fashion District. This venue is a contemporary and industrial warehouse space. Here, you have nearly endless options for personalized décor and floral designs. City Market Social House is a large space, so it's particularly well-suited for couples with a large wedding party who do not want to make cuts to their guest list.
It can accommodate as many as 1,000 guests, with both indoor and outdoor spaces available. The venue offers ample parking options and fast wireless internet, as well as a state-of-the-art audio-visual (AV) system with full production capabilities. Weddings at City Market Social House can be pet- and kid-friendly. Keep in mind that at this venue, you will be encouraged to select a caterer from their list of preferred vendors.
3. OUE Skyspace LA
Located 1,000 feet above the ground at the top of the tallest building on the West Coast, OUE Skyspace LA can be a perfect option for couples who want to blend modern style with the romance of sweeping city views. At OUE Skyspace, you and your wedding guests can enjoy Los Angeles' skyline and will have use of both indoor and outdoor spaces. This venue's height and drama are no joke, so keep this in mind for anyone in your wedding party with a fear of heights.
At OUE Skyspace LA, wedding parties are required to use the venue's catering service. For a seated dinner, the maximum number of guests tops out at 150. As such, this can be a lovely venue for couples who want to keep their wedding celebration on the smaller side.
4. Hudson Loft
Floor-to-ceiling factory windows and exposed brick walls set the Hudson Loft apart from other wedding venues in Downtown Los Angeles. The 3,600-square-foot space can be completely modified and transformed to meet the exact needs of any wedding celebration. However, the 14,000-square-foot rooftop with gorgeous city views is the real pièce de résistance of Hudson Loft. This venue can accommodate as many as 300 guests for a seated dinner, and couples are free to use any caterer of their choice.
Rustic Chic
If modern and industrial isn't your style, you and your spouse may be more drawn to the cozy chicness of more rustic offerings. In Los Angeles, there are several unique rustic venue options that can accommodate upscale weddings.
5. Carondelet House
Carondelet House is a gorgeous, wholly unique Italian-esque villa, built in 1928 and conveniently located in central Los Angeles. This venue is a breathtaking gem for any couple who favors old-world historic charm and elegant, vintage flair. Carondelet House comprises several unique spaces, which can lend a cozy, romantic air to any wedding celebration.
The venue features hardwood flooring throughout, exposed brick walls, and exposed-beam ceilings. Guests can also enjoy Carondelet's beautiful, historic fireplace and two open-air courtyards. With a maximum seated dinner capacity of 150 guests, this is a wonderful venue for more intimate gatherings. At this venue, couples are required to use the in-house caterer.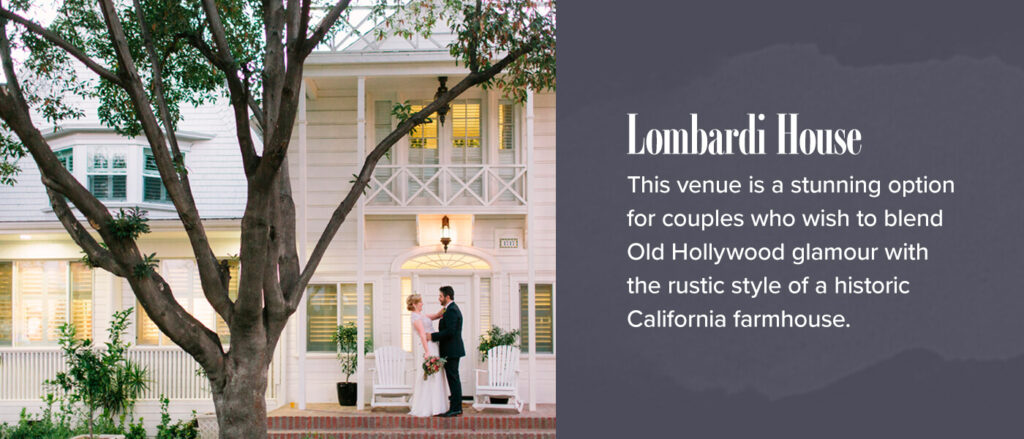 6. Lombardi House
Built in 1904, Lombardi House is a gorgeous Victorian-style farmhouse located in the heart of Hollywood. This venue is a stunning option for couples who wish to blend Old Hollywood glamour with the rustic style of a historic California farmhouse. With four on-site guest suites comfortably sleeping up to 28 guests, Lombardi House is also a great option for small destination weddings.
With extensive on-site parking available and an entirely gated property, this venue offers a significant amount of privacy and is ideal for personal, intimate gatherings. The original early 20th-century barn has been completely refurbished to accommodate stylish, rustic-chic gatherings. It is the perfect transitional indoor-outdoor space that can work in several seasons and weather scenarios.
Lombardi House offers plenty of opportunities to incorporate flowers and floral design décor, with its historic nature and various spaces. The maximum number of guests for a seated dinner at Lombardi House is 250 people. Additionally, you must use a caterer from their preferred list of vendors.
7. Saddle Peak Lodge, Calabasas
A legendary venue steeped in history, Saddle Peak Lodge is one of the most rustic and unique wedding venues in Southern California. First established as a fishing and hunting lodge in the early 20th century, Saddle Peak was a premier hangout for Hollywood stars of the 1930s and '40s.
Most wedding ceremonies at Saddle Peak Lodge take place outside on the Far Patio, with stunning views of the Santa Monica Mountains in the background. The lodge itself comprises several unique rooms, each with its own historical and rustic flair.
The rental fee at Saddle Peak Lodge can vary greatly depending on the time of year, day of the week, and other factors. The maximum guest list amount caps between 150-200 people, depending on the ceremony and reception setup. You will be required to use the in-house caterer. There are also options to have your rehearsal dinner on-site at Saddle Peak Lodge if desired. The panoramic mountain views, rustic country-chic style, and water features make this venue highly unique and unforgettable.
8. Smoky Hollow Studios, El Segundo
Smoky Hollow Studios is a multi-use event space that has hosted numerous weddings from its convenient location in El Segundo. The rustic aesthetic of the space is achieved through the extensive use of exposed brick, untreated natural wood features, and gorgeous natural light. Café lights and multiple rolling bar options lend a bohemian, European style to this venue's rustic character.
Smoky Hollow Studios is the ideal venue for couples interested in incorporating stylish floral designs into their celebrations. Previous couples have created gorgeous, green-forward floral centerpieces and accents. The venue can accommodate as many as 225 people for a seated dinner. Tables, chairs, furniture, lighting, security, cleanup, and many other services are included in the rental fee.
Old Hollywood Glamour
For many people, Los Angeles is synonymous with Hollywood, celebrity glamour, and movie magic. Some couples may dream of incorporating a dash of that Hollywood sparkle into their wedding celebrations. One of the easiest ways to communicate that vintage glamour is through your venue. The following venue options each offer a unique spin on the Old Hollywood aesthetic.
9. Vibiana
Dating back to the mid-19th century, Vibiana was originally the city of Los Angeles' first Archdiocese Roman Catholic Cathedral. It has since been decommissioned as a religious space and has been a sought-after wedding and event venue since 2006. Most wedding ceremonies at this venue take place in the Great Hall, which still bears many of the interior design features one would expect from a Catholic Church in the 1860s — including elegant columns and a rounded ceiling.
The Garden Courtyard allows for the use of transitional indoor-outdoor spaces during any wedding celebration hosted here. Vibiana is a highly versatile space that can be easily customizable to accommodate the scope and vision of nearly any wedding event. The venue is large, with a maximum seated dinner capacity of over 500 guests. Couples are required to use both the in-house caterer and the in-house alcoholic offerings if they select this venue.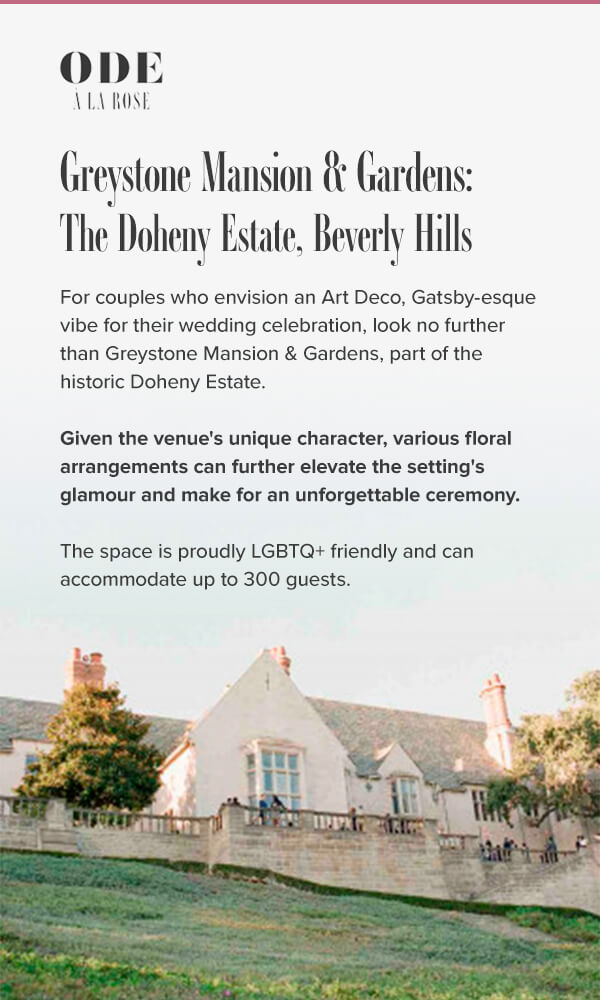 10. Greystone Mansion & Gardens: The Doheny Estate, Beverly Hills
For couples who envision an Art Deco, Gatsby-esque vibe for their wedding celebration, look no further than Greystone Mansion & Gardens, part of the historic Doheny Estate. This venue was first built in the 1920s by oil tycoon Edward L. Doheny, who originally used it as a private residence. Today, the venue is highly regarded as a beautiful, unique place that can transport you and your guests back to an era of early 20th-century American glamour.
In addition to the stunning indoor spaces inside this 1920s mansion, the venue also includes access to the property's many outdoor areas — including topiary-lined walkways, enchanted gardens, and a gorgeous courtyard with a central, historical stone fountain. Given the venue's unique character, various floral arrangements can further elevate the setting's glamour and make for an unforgettable ceremony. The space is proudly LGBTQ+ friendly and can accommodate up to 300 guests.
11. The Theatre at Ace Hotel
For couples who especially wish to embrace the glamour and opulence of early 20th-century show business, the Theatre at Ace Hotel, located in Downtown Los Angeles, could be just the ticket. This theatre was originally built in 1927 as the United Artists Theatre, a picture house for the groundbreaking movie studio founded by Charlie Chaplin, Mary Pickford, Douglas Fairbanks, and D.W. Griffith. Today, operated by the Ace Hotel, this venue has been lovingly restored to honor its historic character while embracing state-of-the-art lighting, sound, and AV features.
As a wedding venue, the Theatre at Ace Hotel offers several versatile options for both ceremonies and receptions. With over 2,300 square feet of space in the lobby and additional room inside the theatre itself, this venue can be personalized to suit the needs of every couple. Keep in mind that this venue is entirely indoors, so it may not be the ideal place for couples who want to use an outdoor space.
The Theatre at Ace Hotel also requires couples to use their in-house caterer, and it has a maximum guest capacity of 140 people for a seated dinner.
12. Bel-Air Bay Club, Malibu
The Bel-Air Bay Club, overlooking the gorgeous Pacific Ocean, is a perfect option for couples who wish to blend an air of Old Hollywood luxury with the ease of a coastal wedding. Originally built in the early 20th century as a palace by the sea for Los Angeles elites, the Bel-Air Bay Club is now a premier event venue. Its Spanish-style outdoor patios boast unobstructed views of the California coast. Interior rooms effortlessly blend the elegance of exquisite chandeliers and vaulted ceilings with easy, beach-chic décor.
This venue is ideal for ocean-lovers who are seeking a waterfront space with features such as a bay, ocean views, and numerous water features. Whether you host a classic or contemporary wedding here, this location can easily suit your aesthetic vision.
Guest capacity for a seated dinner at the Bel-Air Bay Club caps at 300 guests, so this venue is a wonderful, roomy option for larger celebrations. Couples will be required to use the in-house caterer and alcoholic offerings.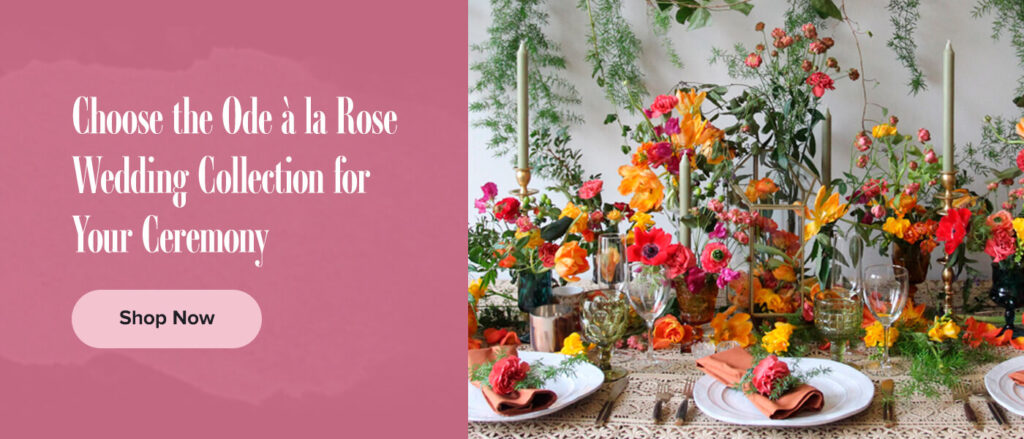 Choose the Ode à la Rose Wedding Collection for Your Ceremony
Ode à la Rose is a full-service florist, perfectly blending French-chic style with a modern American sensibility. Our Wedding Collection offers a pre-designed selection of floral table arrangements, boutonnieres, and bouquets to suit any budget. Ode à la Rose is proud to provide these convenient, attractive, and affordable solutions for smaller weddings and events.
We offer same-day delivery to New York City, Chicago, and Philadelphia, and we service areas nationwide — including Los Angeles and Washington D.C. Next-day delivery is available nationwide for select bouquets.
Contact Ode à la Rose today to design your dream wedding florals!