The alternative to having flowers delivered to Brooklyn is to learn how to make a beautiful arrangement yourself and deliver it in person! Brooklyn offers many great flower arrangement classes. Here are our faves:
Stems, located in Brooklyn's Ditmas Park, is known for their highly original and personalized arrangements. To learn their technique, they offer a few workshop options which will teach you how to put together a bouquet, a wreath, or even your own flower crown! For their Basic DIY Flower Arranging workshop, they cover everything from flower prep to design to caring for your bouquet, and you'll end the class with a unique arrangement all your own.
All classes boast a friendly atmosphere, and the price of the workshop even includes a drink.
If you want your arrangement to rival an artistic masterpiece, look to Little Flower School's next-level designing classes. For example, their Dutch Masters Study class will have you observing the colors and combinations of flowers from 16th and 17th century still-life paintings to create your own piece of art. After your design is completed, you can use the props and textiles provided to build the scene for a still-life painting, which will then be photographed. These classes do sell out, so be sure to keep an eye on their site for upcoming workshops.
Brooklyn Brainery offers classes on every subject imaginable from sushi-making to the history of candy, and they frequently feature floral design classes from local instructors. In fact, Brooklyn Brainery is always looking for new teachers, so if you have a skill to teach or knowledge to share, sign up to volunteer! Their motto is "the quirkier, the better," and volunteer teachers get to take other classes for free.  Check the site regularly, as you never know what new courses will be available to try.
Sprout Home, which specializes in "hard-to-find, but easy-to-grow plants," offers frequent classes at their Brooklyn location in Williamsburg. In addition to classes on floral design and flower crowns, they also offer workshops on how to make your own terrariums. If this is your first time taking a design class, check out Flowers 101 to cover all of the basics. At the end of the class, you'll take home three of your personally-designed bouquets in bud vases.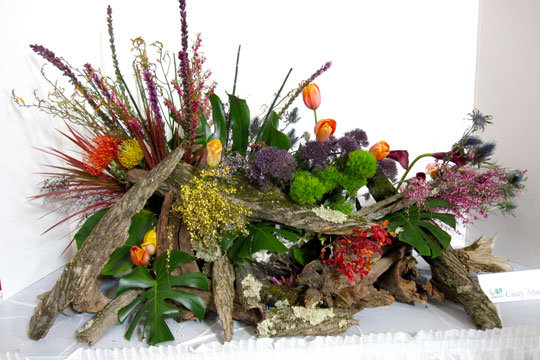 While the Brooklyn Botanical Garden in Prospect Park brings to mind lush gardens and atypical New York City scenery, they also offer floral design classes to members and nonmembers alike. While they do have standard design classes for beginners, don't miss their more unique offerings such as designing Miniature Aquascapes (small, sustainable underwater ecosystems) or their Introduction to Ikebana (using empty space and asymmetrical form to build your floral composition). Plan your day around whichever class you choose to take advantage of a stroll through the gardens before or after!
Park Delicatessen is ideal for anyone with limited time who needs to buy a skateboard and also learn how to arrange flowers. They can help with both! This Prospect Heights gem sells skateboards, flowers, and dry goods, in addition to offering special design classes, most recently for DIY bouquets and flower crowns. Their classes aren't regularly scheduled, so keep an eye out for when the next one is announced.
The Little Glass Slipper
Release your inner flower child with a Flower Crown Making class at The Little Glass Slipper! September is all about flower crowns at this Greenpoint staple, and they have a number of classes still available. While it may not be the most obvious back to school accessory, we can guarantee everyone will be jealous of your handmade headpiece.
Amy Merrick
Amy Merrick is a floral designer based in NYC, but works her magic all around the world, with noted influences from her time in Japan. She teaches classes out of her studio in Brooklyn where you can learn the tricks of the trade from her "botanically focused" style. Amy's latest workshop (which actually takes place in Vancouver) focuses on creating seasonal floral arrangements from plants and foraged materials found in the wild.
And, we hosted our own flower-arranging class! Check out L'Atelier Ode à la Rose.
-Alyssa Dempsey