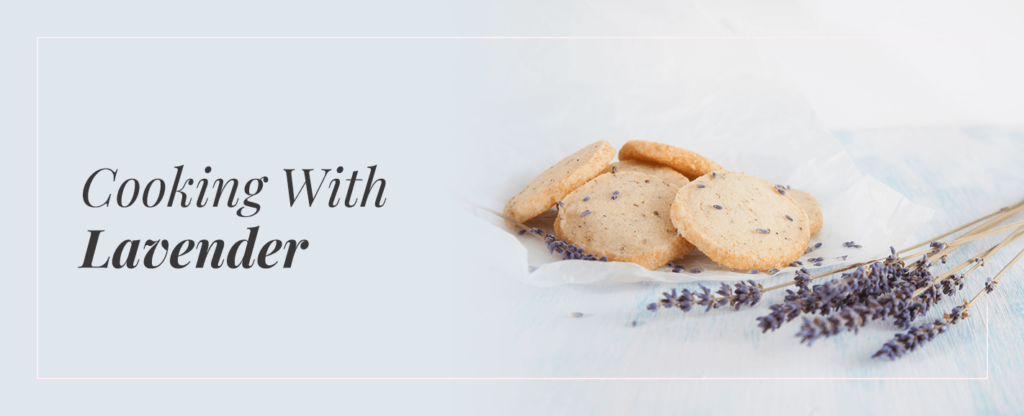 If you're asking yourself, "can you cook with lavender?" you're in for a treat. You're likely already familiar with this gorgeous plant that produces bright purple flowers and has a calming scent. It's used in everything from perfumes to home fragrances and all sorts of bath and body care products. The flowers even make for beautiful decorative arrangements.
But did you know that you can also use lavender in a wide variety of cooking and baking applications? Lavender has been used for many years to flavor everything from decadent desserts to savory dinners — not to mention drinks — from lemonade to tea to cocktails. Is there anything lavender can't do?
In this guide, we'll cover everything you should know about cooking with lavender, including a few of our favorite recipes. Once you start cooking with lavender, you'll want to use it in all sorts of new ways.
Is Lavender Edible?
While lavender is known more for its gorgeous purple flowers and its use in scents and skincare products, it is also an edible herb. In fact, lavender has been used in cooking and baking for hundreds of years. It's well documented that several ancient civilizations used lavender for bathing and cleaning and culinary purposes as early as the Middle Ages.
The lavender plant is in the mint family and is closely related to rosemary, thyme, and sage. Its bright and earthy yet floral flavor is an amazing enhancement to various sweets, baked goods, and even savory recipes. English lavender is the most common variety for cooking, but many other varieties are available to add subtle flavor hints to your dishes. However, it's important to note that when you're shopping for lavender for culinary purposes, you should be sure to only use plants that have not been treated with pesticides and other chemicals.
What Does Lavender Taste Like?
Lavender is a complex herb with an initial floral scent and flavor that gives way to more subtle flavors of earthiness and a minty, herby quality. If you experiment with different varieties of lavender, you may also notice notes of smoke, woodiness, and even fruity flavors. It's great in many sweet dishes, as well as savory ones. Lavender can be used in place of rosemary for most dishes that call for this herb.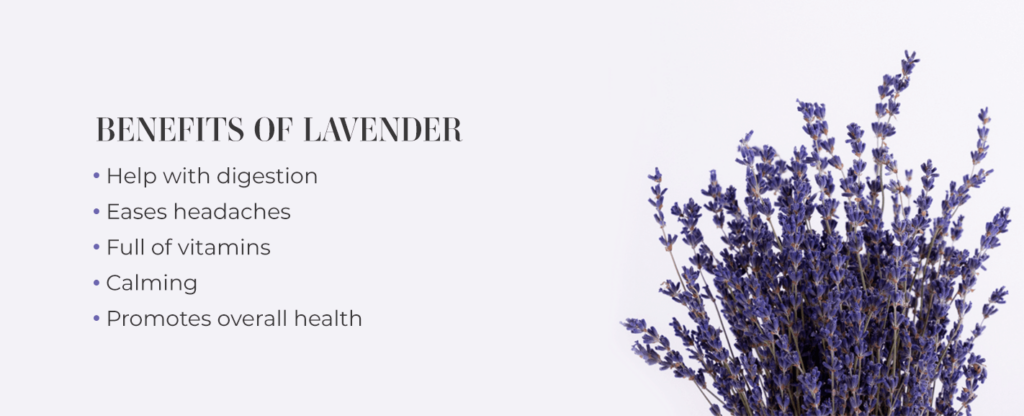 What Are the Benefits of Lavender?
When used in skincare and aromatherapy, lavender has a seemingly endless list of potential benefits. Its most well-known benefit is its ability to ease anxiety and stress and promote relaxation. When ingested as a tea or in foods, lavender has many additional benefits, including:
Help with digestion: Consuming lavender can ease stomach discomfort, gas, nausea, vomiting, and others.
Eases headaches: Lavender is a great natural pain reliever, especially for migraines and other headaches.
Full of vitamins: High in calcium, magnesium, zinc, vitamin C, and copper, lavender provides many essential vitamins and minerals.
Calming: Just as with topical and aromatherapy applications, ingesting lavender helps with stress, anxiety, restlessness, and sleeplessness.
Promotes overall health: Lavender boosts the immune system, is high in antioxidants, and has anti-inflammatory and anti-bacterial properties.
Where to Buy Culinary Lavender
Lavender is easier to find than you may think! Most supermarkets and specialty grocery stores will stock lavender with their other herbs and spices. Farmers' markets are another great place to find lavender. Of course, another option is to grow the lavender at home yourself. You can find lavender seeds or small lavender plants at any gardening store and grow beautiful lavender plants right in your own garden. By planting your own lavender, you'll also know that no pesticides or chemicals were used on the plants. Harvest and use anytime — just follow the directions for proper drying, storage, and use of your lavender plants.
Floral shops like Ode à la Rose are another great option for obtaining high-quality lavender. These lavender arrangements arrive fully dried, and you can enjoy them as a gorgeous bouquet to decorate your home. Check with any floral shop first before using any decorative lavender in cooking, as it is not quite the same as culinary lavender.
How to Prepare Lavender
Lavender grows as tiny purple flowers along a stiff stalk. Rub the flowers off the stalk and discard most of the stalks, which contain essential oils that can be too pungent for cooking.
In the garden, lavender is often teamed up with rosemary, and you can usually add lavender to any dish that might call for rosemary. The fragrant, herbal flavor of lavender can be distilled into vinegar or other liquid concoctions. It's great in marinades, dry rubs, salad dressings, and more. Use it to infuse oils, sugar, simple syrups, and more for more flavorful cooking.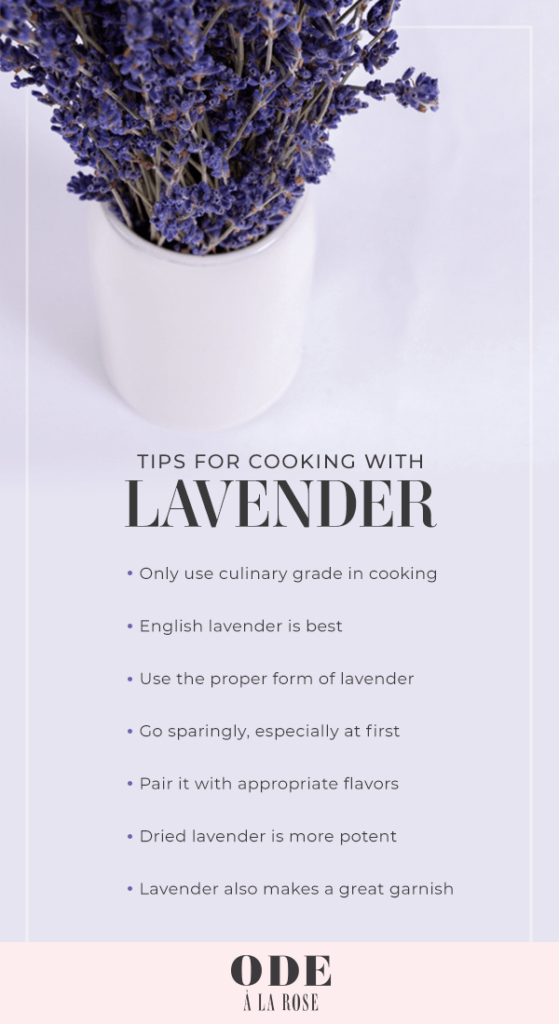 Tips for Cooking With Lavender
Lavender can add a flavorful richness to lots of different dishes. But, if you're new to using lavender, there are a few tips to keep in mind, so your lavender recipes don't end up tasting like soap or potpourri. Follow these tips:
Only use culinary grade in cooking: Decorative or ornamental lavender is beautiful to look at but isn't necessarily safe for cooking. Only use lavender that is labeled for culinary use or lavender that you grow yourself. And never cook with lavender that's been treated with chemicals.
English lavender is best: While there are many varieties to try, English lavender is most suited for culinary purposes. French and Spanish varieties are better for bath and body or home fragrance use.
Use the proper form of lavender: It's always a good idea to follow the recipe, but with lavender, be sure that you're using the right form of lavender instead of just throwing in some flowers and leaves. Some recipes will call for infused oils or sugars or only a particular part of the plant.
Go sparingly, especially at first: Lavender can be a powerful flavor, so if you're unfamiliar with using it in cooking, or are not sure of the recipe's measurements, go easy. You can always add more next time. A little can go a long way with this pungent herb.
Pair it with appropriate flavors: Choose other herbs and flavors that will stand up to lavender and enhance it due to its bold flavor. For example, lemon and lavender is a classic pairing for both sweet and savory recipes.
Dried lavender is more potent: Lavender intensifies in flavor as it dries, so be sure you know if your recipe calls for fresh or dried, and then adjust accordingly. One teaspoon of dried lavender is about equal in flavor to three times as much fresh.
Lavender also makes a great garnish: It's not only about the flavor here. Lavender flowers, leaves, and stems are all edible and make for a lovely garnish atop your finished baked goods or on top of dishes like salads.
6 Lavender Recipes
Let's take a look at some of the best recipes that use lavender! Here is a small sampling of ideas, with everything from sweet desserts to beverages to savory options. These are some of our favorite ways to use lavender:
1. Lavender Lemonade
Lavender and lemon are an excellent flavor pairing, and when added to lemonade, the complex, floral flavors of lavender add a unique twist.
Ingredients:
4 cups water
3/4 cups sugar
1 1/2 cups fresh lemon juice
4 sprigs lavender
A few handfuls of ice
Instructions:
Make a simple syrup by pouring the sugar and 3 cups of the water into a saucepan and bring to a boil. Make sure all of the sugar dissolves.
Remove from heat, and add in about four lavender sprigs. Allow this to steep for a minimum of 10 minutes — longer if you'd like a stronger flavor.
Strain or remove sprigs and pour the syrup into a pitcher. Add the lemon juice, additional water, and ice. Stir.
Serve over ice and add an extra lavender sprig as a garnish.
Variation:
For a fun, adults-only version of this tasty lemonade, muddle some fresh mint leaves in a drinking glass, add 1.5 oz. rum, and top off with the lavender lemonade. Enjoy your lemon lavender mojito!
2. Lemon Lavender Shortbread Cookies
These lovely cookies are one of the best lavender dessert recipes. They are tasty and are very easy to make. This recipe makes about 20 cookies — serve them with lavender tea!
Ingredients:
1/2 cups coconut oil or margarine
1 cup flour
1/4 cup powdered sugar
1/2 tsp. vanilla
1/2 tsp. dried lavender
1/8 tsp. salt
Instructions:
Using a mixer or large bowl, beat the oil or margarine until creamy.
Finely chop your dried lavender, and set aside.
Sift together flour and salt, and set aside.
Add the powdered sugar, vanilla, and lavender to your creamed oil and mix to combine.
Add in your flour and salt mixture by hand, and stir until just combined. Use your hands to form a dough ball.
Form a log shape with your dough, wrap in plastic wrap, and place in the freezer for about 15 minutes. Your log can be round, square, or rectangular, depending on the cookie shape you want.
Cut the log into thin cookies and refrigerate for about 15 minutes.
Bake the cookies at 350 degrees for about 13-14 minutes.
Let the cookies cool, and then enjoy!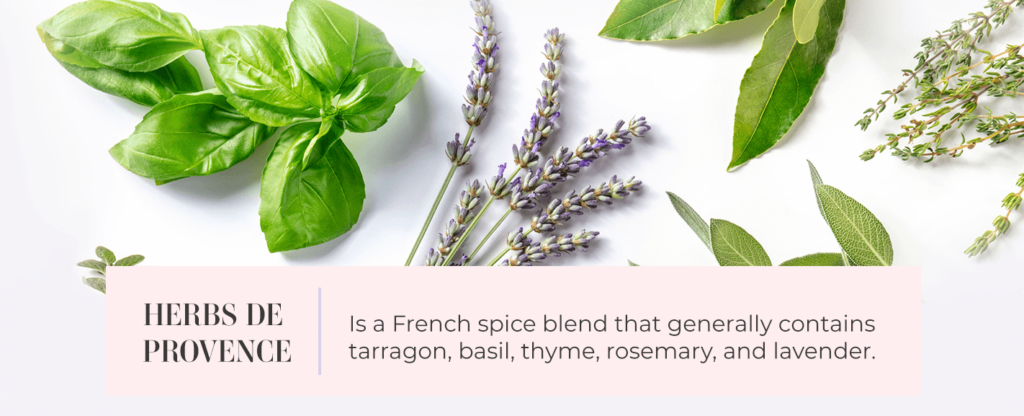 3. Herbs de Provence Roasted Vegetables
Herbs de Provence is a French spice blend that may vary among different spice brands and individual kitchens. Generally, it contains tarragon, basil, thyme, rosemary, and lavender, but may also include others like dill, marjoram, fennel, sage, parsley, mint, and a few others. You can use a store-bought blend or easily make your own. This is one of our favorite savory lavender recipes. Use your favorite vegetables in combination or on their own. We recommend a blend of potatoes, carrots, parsnips, and turnips.
Ingredients:
3-5 pounds vegetables
2 Tbsp. olive oil
1 tsp. herbs de Provence
Sea salt, to taste
Black pepper, to taste
Fresh thyme, lavender, and rosemary
Instructions:
Wash, trim, and chop your desired vegetables into large chunks or wedges. Place in a large bowl.
Drizzle your olive oil over the veggies, and toss to coat.
Sprinkle your herbs de Provence, salt, and pepper and toss again.
Roast in the oven at 400 degrees for about 45 minutes.
Just before serving, sprinkle fresh herbs over top.
4. Aromatic Tomato Soup With Lavender
The lavender in this delicious tomato soup recipe gives it a decidedly Mediterranean feel. It's also one of our favorite healthy lavender recipes. Try this bold, warming soup any time of the year.
Ingredients:
1 Tbsp. olive oil
1 medium onion
1 clove garlic
Bunch of fresh lavender
3 Tbsp. fresh sage
2 tsp. Harissa paste
2/3 cup vegetable stock
3 large tomatoes, chopped
1 tsp. sugar
Salt and pepper, to taste
Instructions:
Heat the olive oil in a large pot, chop your onion and garlic, and then sauté.
Separate the lavender leaves and flowers. Chop the leaves and add them to the pot, along with half of the lavender flowers and sage.
Add in the Harissa, vegetable stock, tomatoes, sugar, and a pinch of salt and pepper.
Let the mixture boil for about 15 minutes.
Serve your tomato soup hot, with remaining lavender flowers sprinkled on top to garnish.
5. Chocolate Lavender Truffles
Chocolate and lavender together — what could be tastier or more romantic? These amazing little truffles are one of our favorite lavender recipes for desserts. Try these sweet treats as a decadent dessert on their own or paired with brownies or ice cream.
Ingredients:
8 oz. dark chocolate, chopped
1/2 cup canned coconut milk, full-fat
2 1/2 Tbsp. lavender
Instructions:
Open the can of coconut milk without shaking, and spoon off 1/2 cup of the thicker, fattier milk from the top.
Add coconut milk and lavender to a saucepan and bring to a gentle boil. Reduce heat and simmer for a few minutes.
Strain lavender out of the cream and add 4 oz. of chopped chocolate to the cream in the pan. Melt over low heat.
Remove from heat and allow the chocolate cream to cool. Cover and place in the fridge for one hour.
Meanwhile, melt the remaining 4 oz. chocolate over low heat, stirring constantly.
Pour or spoon the melted chocolate into candy molds and tilt to coat with just a thin layer. Let set in the refrigerator.
Once cooled, fill the candy molds with the lavender chocolate cream mixture, leaving just a little room at the top.
Reheat remaining chocolate as necessary and pour to fill the candy molds.
Gently tap the molds to let bubbles escape, then let set in the fridge.
Pop truffles out of their molds and enjoy!
6. Lavender Pudding
Here's an easy recipe that elevates a boxed pudding mix into something special.
Ingredients:
1-2 cups lavender blossoms, with a few stalks
2 cups milk or alternative milk
1 box vanilla instant pudding mix
Instructions:
Place the lavender flowers in the milk and heat gently on the stove. Do not allow it to boil, and keep adjusting the flame until it is nicely warmed.
Remove from heat and allow to steep for 15-20 minutes.
Strain the milk and add it to the instant pudding mix, according to directions.
Chill until firm, and garnish with a sprig of lavender.
Lavender Bouquets at Ode à la Rose
We hope you enjoy all of these lavender cooking ideas and recipes. There's truly no limit to what you can do with this versatile plant. While you're cooking up your latest lavender creation, why not add some gorgeous lavender arrangements to your home too? At Ode à la Rose, we can deliver a large lavender bunch in a beautiful white ceramic vase. A petite lavender arrangement is also available. Fill your home with gorgeous, fragrant blooms. These dried lavender bunches are long-lasting too. Please contact Ode à la Rose today with any questions — we would love to hear from you!