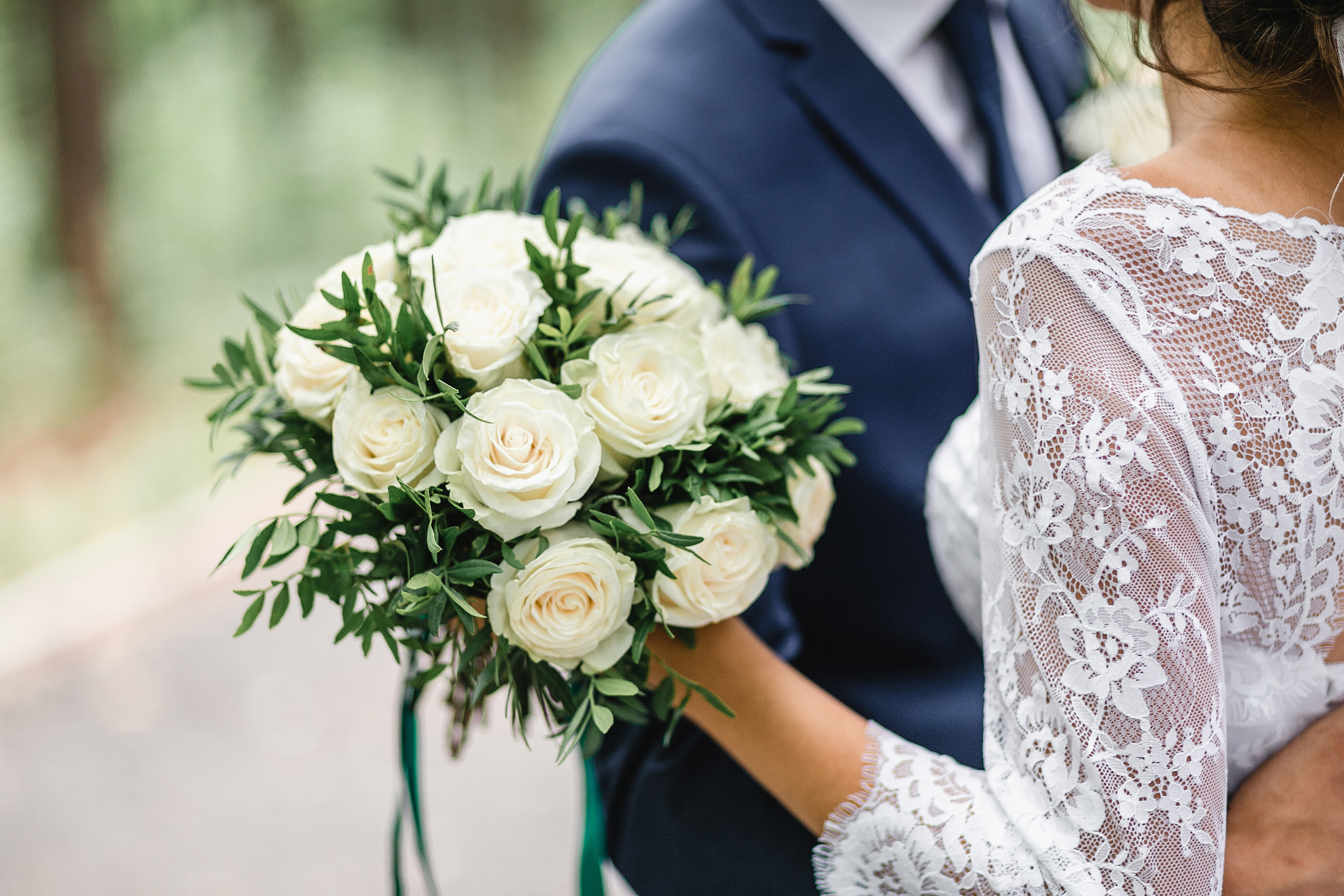 The proposal took your breath away, you responded with a resounding YES, now let the wedding planning begin! As one of the most romantic places in the world, New York City is the perfect location for your upscale, dream wedding.
At your wedding, you're hoping to have the finest decor, delicious food, and exquisite flowers. You're looking for inspiration and ideas to help make sure that your wedding will be remembered as one of the best days in your lives and is everything you imagined it would be. Here are a few romantic and luxurious ideas to help you get started planning your wedding in the Big Apple.
1. Create a Romantic Wedding Atmosphere
The venue sets the stage for your high-end NYC wedding. New York City has plenty of historic landmarks and high-rise buildings to serve as the backdrop of your special day. As you think about where you want to get married, consider the time of year, the number of guests you're inviting, and the overall ambiance you want for your big day.
Think about what you want your venue to convey to your guests or what type of story you want the venue to tell. You could choose a venue that tells your love story to the world and celebrates the journey you've started as a couple. To have a romantic wedding in NYC, choose a venue that balances relaxation and elegance to give you peace of mind and an air of confidence.
You can choose from a wide variety of luxurious NYC wedding venues, including hotels, restaurants, museums, or gardens. Join the legacy of celebrities, musical artists, and world leaders who have chosen NYC as their wedding location. Think about what you would like in the background of your venue, such as a great view of the NYC skyline, the Statue of Liberty, or the Brooklyn Bridge, to create wonderful memories with you and your guests.
2. Keep an Intimate Guest List
There are benefits to keeping your guest list small. You'll have more time to mingle with your guests when there are 50 or 100, rather than 300 or 500. Your guests will feel extra-special, as you chose to invite them rather than someone else.  Not sure how to keep your guest list intimate? Here are a few tips:
Be clear with your family: Your wedding day should be what you want it to be. When you're considering who you will invite to your wedding, you should sit down with both sets of parents and discuss who to invite to the wedding. Communicate your desire for an intimate get-together so that your family can understand and can help make your desires a reality. You want to avoid a situation where your mother or mother-in-law-to-be presents you with a list of 50 names you need to invite.
Have a destination wedding: New York City is one of the most popular places in the world to get married. In 2018, more than 33,000 couples tied the knot in the county of New York, NY. If you are from another part of the world, consider having your destination wedding in Manhattan or Brooklyn. Your most valued friends and family can make the trip with you, and they'll appreciate the excuse for a vacation.
Make your party adults only: Children tend to make up a large chunk of the guest list. If you want to keep things small, consider making your ceremony and reception "adults only." If a lot of your friends or relatives have children, you might consider arranging for a babysitter at someone's home or at the hotel.
As you think about who you will invite to your wedding, remember that your wedding is about you and your future spouse. Only invite people who will truly celebrate your love story and will help you enjoy your special day.
3. Craft a Romantic Wedding Reception Menu
Your guests will remember the quality of the food you serve on your wedding day for years to come. New York City is home to many culinary connoisseurs who will make a special menu to complement your high-end wedding day. You can craft a menu that will match your theme and give your guests a memorable experience.
Pick your menu based on your venue: Create a menu that matches your venue, whether your venue is sophisticated and elegant or modern and unique. Serve fresh seasonal vegetables at your botanical garden venue, or serve steak and potatoes at your upscale hotel venue. New York City is famous for its pizza, bagels, burgers, and cheesecake, so you could find creative ways to mix those food items into your menu.
Make your food your own: The food you choose tells your love story. Create a menu that reflects your personalities and shows how far you've come as a couple. Your guests will swoon over the meaning behind each dish.
Choose seasonal food: If you're getting married in the spring, try to include bright colors on the plate. For a winter wedding, consider serving hearty and warming comfort food. Seasonal food will be fresh and readily available, so you can serve a delicious menu to your guests.
Prepare what your guests want: Include a flexible menu for your guests with food sensitivities or picky palettes. For example, if you know some of your guests are vegetarian or vegan, have at least one veg-friendly option. You might also want to have some gluten-free options for any guests who can't eat gluten or wheat products.
The way you serve your food also matters. Wedding venues now offer a variety of ways to bring food to your guests. Consider how you want your wedding day to flow and make a plan for how your guests will eat.
Plated, sit-down dinner: As the most traditional option, sit-down dinners typically consist of an appetizer, entree, and dessert. With a sit-down dinner, everyone receives their food at the same time, and your guests have more of an opportunity to mingle as they enjoy their dinner.
Buffet-style dinner: Your venue can offer food on two large tables with wait staff available to explain each dish. Your guests can choose what they want, and they can mingle with one another as they serve themselves food.
Serve yourself food stations: Your venue can organize your food options by type of food — such as appetizer or side — or by the theme of each food — such as food from around the world or breakfast favorites. Your guests will appreciate the wow factor of this setup and will enjoy choosing from a variety of unique options. This option also provides your guests the opportunity to mingle with each other.
Family-style wedding dinner: A family-style dinner is an intimate option for your guests to enjoy the food on your wedding day. Guests are assigned to a table, and servers bring out large portions of each dish for the whole table to share. If you choose to have a family-style dinner, you should ask your venue's wedding planner if they have enough table space and supplies.
Cocktail reception: An extravagant cocktail hour in place of dinner is another way to make your wedding more romantic. Your guests will have more of an opportunity to mingle and enjoy the casual atmosphere. Since your guests are probably expecting a dinner, make sure you word your invitations to clearly state that you are having a cocktail reception after the ceremony.
Your menu is your choice. Let your menu tell your story and give you peace of mind on your wedding day.
4. Set the Tone of Your Wedding With Mood Lighting
The lighting of your venue is important for your guests to see one another and for perfectly-lit pictures. You could use lighting to your advantage as you create a romantic tone for your wedding day.
Use lighting to attract your guests' attention. Your guests' eyes will fix on the area with the most light. During the ceremony, you could add more light to the aisle as the bridal party walks down the aisle, and you could light up the altar as you're exchanging your vows. At the reception, you could shine a light on the first dance, cake cutting, and the bridal bouquet toss.
Use lighting to match your wedding theme. Your lighting fixtures should match the other decorative elements of your wedding theme. Match your light fixtures with your wedding colors and with the overall mood you want to convey on your special day.
Make your special day romantic with mood lighting. Low lights create intimacy among your guests. While bright lights draw the attention back onto you and your spouse, you can use lanterns or candles to encourage your guests to talk during dinner.
For an outdoor wedding, use natural lighting. If your venue is outdoors, or your venue has big windows, you could use natural lighting to enhance the magical beauty of your romantic wedding day. The sunlight reflecting on you and your guests will also improve the quality of your wedding photography. Consider the time of your ceremony and reception and figure out how to incorporate sunlight into the decor of your venue.
You can use lighting to make your wedding more romantic for both you as a couple and your guests. Add romantic light fixtures like chandeliers and candles to wow your guests and create a more intimate setting.
5. Spend Time Alone Together
Your wedding day is ultimately about the love that you and your new spouse share. Try to make time to sneak away and spend time alone together after you've exchanged vows.
Exchange love letters or gifts: You can have a messenger from the bridal party bring your gifts to each other, or you could give them to each other during your first look. Exchanging gifts or letters before the wedding can calm both of your nerves and can each give you a way to remember your special day. Your photographer can also sneak a candid photo of you two during your intimate exchange.
Do a first look: A first look is an opportunity for the two of you to catch a glimpse of each other before the ceremony. The photographer captures the moment when you see each other for the first time. While some couples like the surprise of meeting their sweetheart at the altar, you have the option to sneak a peek before the ceremony to calm each other's nerves and encourage one another.
Sit at a sweetheart table: Your venue can arrange for you and your spouse to sit alone at a special, intimate table. Even though guests will be stopping by your table, for the most part, you and your spouse can enjoy dinner alone.
Greet guests together: While holding hands, you and your spouse can walk around the banquet hall and thank each of your guests for coming to celebrate your special day. Your spouse may be meeting some of your family and friends for the first time, so greeting your guests as a couple is a great way to introduce each other and to spend extra time with your spouse.
Play slow songs: Couples enjoy the opportunity to dance close to one another during those slow songs. You could have the DJ or band play a couple of slow songs to have an intimate moment with your spouse. Swaying back and forth to the music, your only way to communicate is to sweetly whisper into each other's ears.
On your wedding day, you should be mindful of all that happens around you. Take in the magic of the day and enjoy each moment to the fullest. You can be mindful of your new spouse by holding hands often during the reception to assure each other of your new commitment.
6. Decorate With Luxurious Flowers & Decor
New York City is defined by its unique urban beauty. Let the splendor of the city be your guide as you plan your decorations and flowers for your romantic wedding venue. Instead of competing with your venue, use its unique features to decide how you want to decorate for your big day.
When you look at wedding photos years after your special day, your flowers and creative decorations will be in the backdrop of your luxurious dream wedding. Browse through a collection of wedding floral arrangements for NYC wedding inspiration to help you choose the perfect flowers for your special occasion.
For your romantic NYC wedding, you can incorporate white flowers into your decor. White roses, as the symbol of purity and romance, are essential for any bridal bouquet. If you want to include color in your bouquet and decor, you could include white flowers in your mix of colorful, seasonal flowers.
Also, think about the season of your wedding when choosing decorations and flowers. For a winter wedding, find out if your venue will be decorated for the holidays. Using flowers that are in season can help you save money and fit your unique wedding theme.
Get Inspired & Start Planning
At Ode à la Rose, we will help you choose floral decor to perfectly complement your upscale romantic wedding. With floral arrangements adorned with French flair and sophisticated elegance, our flowers are the essential elements to your romantic NYC wedding decor. We are confident that our floral arrangements will enthrall your guests and give you the finishing touches you're looking for to complement your romantic wedding.
Fill out a wedding inquiry for more information about our wedding floral arrangements.
Sources: