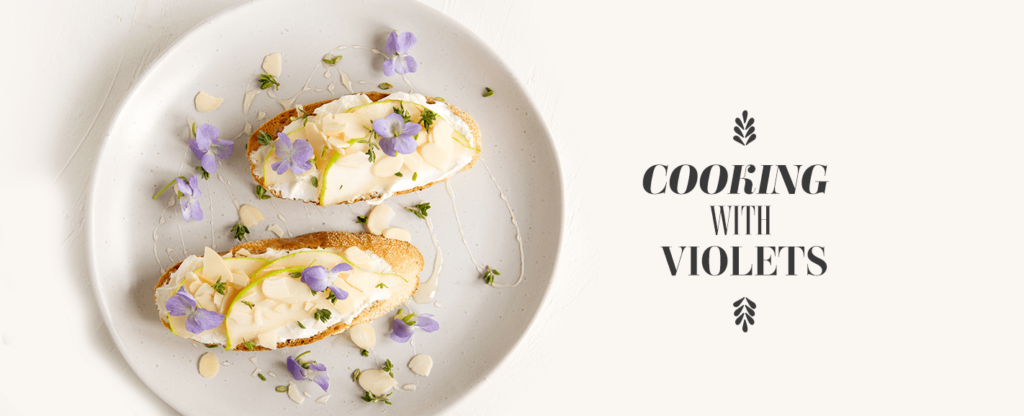 Did you know that you can eat certain flowers? For instance, wild violets grow abundantly throughout America and boast a sweet, crunchy flavor profile, making them a beloved edible bloom.
While they often display a rich purple hue, they can also feature deep blue, light purple, yellow, and even gray petals. Their vivid tones and sweet flavor make them excellent for garnishes, candied flowers, and other recipes. Read on to learn about their unique taste, delicious recipes using violets, and more!
Are Violets Edible?
Yes! There are over 100 wild violet varieties, and while all are edible, some are more appetizing than others. The common blue violet — which is known for its five petals, varying shades of blue, and symmetrical butterfly shape — is harvested the most.
What Do Violets Taste Like?
The taste of violets is often described as sweet and floral. Highly fragrant violets tend to work best in beverages and desserts. Meanwhile, the flavor of violet leaves resembles lettuce and sweet peas, making them an ideal salad green.
Tips for Cooking With Violets
Here are some things to keep in mind when cooking with violets:
Eat them raw: These delicate beauties don't cook well and are better served raw. Clip as much as you can of the green stem end of the blossom without making the petals fall off. If that happens anyway, just trim off the petals to create a violet-colored confetti on your dish.
Add them to salad: Try violets in salads to add color and a little bit of a crunch that resembles capers. Add a half cup of violets to a cold macaroni salad, along with mayonnaise and celery, and you will have an elevated side dish for a summer party.
Use them for drinks and desserts: One of the best ways to use violets is to make them into crunchy candy. You can also make purple violet syrup, which pleases the eye and tastes delicious in mixed drinks. Similar to lavender and rose petals, violets are a wonderful addition to lemonade and can be mixed with sugar.
Save the leaves: Many people find that violet leaves taste great in salads and soups. They can also be eaten as cooked greens.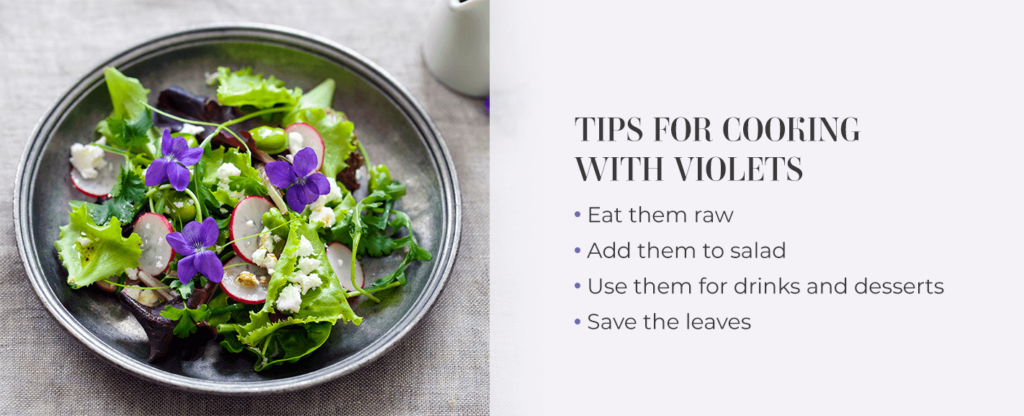 3 Wild Violet Recipes
Wild violets can be used in a variety of tasty recipes. Here are three things to make with violets if you need some ideas:
1. Violet Syrup
Perfect for light, summertime refreshers like ice-cold lemonade, tea, and cocktails, homemade violet syrup is a must-try! This recipe makes about half a cup.
Ingredients:
1 cup water
3 cups fine granulated sugar
1 ½ cups of violets
1 teaspoon lemon juice (use sparingly)
Instructions:
Place all ingredients in a saucepan and boil uncovered for 10 minutes, or until thickened into a syrup. The syrup should be about the consistency of honey or maple syrup.
Add the lemon juice, bit by bit, which should restore some purple color.
Strain into a glass jar, through cheesecloth rather than a fine mesh, to remove the solids.
2. Candied Violets
These candied violets are an incredible garnish for cakes, ice cream, custards, and other desserts. They're quick and simple to make, but remember to allow ample time for the crystallized flowers to dry.
Ingredients:
20 violet flowers. Leave about 2 inches of the stems attached.
1 large egg white
2 tablespoons confectioners' sugar
Instructions:
Beat the egg white in a bowl until frothy, but not stiff. Place the confectioners' sugar in a separate sifter or small bowl.
Pick up a violet by the stem and dip it into the egg white. Twirl it gently to coat it completely.
Sift the sugar over the flower. Twirl the stem between your thumb and forefinger to coat all sides evenly with sugar. Don't worry about candying the stem — you'll discard it later.
Place the violet on a paper towel, then repeat the coating process with the remaining flowers.
Transfer the paper towel with sugared flowers to the refrigerator, ensuring the violets aren't touching. Let them refrigerate uncovered for 24 hours.
Remove them from the fridge, then leave them out at room temperature for another 24 hours.
Snip and discard the stems, then transfer your candied violets to an airtight container. Store them at room temperature and eat within two months.
3. Violet Jelly
This violet jelly makes a delectable spread for bread and pastries!
Ingredients:
4 cups fresh violet blossoms
3 ½ cups boiling water
¼ cup lemon juice
1 package powdered fruit pectin
4 cups sugar
Instructions:
Place your rinsed and drained flowers in a large glass bowl, then pour boiling water over the violets. Let sit for 2 hours while stirring occasionally.
Strain and preserve the violet liquid, pressing it with a spatula to extract maximum color. Discard the blossoms.
Add enough water to the violet liquid to measure 3 ½ cups. The liquid should be bluish-green.
Combine your violet liquid, pectin, and lemon juice in a Dutch oven. Boil over high heat, stirring continuously to form a violet color. Mix in your sugar, then boil and stir for another minute.
Remove the mixture from heat, then scrape off the foam. Ladle it into five hot, sterilized half-pint jars, leaving about a quarter-inch of headspace.
Wipe the jar rims and screw on the lids securely. Place the jars in a canner with simmering water.
Bring the jars to a boil and process them for about 5 minutes. Remove them from heat and let them cool.
Find Edible Flower Tips and Recipes at Ode à la Rose
Tasty recipes are always blooming at Ode à la Rose. Visit our blog to find more tips and recipes for edible flowers, or browse our selection of beautiful blooms for your next culinary creation!