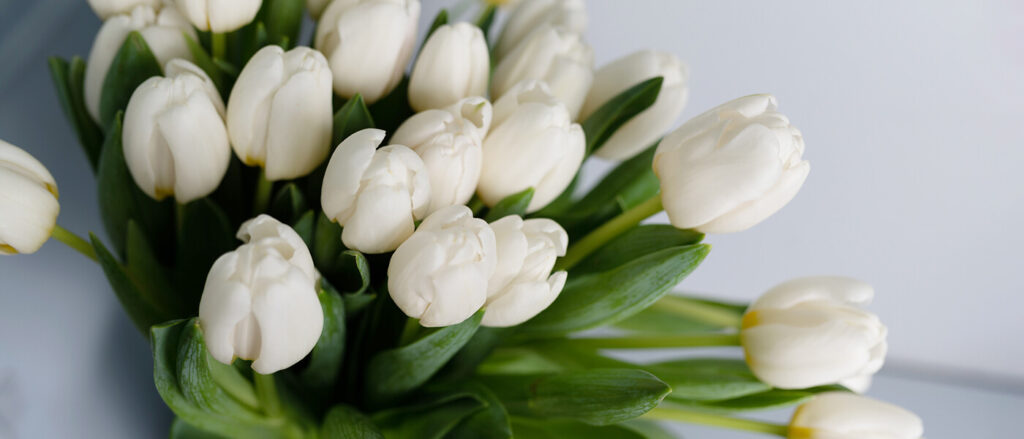 Cooking with tulips might sound strange to someone who's only seen these flowers in gorgeous bouquets and flower arrangements. However, tulips have a long history in the culinary arts, originating in wartime practicality. Lately, as professional chefs and home cooks become more creative with their cooking ingredients and methods, tulips have become a beautiful and tasty addition to many different meals.
In this guide, we'll share everything you need to know about cooking with tulip bulbs and detail some of our favorite recipes with tulips.
Are Tulips Edible?
Tulips are from the same botanical family as onions and garlic, and they have a bean-like flavor. Both the bulbs and the flowers are edible. However, with tons of other delicious non-flower foods available, why would anyone eat tulips? Tulips originated as a food alternative in Holland during World War II, when a famine winter in 1944 and 1945 meant food was extremely scarce. Since they are richer in carbohydrates than other similar food plants like onions, people turned to them when no other food was to be had.
5 Recipes With Tulips
Check out these five recipes if you're wondering what to make with tulips:
1. Tulip Bulb Soup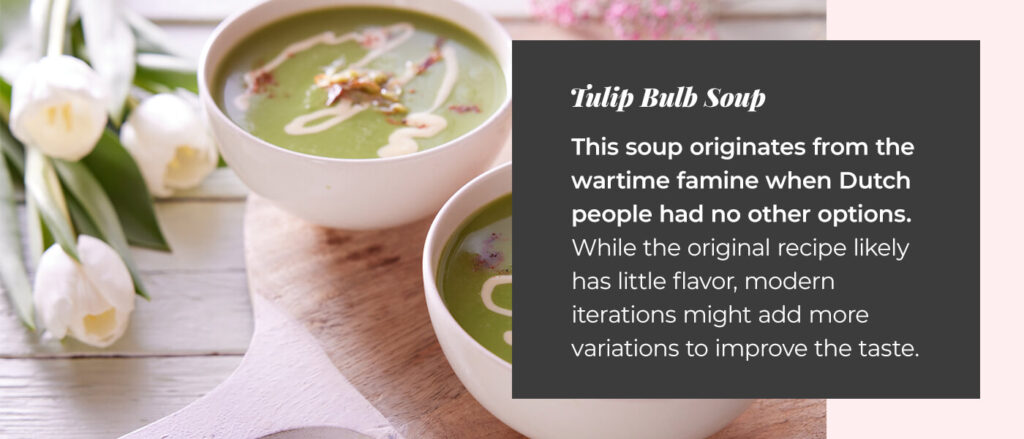 This soup originates from the wartime famine when Dutch people had no other options. While the original recipe likely has little flavor, modern iterations might add more variations to improve the taste. The basic recipe involves a few very simple ingredients:
Tulip bulbs, peeled with germ removed from the center
Water
Onion, chopped
Salt
Maggi aroma
Oil
Surrogate curry powder
You can saute the chopped onion with the oil and curry powder until the onions are a light brown color. Then, add water and aroma and bring to a boil. Grate the peeled tulip bulbs into the boiling water and cook a little while longer, stirring occasionally. Add salt to taste and enjoy with a slice of fresh bread or toast.
2. Tulip Salad
The perfect spring dish, a tulip salad includes cleaned tulip flowers and your favorite greens. We recommend a mixture of green and red leaf lettuce, spring mix, and arugula. You can carefully stuff the salad greens inside each tulip bulb or arrange the tulip petals around the plate for a pop of color. Some great dressings to complement the flavor of tulips include:
Lemon basil strawberry dressing
Raspberry vinaigrette
Green goddess dressing
Honey balsamic dressing
Mango, mint, and lime vinaigrette
3. Tulip Primavera
To make this unique spring dish, gather the following ingredients:
Tulip flowers with stems
Button mushrooms
Spring onions
Parmesean or a vegan hard cheese
Tapioca
Shelled peas
Sugar snap peas
Dill sprigs
Olive oil
Sea salt and black pepper
To make this dish, prepare the tapioca by boiling it with a bit of salt. Chop sugar snap peas, dill, and spring onions and cook the peas in salted water until soft. Blend the peas with a little oil to thicken the pureed mixture. Soften the mushrooms in boiling water and chop before tossing them in a pan to saute. Mix in the tapioca, pea puree, cheese, snap peas, dill, and spring onion and heat. Spoon the mixture inside the tulip flowers and steam the flowers until the petals are wilted.
4. Stuffed Tulips
To create an interesting and unique dish, you might consider stuffing tulip flowers with a variety of dishes. For example, you can stuff cleaned flowers with tuna salad for a savory meal, or dollop your favorite spread on a petal with a tasty garnish.
Alternatively, you can use tulips in your desserts — just pipe some fluffy chocolate mousse inside the flower or use it as a serving dish for your favorite ice cream.
5. Tulip Garnish
Tulips can also act as a great garnish if you don't want to include them as part of the meal. Since the petals are edible, you won't have to worry about a little getting into the food! These spring flowers are great for decorating cakes and cupcakes for spring parties and weddings.
Tulip Bouquets at Ode à la Rose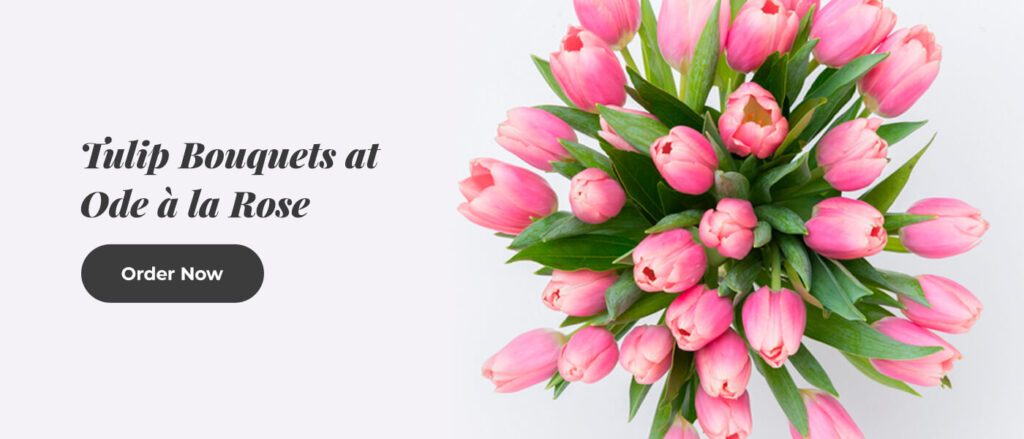 If you're feeling the spring fever and want to brighten up someone's day with flowers, a tulip bouquet from Ode à la Rose is just the thing! We offer next-day nationwide delivery and same-day delivery in certain cities in the United States. Shop online today for the tulip and other flower bouquets we offer.
Want your blooms to last even longer? Check out our guide to drying flowers so you can enjoy your gorgeous arrangement for years to come.